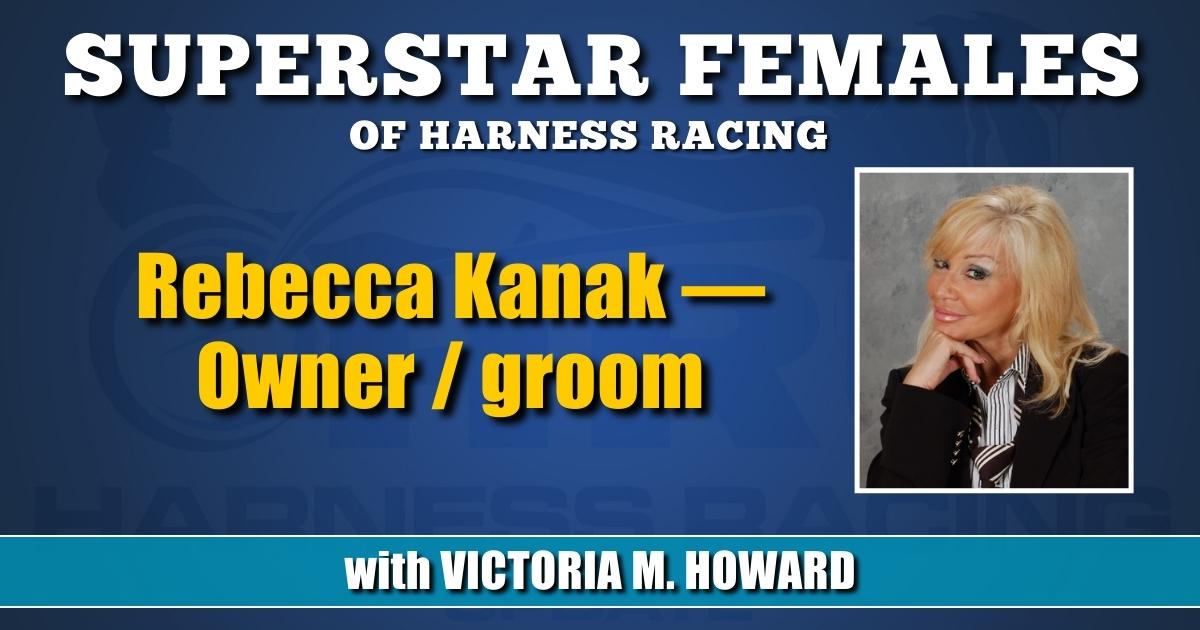 Rebecca Kanak – Owner / groom
by Victoria Howard
Even in Saskatoon, the largest city in the Canadian province of Saskatchewan, you can find harness racing at its finest.
Owner /groom Rebecca Kanak is one of the young, new rising stars, and she couldn't be happier. Born and raised in Saskatoon, Kanak, was not exposed to harness racing as a child as many others were. Before she was born, her father raced chariots and Chuck ponies. Although never directly introduced to the racetrack, Kanak said, "Racing runs strong through my blood.
"In the fall of 2021, Manitoba had extended their meet and raced in Saskatoon. I hadn't been at the track since the last year we had thoroughbreds in 2019 so I was anxious to get my feet back in the water.
"On one of the last days of the meet I got the opportunity to jog a mare and that's all it took — I was hooked. When trainer Trevor Williams was moving his stable from Saskatoon to Alberta I had a couple of days off of work, so I offered to do some hauling and setting up the barn in Calgary.
"That winter I put a lot of miles on my car as I travelled back and forth between Saskatoon and Alberta. It was then that I fell head over heels in love with the sport of harness racing and wanted to be invested in the sport.
"Luckily, I had the opportunity to buy into some of the horses that I came to know during the year, and I was off and running! I was still young and thought this was the time for me to make some reckless decisions.
"I didn't have a family that I needed to factor into the equation, so I was able to pour all my passion and time directly into the horses.
"Bud Smith and Trevor Williams have both been a driving force in my making this life decision and choosing harness racing. Trevor trusted me with his horses in the barn, and Bud taught me a lot about caretaking and legwork.
"Although I had a wide range of experience in the horse world, I had, and still have, much to learn about harness racing. I truly am so grateful to have all the support and encouragement to trust my instincts, as well as the guidance and advice from these two men."
Presently, Kanak owns percentages of four horses, as well as her riding horse. The racehorses are West Coast Beach, Mystic Dragon, Spark the Dragon and See You Tonight.
Racing her horses mostly at Marquis Downs (Saskatoon) and Calgary (Century Downs), Kanak is setting her eyes on soon racing at Winnipeg (The Loop).
"Racing for the Robert Smith Stable in Saskatoon I had West Coast Beach and Spark the Dragon. Racing the small circuit in Saskatoon is a completely different environment than racing in Calgary (where Bud Smith Has Mystic Dragon and See You Tonight.)
"In Saskatoon, it feels more like a community, despite being competitors, while in Calgary, the pressure is higher with so many more horses, trainers, and barns on the grounds."
One of Rebecca's horses, West Coast Beach, has set Marquis Downs on fire lately. The 5-year-old Sunshine Beach gelding out of Village Janus, has won four in a row in the open handicap pace. Perhaps that is why Kanak said West Coach Beach is one of her favorites.
"West Coast Beach and Mystic Dragon are tied as far as who my favorite horse is. It's a contest every day to see which one I get ready first.
"West Coach Beach has earned himself some well-deserved time out following four straight wins in Saskatoon. He will be seen in Winnipeg at the beginning of the meet and I hope he has as much success there as he has shown to have in Saskatoon.
"Spark The Dragon and See You Tonight are both newer to the barn, but I look forward to seeing what we can achieve with them at The Loop, as they are Manitoba bred. Sparky (Spark The Dragon) had his first two career wins in early May, shortly after we bought him. Mystic Dragon just came in after a few weeks of turn out, so I'm excited to get him back jogging and training as we prepare for the move to Winnipeg.
"Harness racing has become my world and I couldn't be happier. Racing, along with most equine sports, demands a lot from the horses. When the horses race their hearts out for me, I try to give that same effort back to them.
"I'm told that my horses are spoiled, but in reality I'm the one who is spoiled. I try to repay my horses for the joy that they bring into my life through their daily care, enrichment, and by giving them lots and lots of treats.
"Who knows what the future holds for me in the sport, but I know I am going to give it my all and hopefully will be successful."