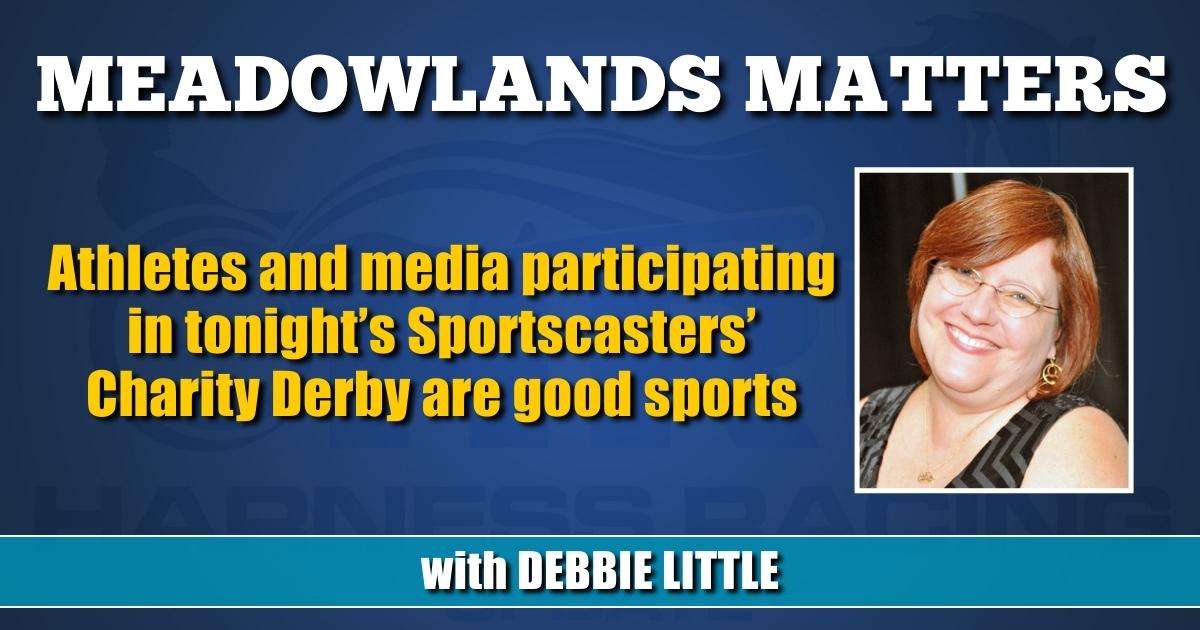 Athletes and media participating in tonight's Sportscasters' Charity Derby are good sports
by Debbie Little
They're trading mics for bikes tonight (June 17) at The Meadowlands in the third edition of the Sportscasters' Charity Derby.
Two fields of four pundits will compete in double-seated jog carts accompanied by a professional trainer or driver.
But what made them step off the sidelines and get into the game? The overwhelming answers were for fun and charity.
The Meadowlands will donate $5,000 to the selected charities of the two winning sportscasters. In addition, they will make a $1,000 donation to the charities of the rest of the competitors.
Marc Malusis, sports anchor for PIX11, is competing in the event for the third time, having won the inaugural competition in 2012.
"It is for a great cause, raising money for so many great charities," said Malusis. "Jeff Gural and Rachel Ryan at the Meadowlands are fantastic and they have been great to me and any time that I can be part of something that they are doing, I am all in.
"I am a huge harness and thoroughbred racing fan. It is an amazing experience as you feel the power and the speed and at a world-class track like The Meadowlands, adds to it as well. It is so much fun."
Malusis takes on returning competitor Rebecca Haarlow of MSG Network, and a pair of former pro athletes, Quincy Enunwa (NFL) and Wally Szczerbiak (NBA).
A talented college athlete in her own right, Haarlow has her eyes on the prize.
"I raced in it pre-COVID and had a blast," said Haarlow. "I'm back to win it this year. When I raced in the Sportscaster Derby a couple of years ago, I was blown away at the strength of the horses. When you ride behind them, it is amazing to feel how fast they can run."
It's been a while since Enunwa was a rookie with the New York Jets, but he was game for a new challenge.
"The opportunity to give back while doing something I've never done before influenced my decision to participate," said Enunwa. "I've ridden a couple of horses but I've never sat behind one, so this will be a new experience."
Defending champ from 2019, WFAN's Brandon Tierney, is facing off again with ESPN's Don La Greca as well as a couple of rookies, Pat Leonard of the New York Daily News and SNY's Maria Marino.
"Firstly, it's fun," said Tierney. "It's unique. And it's an avenue to connect with some industry peers and raise money for an incredible cause. My kids love cheering on Daddy and I love seeing their faces light up as we hit the stretch. It's just a terrific event all around.
"A few years ago, I participated in the [Sportscasters] Derby and it was amazing. Such a unique perspective of the track and the power of the animal. It felt like controlled chaos. It was awesome. Uniquely exhilarating."
Leonard is no stranger to the track, but normally for him, there's a betting window involved.
"Talking to Marc Malusis, he said he loves the event," said Leonard. "The kids get into it. I think he won it one year and then the last time they did it prior to COVID, I think his horse finished last and his kids were all laughing at him.
"I view it as an exciting night to come out with my whole family and spend time at the track and, obviously, it's for a good cause, which is the reason that I said yes without even thinking about it."
When asked to compete, Marino did a little research.
"I had to look up what harness racing was and it definitely seemed different than anything I've experienced, so I was a little unsure about trying," said Marino. "But when I saw my other colleagues in sports that had signed up, I thought, if they can do it, I can. Especially for a great cause. That's really what sealed it."
While all the participants would like bragging rights, their real motivation comes from their charities.
Four of the competitors are playing for children-related charities: Make-A-Wish, Ronald McDonald House Charities, St. Jude Children's Research Hospital and The Golden Lights Foundation.
"Make-A-Wish is awesome," said Malusis. "My wife Donna and I love what they do. They make children's wishes and dreams come true as they are dealing with critical illnesses. They have been around for 42 years and making wishes come true for children and their families. It helps in the mental and emotional well-being. Eighty-seven per cent of Wish alumni say their wish was a turning point in their treatment and gave them the strength to fight their illness. Just an amazing charity doing great work."
La Greca's charity also includes a family focus.
"Ronald McDonald House helps families with a sick child," said La Greca. "[It gives parents] a place to stay near or at the hospital while their child is getting treatment."
Tierney has practically had a life-long relationship with St. Jude Children's Research Hospital.
"I have always had a special connection with St. Jude, stemming back from seventh grade when I chose Jude as my Confirmation name," said Tierney. "It's an amazing, tireless charity. Anything for the kids. As a father of two, I am blessed to have healthy children. That is not lost on me."
Leonard also has a personal connection to The Golden Lights Foundation that benefits children with cancer.
"There's a family in my town whose son has an ongoing battle with cancer," said Leonard. "He's in the same class as my son, who is healthy and six years old, about to graduate kindergarten.
"When I started covering the [NY Football] Giants and I got to know Eli Manning, one of the things I admired most about him was not only that he gave back his time but that he gave it back to kids and pediatric cancer patients. I don't have the funds to build a wing of a hospital as he's done down in Mississippi, but I view this as a small thing that I can do. Obviously, I'm very grateful to The Meadowlands and everybody organizing the event for providing funds to all these charities, but The Golden Lights Foundation specifically, as well."
The remainder of the competitors are playing for: Croatian American Charitable Foundation, Muscular Dystrophy Association, Making Strides Against Breast Cancer and Rescue Dogs Rock NYC.
"Muscular Dystrophy Association (MDA) is the #1 voluntary health organization in the United States for people living with muscular dystrophy, ALS, and related neuromuscular diseases," said Enunwa. "For over 70 years, MDA has led the way in accelerating research, advancing care, and advocating for the support of our families. MDA's mission is to empower the people we serve to live longer, more independent lives."
Marino's charity holds a special meaning for her twice over.
"My sister Antoinette became involved with fundraising for American Cancer Society after her breast cancer diagnosis in 2016," said Marino. "She passed in 2020, but always maintained hope for improving the lives of others through the work of ACS and other such organizations. She was also a fighter, and I try to remember and embody her spirit when I have the chance to make even a small difference.
"Adding another layer to this, is that Antoinette introduced me to my fiancé Stephen Cavanaugh, an employee of ACS, who now manages Making Strides of Central Park in NYC. I know Antoinette would continue to be proud of and appreciate his daily impact."
Haarlow's charity has a place in her heart and her home.
"Rescue Dogs Rock NYC is a charity that I hold near to my heart because they take in the dogs that are suffering the most from abuse and neglect and give them a second chance at life," said Haarlow. "My pug, Dillon, is a rescue and it is the most incredible bond. I am racing to bring awareness to a beautiful cause and can't wait to see many more dogs placed in loving homes after being given the best emergency care from Rescue Dogs Rock NYC."
When asked if they thought there would be any trash talking connected to this competition the responses were mixed.
"I'm not expecting any, but I never shy away from the fun if somebody decides to start," said Enunwa.
"Of course, we all work in sports… let the trash talking begin," said Harlow.
"No, just trying to survive," said La Greca.
"[Maria and I] have spoken about the fact that Malusis and Tierney both have won before," said Leonard. "So, we are well aware of the pedigree of those in front of us and also how sweet it will be when, obviously, I finish in first."
"Of course there is going to be trash talking," said Malusis. "I have worked with BT, Maria and Pat in the past. We are friends and I am sure we will mix it up a bit. But, the reality is, I got taunted by my own kids after the last Sportscasters' Derby when I finished in last place. I need to make amends on June 17th or else I will hear about it until next year."
"I think I saw online that Brandon Tierney was a winner [in 2019] and he's racing against me so maybe he is the "team to beat," said Marino. "I'm super competitive but in this instance, I don't think I have much control during the race itself, so I'll probably resist the urge to trash talk, though I will enjoy bragging if I do win."
"I'm sure we'll sling around some barbs in the locker room before we hit the track, but it's all in good fun," said Tierney. "I've known some of the competitors for years. It's a terrific group of talented, civic-minded people looking to change things for the good. To bring smiles and necessary funds to great, great causes. But hell yeah, I want to win. And expect to win."