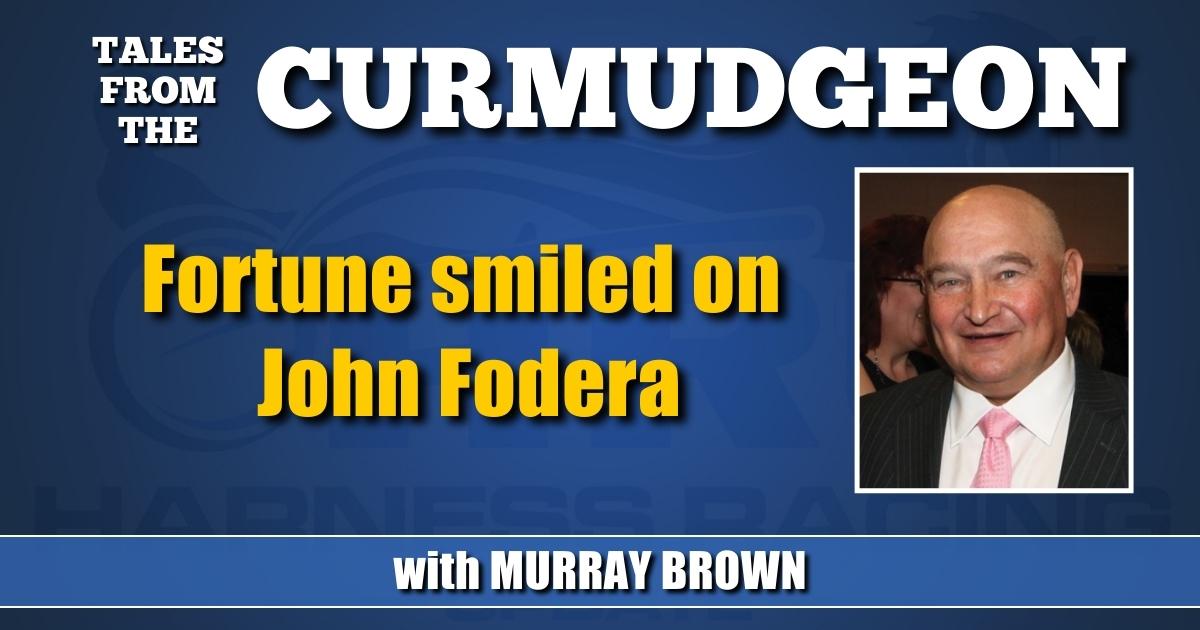 Fortune smiled on John Fodera
How Fodera went from principal and then president of St. Peter's of Staten Island to one of the harness racing's top owners.
by Murray Brown
One would be inclined to guess that there isn't any Catholic High School president who is a part owner of over 40 standardbred racehorses. One then might be surprised that John Fodera fits that profile. This scribe caught up with Fodera and his lovely wife Barbara while they were attempting to negotiate a traffic jam on the Garden State Parkway.
John has owned horses since 1961 when he bought part of a $2,500 claimer, Sir Carlith, at Freehold Raceway, being trained by his cousin and horseman Jim McGovern. He never had another trainer prior to or during that time until McGovern passed away at the too young age of 49 in 1982. Since then, Fodera's experience in harness racing has been never ending and quite successful.
"I started with claimers beginning at Freehold and then branched out to Liberty Bell and the New York tracks Roosevelt Raceway and Yonkers. Pretty much all my horses pre-Meadowlands were claimers and they continued to be such for the first few years at the Meadowlands.
"The reason for the gradual change to babies and Grant Circuit types can probably be summed up in two words – Myron Bell.
"After the Meadowlands opened, I purchased an owner's box in the grandstand. As fortune would have it, the Brittany Farms box was immediately next to mine. Myron, Brittany's racing manager, was there most evenings as was I. We became friends. If you know Myron, you know that you can't spend too much time around him without the subject of breeding coming up. It wasn't too long before I became intrigued with pedigrees myself. Although at the time my major interest was still claimers, more specifically horses that could be secured through the claiming route and be improved upon. With some exceptions that goal was achieved. Not to be bragging, but I tried to get my knowledge of claimers (or those that I would hope to become claimers) to be comparable to Myron's knowledge of pedigrees. Without a doubt, my greatest success in the claiming arena was a horse named Natural Talent. I missed out on claiming him as a 3-year-old. At the beginning of his 4-year-old season at the Meadowlands, he was in for a claiming tag of $25,000. With allowances for age and taxes, we ended paying $31,250 for him. The thrills and excitement that he furnished us cannot come close to being measured in dollars and cents. He eventually became a $100,000 claimer and won over a dozen races for us."
Q: In the early years at the Meadowlands, you were doing quite well in the claiming and overnight games. In the midst of your success, you decided to switch to yearlings. Why?
"I didn't really switch per se. It was more of an evolution to yearlings and stakes horses. I was learning, thanks mostly to Myron and also Martha and Milton Frank, dear friends who occupied the owner's box on the other side of mine. The Franks and Myron were heavily involved in the procurement and then the training and racing of young stakes horses. They were having lots of fun and excitement and really enjoyed that part of the game. Over a period of time, I joined some of their ownership groups. We did quite well. I was really enjoying it while being very successful with claimers and overnight horses. I began studying yearling catalogs and became fairly knowledgeable of the pedigrees that I liked and those that I didn't. I suppose the turning point of my love of the yearling game was the first time I went to Lexington for the Grand Circuit and the yearling sales. It is now 25 years later and I haven't missed a year in Lexington since. I love the search for the great horse similar to reaching for the Golden Ring. I am an eternally optimistic person and owner as well. I also greatly love the camaraderie and excitement associated with the entire Lexington experience. Since then, I've taken my yearly vacation from school without fail in order to be there."
Q: You have another life apart from the horses. You are the president of St. Peter's of Staten Island, the oldest boys Catholic high school in New York City.
"I'm proud that I've been affiliated with St. Peter's all of my adult life. I started teaching history and Latin 54 years ago after graduating from Georgetown University. I became the school principal in 1990. In 2017, I was contemplating retirement, but I was asked by the pastor to remain as the school's president and chief fundraiser. Of course, I accepted. St. Peter's is a great institution. It was founded in 1917. It is the oldest boys Catholic high school in New York City. It is still the only Staten Island high school to ever win the city's basketball championship."
Q: You have 41 horses in training. How are they divided and who is training them?
"There are 25 2-year-olds, 15 3-year-olds and one 4-year-old. The majority of the horses are with Tony Alagna, who I consider to be a closer friend rather than just a trainer. He is an exceptionally talented trainer but perhaps more importantly a great person. I am so proud that I attached myself to his program before he rose to the great success he has achieved. I first knew him when we had horses with Erv Miller. He was Erv's second trainer before he decided to go out on his own. This young man was so impressive that our ownership group decided to send him most of our horses. It was a great show of faith to a man who was just embarking on a career in running his own stable. Tony lived up to and well beyond all that we hoped he would become. I look back to that time. We initially were focused on overnight horses including claimers who we would campaign at the Meadowlands. We quickly included yearlings in the game plan. I recall a conversation with Tony at that time where we were plotting our game plan for his stable. I recall him saying that he would anticipate never training a stable of more than 25 head. So saith the man who now has over 150 in training. In addition to being a gifted and hard-working trainer I consider Tony and his mother Donna Lee to be two very good friends. I also have horses with Jennifer Bongiorno, Brian Brown, Noel Daley, Dan Lagace, Chris Ryder, Ake Svanstedt, Nancy Taker, Linda Toscano and Lucas Wallin."
Q: Which is the best horse that you've had?
"In terms of talent and achievements that would have to be Ramona Hill. In terms of the horse closest to my heart that would be Boulder Creek, thanks to Mark and Tammy Silva. It's not often that you can own one from his earliest career and then have that horse win almost $3.5 million dollars. He is still alive and is retired and living a good life on a farm in North Carolina with Chris Coyle."
Q: What has been your greatest thrill in all your years in the sport?
"Without a doubt that would be Ramona Hill winning the Hambletonian. It was both a thrill and a memory to last a lifetime. My partners Steve Wienick and Robert Leblanc and I were near crazy cheering her on though the length of the Meadowlands stretch. Steve took a video of our performance and Tony Alagna actually put it on You Tube. I forget how many views it got, but it was an unbelievable amount. I also had another reason to get in on Ramona's ownership. I owned her dam Lock Down Lindy for a good part of her racing career before she became a broodmare. It was kind of sad that Ramona's Hambletonian coincided with the time when COVID-19 had become a big part of America. The Crawfords were at the Meadowlands, but so many of our friends, our partner Brad Grant, and relatives were unable to come and share in our joy."
Q: Let's speak of COVID and how it has affected you and your lifestyle.
"Thankfully neither I, my wife Barbara, nor any of my children have had it. My grandchildren have had some minor strains. Thankfully, nobody was ever very ill. The effect on the boys at St. Peter's was much more significant. Not only did a good many of them get sick with the virus, but it probably significantly impacted on their scholastic progress and social growth. The boys were forced to stay home learning remotely. We did the best we could do considering the seriousness of the situation, but it was a huge difference with the kids not being in school and having their learning schedule put into disarray. The bottom line for many of them has been that they have in effect lost two years of their valuable youth."
Q: How active have you been in terms of the ownership of your horses?
"I would say quite a bit. I like to think that the three most important components of my life are first, my family, second St. Peter's Boys High School and the third would be the horses which I own. I'm not active in the sense that I ride or am involved in the training of the horses. But I watch every race and replay in which I have a participant. I follow their progress as they are being trained. I like to think that I can tell when a horse in which I own a piece is not at its best. I hope I'm not a frustrating owner who needs to be constantly asking questions about the horses from my trainers but I like to speak with them quite often and keep track of their status. I firmly believe where you a place horse to race and setting the proper schedule and management of your stock is a key to success."
Q: You've won a serious number of very important races through the years.
I've been very fortunate in that respect. Ramona Hill's Hambletonian was the most important one. But we won several other stakes events with her as well. I've also won three Little Brown Jugs with Tell All, Mr. Feelgood and Captain Barbossa, who was picked by Trevor Richie, who is a good friend and has been a horse partner in our groups. Captain Barbossa was a maiden prior to winning the race and that was also the thrill of a lifetime. I'm fairly certain he was the only maiden to ever win the race. We won three Metros with Yankee Skyscaper, Artspeak and Exploit, the Goodtimes with Pilot Discretion and Quite Easy, the Pepsi North America Cup with Tell All, the Kentucky Futurity with My MVP as well as several Breeders Crowns with the likes of Boulder Creek and American History and numerous other important and maybe some other not so important events. I share many good memories with Jimmy Takter and my ownership with Martha Frank when we raced the great filly and mare Shake It Cerry."
Q: How are things shaping up for this coming racing season?
"I would say very well. I guess, though, that I probably have said that every year. If you are not an optimist, then you probably don't belong in this business. I have 25 2-year-olds in training, that is the most I've ever had. I hear varying degrees of optimism about them. Tony has the greatest number. He has been around 1:58 with many of the pacers. Isn't that amazing? There was a time not all that long ago when if you had a 2-year-old that could go faster than 1:58 you'd have a horse that could make quite a bit of money for you. Today that won't get you much more than getting hot. I've been very privileged to have been associated with so many quality partners, the majority of whom I already mentioned and they are great friends. Without doubt, I share most of my business relations today with Robert Leblanc and Joseph Sbrocco, both of whom have a great insight into horse racing and include my inner circle of friends. My best friend and partner for over 30 years has been Steven Wienick, together we have formed In the Gym partners. I'm looking forward to the 2-year-old season especially with Treacherous Penny and Captain Van Gogh (Alagna), Downbythebanks (Nancy Takter), D'Apper (Wallin) and Beach Cowgirl (Bongiorno) to name a few. However, before that, there are three colts hopefully giving me both excitement and promise for another try at the North America Cup, namely, I Didit My Way, Night Hawk, and Pebble Beach.
"Also, Tony is bringing back Fast as the Wind, last year's winner of the Kindergarten and Valley Victory preparing him hopefully for the Hambletonian. Obviously, I consider myself one of the luckiest and most blessed horse owners in this business. I would be remiss if I didn't conclude by stating that my role model and most respected gentlemen in harness racing is George Segal, owner of Brittany Farms, who epitomizes everything that our great racing industry should represent."
Have a question or comment for The Curmudgeon? Reach him by email at: hofmurray@aol.com