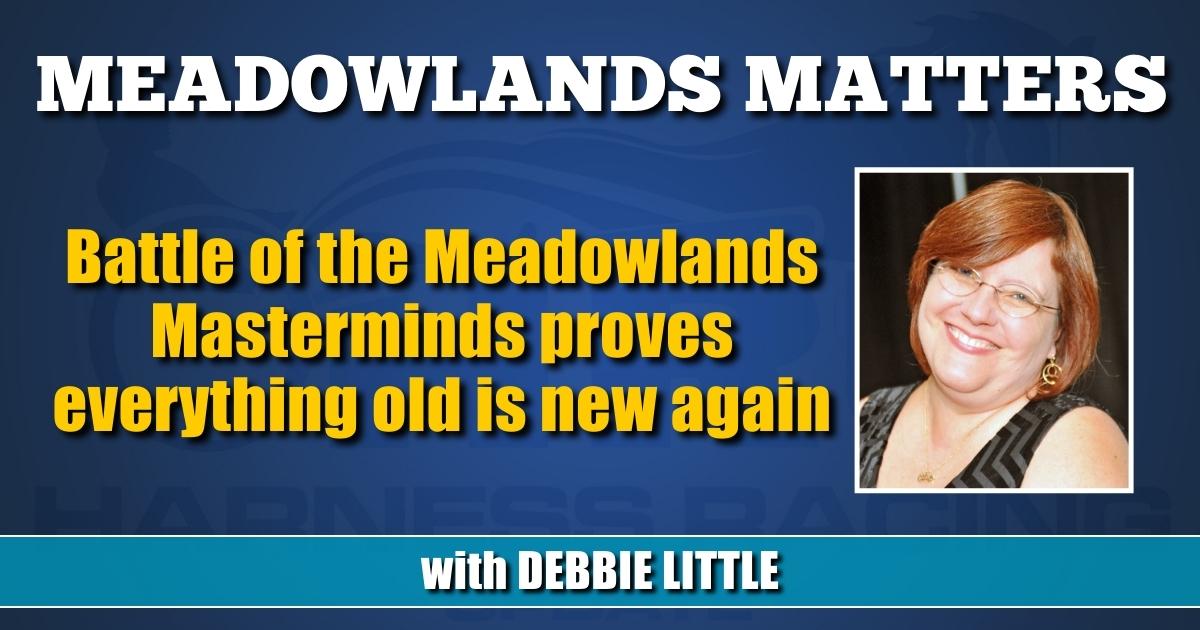 Battle of the Meadowlands Masterminds proves everything old is new again
The handicapping contest pitting Dave Brower, Edison Hatter, Dave Little, Jessica Otten
and Ken Warkentin against each other is an ode to the Battle of Saratoga.
by Debbie Little
The Battle of the Meadowlands Masterminds pays homage to a popular handicapping contest.
"[Jeff Gural] just emailed one day and asked that I put together a contest that pitted our handicappers against each other and he referenced the Battle of Saratoga," said Meadowlands' director of marketing and event operations, Rachel Ryan. "That was the impetus."
For those too young to remember the Battle of Saratoga, it was an immensely popular handicapping competition that ran in the New York Daily News for about three decades.
The Masterminds competing will be Dave Brower (53), Edison Hatter (22), Dave Little (60), Jessica Otten (25) and Ken Warkentin (62).
For any that don't know, Little is my husband, and he bridges the gap between the two contests, since prior to coming to The Meadowlands he was the racing editor at the New York Daily News for 24 years and won their Battle six times.
"I suspect that people perceive me as the one with the target on my back," said Little. "But luck plays such a big part, especially when you're betting Meadowlands' races. I just hope we have some fun with it and I'll be very happy at the end of the contest when our charities and fans are our true winners."
Although donating money to charity was sometimes a feature of the original Battle, fan participation totally belongs to this reboot.
"The promotions department has come up with a pretty cool way to get the fans involved so they have a rooting interest," said Little. "I mean, hey, someone can win $10,000 at the end of this."
The fans will need to handicap the handicappers in order to qualify for the chance to win nightly prizes and to be in the running for that grand prize.
Starting tonight (June 3), the five Big M competitors will get a nightly $500 mythical bankroll, all of which must be wagered that night on races four-through-nine.
The wagers will be posted on social media for the betting public to follow and those in attendance each night have the option of filling out an entry form and dropping it in the box of the handicapper they think will lead the competition that night.
The numbers will be tabulated and posted throughout the night and after the 10th race, the nightly winner will be announced.
A random entry will be drawn from the fans that backed said champ and will win a $200 betting voucher and a $50 gas card. They will also be one of the 22 winners eligible for the grand prize that will be chosen on Hambletonian Day. Unlike in the Hunger Games, if you enter the contest every race night, the odds are in your favor.
You must be present to win and can only win one time during the challenge.
For the handicappers, the chance of winning money for their charities, as well as the fans, is extremely important.
Brower chose a charity that he has done consulting work for in the past.
"[CBH Care] is a locally based wonderful mental health care services agency," said Brower. "The work that they do and the programs that they have are exceptional and right now I can't even imagine how overwhelmed they are with what they have to do because there are just so many people that are in bad shape – adults and children – having difficulty dealing with these pandemic issues. So, if I can give a little bit back to them, that would be great."
Hatter's charity, is one of three aftercare programs chosen by the participants.
"I chose Purple Haze [Standardbred Adoption Program] because I care a lot about doing what I can to make sure our retired horses have happy and healthy second careers," said Hatter. "These horses give us so much joy while they are competing on the track, the least we can do is help them after their racing careers are over."
Nicknamed "The Trotter Guy" in the original Battle, Little, unlike his then competitors that supported thoroughbred charities, chose instead a standardbred charity.
"I won some money for the Standard Retirement Foundation back at the Daily News and I'm hoping to do the same this time around," said Little. "It's always what I felt to be a very worthy cause, because often these retired standardbreds get forgotten and I don't even want to think about what happens to some of them."
Otten wrote about New Vocations when she was working for Post Time with Mike and Mike and personally knows the family that runs the facility.
"It hits a little close to home as well," said Otten. "Winnie [Nemeth] is from Michigan and I'm very good friends with her and I adore her family as well and I've visited her facilities. I've never personally sent a horse to New Vocations but I have friends that have and they've done well.
"These horses give us everything so we can live this life that we are so lucky to live. So, they deserve to have every bit of a great second career or just a second home."
Warkentin has been a long-time supporter of the Harness Horse Youth Foundation as it is the chosen charity of his yearly announcers' workshop.
"I want to win, not for bragging rights, but for the charity," said Warkentin. "It's one of the only charities that we have in the business that nurtures young people. As you know, the lament of the business is that our fanbase is aging and dying off and we're not nurturing young people enough and especially getting young people involved in the business.
"The Youth Foundation involves young people and they get hands-on training. It gets kids out of the house and away from their phones and computers, working, getting their hands dirty, getting closer to nature working with animals. Maybe if you have 25 kids in the class, maybe a couple of them end up getting a job in the business or taking some interest in it somewhere down the road after school."
For further information on the competition go to
www.playmeadowlands.com