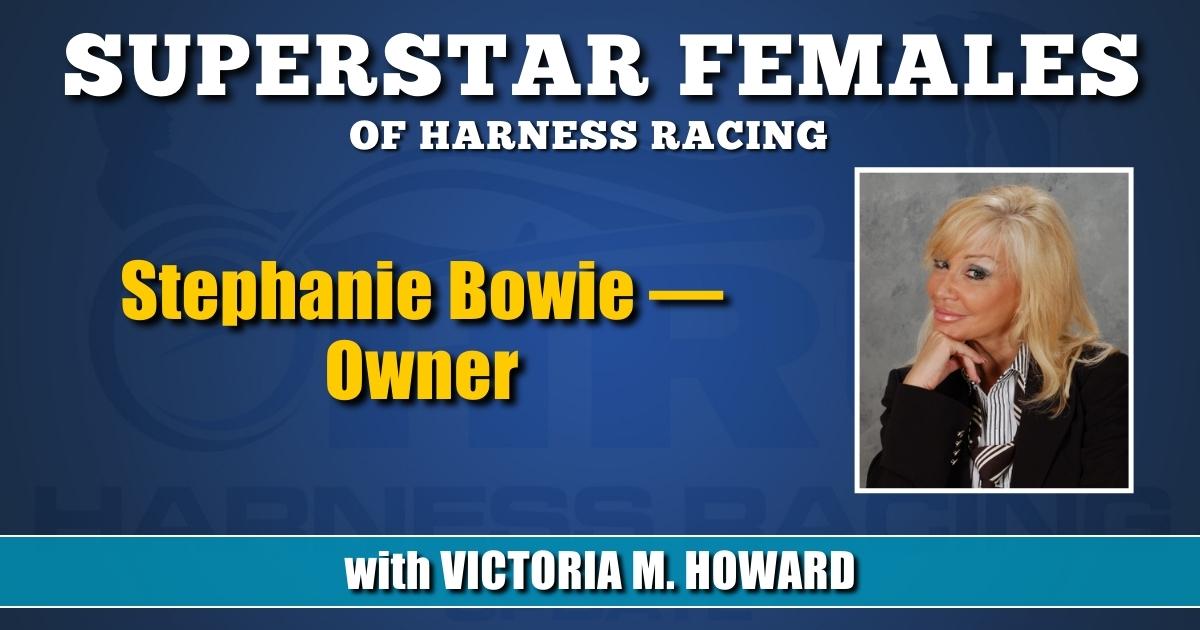 by Victoria Howard
It was 2009 Stephanie Bowie was first introduced to our wonderful sport of harness racing by her (future) husband, legendary basketball star, Sam Bowie.
Although you may call her a "newbie," her husband had been involved for years.
They went to The Meadowlands to watch one of Sam's horses, Before He Cheats, win the Su Mac Lad with Tim Tetrick in the sulky.
"I remember standing in the winner's circle thinking, 'This horse racing thing is easy!" Stephanie said, laughing, "Not realizing how hard it is to actually win!"
Sam is not only a legend in the world of professional basketball, but is well known in our sport, too
Both Sam and Stephanie were born in Lebanon, PA, but now reside in West Palm Beach, FL.
Sam played 12 years in the NBA for the Portland Trailblazers, the New Jersey Nets and finished with the Los Angeles Lakers.
But he is not the only basketball player in the family. Stephanie was also a basketball player —receiving a full Division 1 scholarship to play basketball at Stony Brook University.
"As fate would have it, when the first Stony Brook men's basketball team made it to the NCAA tournament — their first opponent was the Kentucky Wildcats," Stephanie said, referring to Sam's college team.
Sam and Stephanie have been a couple for 15 years (married for four), and have owned several nice horses through the years; but the horse that won their hearts is a mare that stole the spotlight last year — Hot Mess Express.
The 4-year-old mare by Panther Hanover out of My Heart Was True, is every horseperson's dream horse. In the past two years of racing, Hot Mess Express has accumulated $766,699 in earnings and took a lifetime mark of 1:48.3, which she got winning the Mistletoe Shalee.
In 2021, Hot Mess Express won all six legs of the Indiana Sire Stakes; the $250,000 Indiana Sire Stakes Final; The Pegasus; The Circuit City, the Nadia Lobell and her division of The Fan Hanover. Thus, Hot Mess was rightfully named 3-Year-Old Pacing Filly of the Year in Indiana.
Not growing up around horses, Stephanie had always been a little apprehensive around the powerful animal. However, Hot Mess Express changed that.
"I feel comfortable around Hot Mess for she is so sweet and gentle. She's one special horse," Stephanie said.
As far as watching their mare race, Stephanie says she can't watch the entire race for she gets way too nervous.
"I'm extremely nervous when Hot Mess races — especially when we are there live. When we are at home watching, I let Sam watch it and tell me how it went — and then I watch the replay."
In 2021, the Bowies accumulated lots of travel miles, flying from track to track to watch their mare compete in stake races at The Meadowlands, Hoosier Park, The Red Mile and the Poconos.
Although her husband would rather drive than fly to watch Hot Mess — for he is not a fan of flying. Though, love conquers all, for Stephanie convinced Sam to fly to Costa Rica to be married.
Unlike her husband, flying is Stephanie's second nature. She has been a flight attendant for the past 15 years.
"I've been with my current airline, Jet Blue, for the past nine years but I've been flying the friendly skies for 15. I love traveling and getting to meet different people, for travel has always been my passion.
"My first job with the airlines was a charter and we did mostly international, so it was such a blast to travel the world. I feel so blessed to have traveled and seen over 60 countries."
Currently the Bowies have a small stable — two horses trained by Tony Alagna. They are Hot Mess Express and a Captaintreacherous gelding named Captain Butler.
They are anxiously waiting to start both horses, hoping for a year like they had in 2021.
"Our trainer says both horses are training well and we got to watch them this winter at Sunshine Meadows. I never realized how much work goes into racing and caring for a horse. The trainers, grooms, blacksmiths and veterinarians — it really does take a village."
As far as the future for Hot Mess Express, Stephanie said, "She's going to race this year. Although she's coming back really good, they say this will be a tough year for the transition of 3-coming-4 is really competitive for racehorses.
"But Hot Mess is one tough mare. We've been offered good money several times to sell her, but I told Sam, 'No way!'
"We would eventually like to breed her and either race or sell her offspring, but you never know what the future holds."