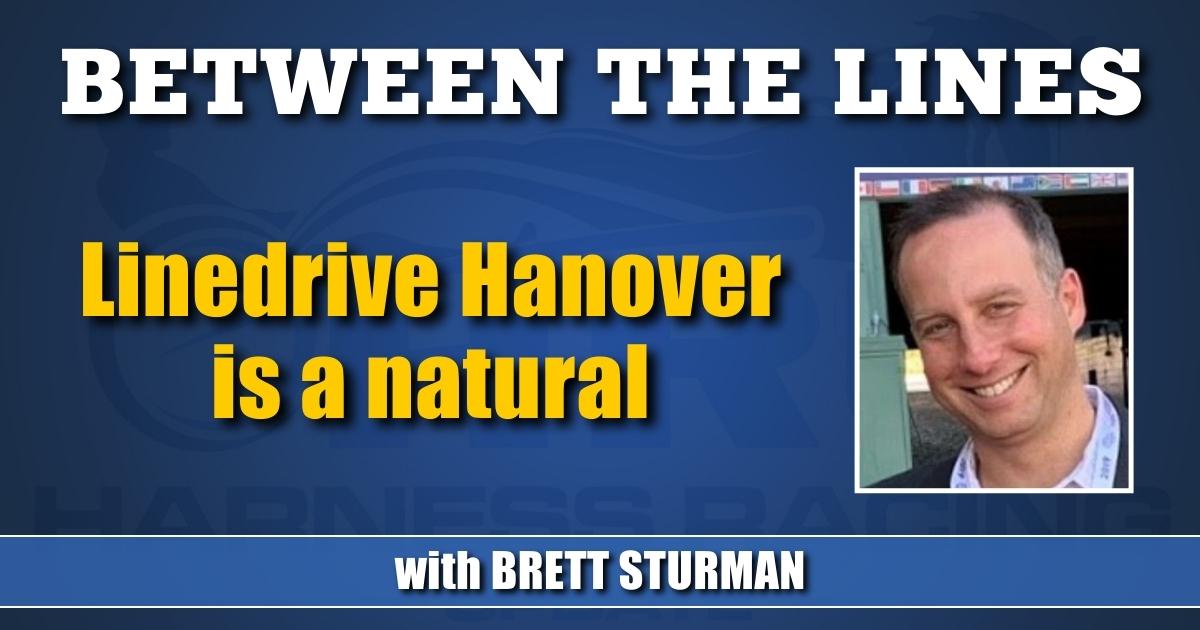 Linedrive Hanover is a natural
The 4-year-old gelded pacer is a perfect 9-for-9 at Woodbine Mohawk Park this year for a team that includes part-owner Casie Coleman and trainer Tony Beaton.
by Brett Sturman
Beyond simply his baseball-themed name, there's more than a few parallels between the 4-year-old pacer Linedrive Hanover (Betting Line—Lillian Hanover) and the protagonist Roy Hobbs from the baseball film, The Natural.
Like Hobbs striking out The Whammer, Linedrive Hanover showed potential brilliance young in his career, albeit only for a flash. And now, just like Hobbs, after missing earlier seasons to setbacks — though for obviously different reasons — some may be wondering where Linedrive Hanover has "suddenly" come from.
This year, Linedrive Hanover has raced nine times and has won all of them. Not fooling anyone despite being unraced since a lone start at 2, he's been odds-on in every one of those races while climbing up the class ladder at Woodbine Mohawk Park.
Linedrive Hanover baby-raced in his second qualifier at Mohawk in July of 2020. In that start, he won by 18 lengths in a time of 1:53.2, which included a back half in :53.4 and a final quarter in :26.3. He then debuted in the Dream Maker, where he was sent off as the heavily backed 1-5 favorite.
"He's probably the fastest 2-year-old I ever trained," said co-owner Casie Coleman, who bought and has trained Linedrive Hanover throughout his career. Coleman shares ownership of the winner of nearly $90,000 with Ross Warriner, Jim Fielding, Kevin McKinlay and Mac Nichol.
"When Jonathan Drury qualified him at 2, he told me that he was faster than his old man (Betting Line), and we were extremely excited about him. He was completely staked into everything. In his first start (in the Dream Maker) he was coming down the lane at Mohawk and was going to jog, and he jumped something on the track and made a dirty, nasty break. He came back pacing and still finished fourth after that, but when he pulled up, JD (Drury) came in with him and said that something wasn't right. It took a few weeks to figure it out, but he ended up having bone bruising on his hind ankle, and the only way to fix bone bruising is time off, there's nothing else you can do."
After almost nine months off in which Coleman turned out Linedrive Hanover and trained him down in Florida, he qualified in May of his 3-year-old season and again, this time at Pocono Downs, another fateful scenario played out.
"At that point I still had him staked to everything because I thought he was the best colt I had ever trained," Coleman said. "We qualified him with Matt Kakaley and he came back saying how this horse is a freak and was so excited about the horse. And then, the same thing. We got him home and the next day he was lame. Once again, we went for a bone scan and it turned out he broke his tibia, which is a very rare thing, and again he missed the whole season."
Coleman typically won't keep horses that don't race early, let alone through age 3. But Linedrive Hanover was an exception, and thus far in the year, Coleman and team are being proved right. Having been gelded prior to this season, Linedrive Hanover has earned a 1:51 mark taken on April 9 as part of his 9-for-9 record this year. Tony Beaton has performed the training responsibilities during that time and is deserving of credit from Coleman.
"I trained him back, and then once it was time for me to ship to Florida in November, I left him with Tony when he was to qualify," Coleman said. "Tony's done a fantastic job with him. He's kept him sound, happy, and healthy, and all through the way he is racing right now. He's worked for me in the past and knows my program, and he's also doing a good job with own barn. I'm still in Florida and I've sent my other 3-year-old's up, so I have four horses with Tony right now. Last week, we had three wins and had another with an improved qualifier, and he's been good for sure."
After breaking his maiden in January, Linedrive Hanover raced the next two weeks consecutively as he swept through the Snowshoe, but since then, almost all other races have been spaced out by at least two weeks. After a win last week, Linedrive Hanover will have this week off before being entered next week. Coleman said the strategy is by design, as to continue to get miles under the horse and see what he is, without wanting to over-race him by the time stakes in the summer come around.
Coleman picked out Linedrive Hanover from the 2019 Standardbred Horse Sales Company sale for $75,000. He was the first foal out of the dam Lillian Hanover, who herself is a half-sibling to world champion Dealt A Winner. It's the same family that also includes fellow world champion Timesareachanging. In what first drew her to the horse, Coleman said, "He's very well bred, and I was looking for Betting Lines in particular, and Hanover Shoe Farms does a great job in raising a horse. I was out at the farm probably a month before the sale and just loved the way he was moving out in the field. He's medium sized, he's got a lot of muscle, a huge shoulder on him, a sharp head, he's got a big white blaze on him and anybody that knows me knows I have a thing for horses with white on them for some reason."
Linedrive Hanover isn't staked as heavily this year as he was in years prior, but he's still been made eligible to some of the bigger dances.
"I didn't stake him too heavily because he's a 4-year-old that hadn't really raced until this year," said Coleman. "He's in the Graduate series which he's going to miss the first leg at the Meadowlands because I don't want to ship before the Confederation Cup. He'll race in the Confederation Cup at Flamboro in May, and then he's got some Graduate legs, the next of which is at Mohawk in early June. I also put him in the Canadian Pacing Derby and the Breeders Crown since it's at Mohawk this year."
If all goes to plan, Linedrive Hanover will get his shot in those races against the sport's best free-for-all pacers. And in a twist unlike when Hobbs resurfaced, Linedrive Hanover may just be getting started.