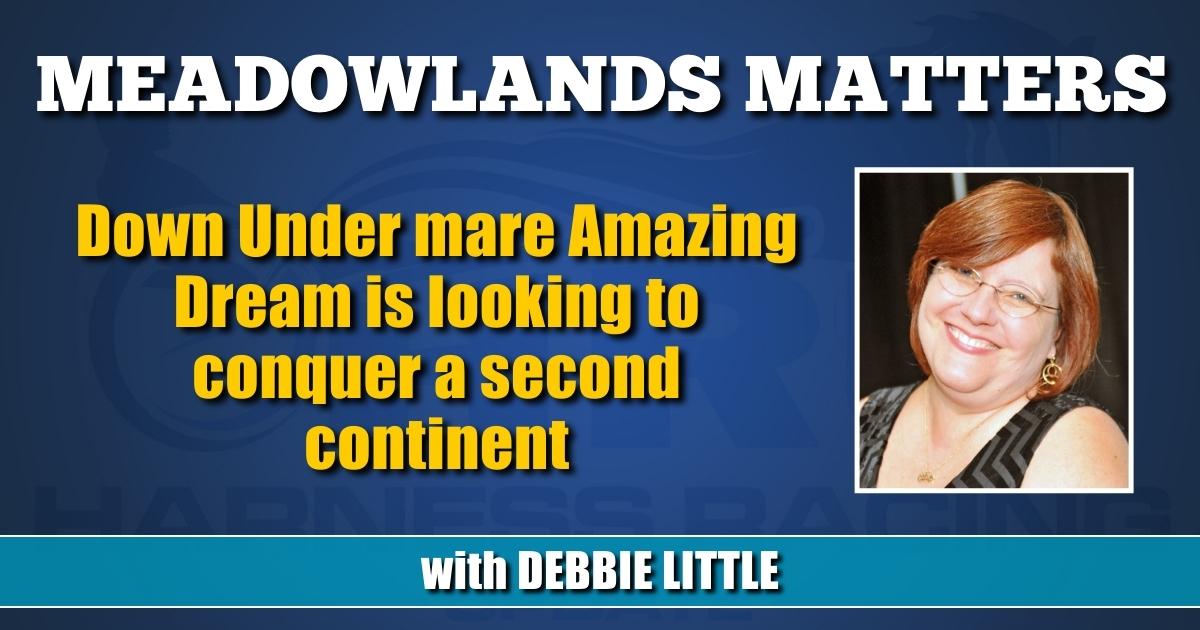 Looking to conquer a second continent
Down Under mare Amazing Dream has landed in America and is already making a name for herself on a second continent.
by Debbie Little
What do you do when you're the best mare Down Under? In this case, look to conquer another continent.
The New Zealand-bred Amazing Dream is not the first top Down Under horse to try to make their mark in the U.S., but for her, timing could be everything.
"She's probably the first to come from Down Under right at her peak in a long time," said co-owner Gordon Banks. "Lazarus was past his prime when he came here."
Trainer Noel Daley never saw Amazing Dream race in Australia, but certainly knows her reputation.
"What I've seen in the last few years is that their best pacers go with our best pacers," said Daley. "And she's better credentialed than just about anything that's come here. Whether she's a mile horse, we'll see.
"She was even competing competitively against the boys. The best ones never come here. The best horse makes three or four million dollars down there. There's no need for them to come here."
Enviro Stables Ltd., comprised of Banks and his cousin, Marc Hanover, own quite a lot of horses racing Down Under, so when the opportunity to purchase Amazing Dream came up, they had to make it happen by bringing in partners Richard Gutnick, Tom Pontone and Joe Lozito, Jr.
"Believe me, there was a lot of pressure to keep her down there because in this period of February through April 30th, she could have raced for over $3 million Down Under," said Banks. "But we have all U.S. partners and they want to race her here this year in all the top races. So, to give her time to acclimate and be ready for the season, we had to bring her over now."
For Enviro, including Gutnick, Pontone and Lozito seemed like a natural when you consider the same partnership already owns trotting mare Lady Chaos and trotting filly Bare My Soul.
"Gordon Banks was telling me that the best pacing mare from Down Under was going to be available for sale and I said to him lets buy her," said Gutnick. "He was silent for a little while and he said, 'Are you serious?' and I said, 'Yes, let's do it.' I said, 'I'll put the deal together, you go ahead and make the offer.'
"Tommy Pontone and Joe Lozito are my main partners and they always say to me when I ask them if they're interested in a horse, they say 'If you're in, we're in.' With partners like that, it's fantastic."
Pontone considers Gutnick to be his brother from another mother since the two met in the 2012 Hambletonian winner's circle with Market Share.
"We were actually looking at a trotter in New Zealand and it didn't work out and he said, 'I've found a pacing mare,'" said Pontone. "I didn't know anything about Amazing Dream and he wanted to do it and I just said if you're going to do it, I'm going to do it. When Richard calls me up, whether I agree with him or disagree with him, at the end of the day I go, 'Okay, brother, I'm in. I trust you. If you're in, I'm in.'"
Lozito has owned horses since 1985, including some with Pontone.
"Tom asked me to join up with Richard and we kind of created an instant friendship, partnership," said Lozito. "[Richard] is very good at what he does and he's a very loyal partner and is as honest as the day is long.
"When it came to Amazing Dream, Richard called and I said why would I want to spend that much money for a horse I can't go see race? Because I do like to go to the track. I'm probably very happy with it since Amazing Dream did so well on Saturday night."
What the partners paid for Amazing Dream has never been disclosed and that's okay with them.
"It would be terrible for me to say, because I love reading the speculation, and there were all sorts of numbers thrown around," said Banks. "It was a big number but it was a fair number. There were reports that some crazy people bought this mare for a million dollars. Untrue. Taking out Lazarus, there has not been a racehorse from Down Under in the last 10 years that sold for over half a million U.S."
Rounding out the "Dream" team are trainer Linda Toscano, caretaker Shelly Grieco and driver Todd McCarthy.
"We've been with Linda for 30 years," said Banks. "We won the Breeders Crown with Linda with Molly Can Do It. So, there's nobody better with fillies or mares than Linda. We never gave it a thought to give it to anybody but Linda. She's extremely patient and something you don't hear much about horsemen. She's wise."
"Linda is phenomenal," said Gutnick. "Everybody knows that. Linda and I share the same philosophy. If you don't wait on a horse, they make you wait even longer."
Toscano's had the mare for a couple of months now and is happy with her progress over that time.
"To look at her, she's pretty plain and not very big, but mighty as far as her heart is concerned," said Toscano. "She doesn't need me to tell anybody she's a good horse. She's the second winningest mare in Down Under history. I just need to not get in her way and not screw her up.
"[These owners] are just a great group of people. They genuinely love the sport and genuinely love to compete at this level and the fact that they've entrusted me with her is kind of special. Of course there's pressure, but this is the kind of pressure that we look for. Brad [Toscano's husband] just said something in my ear, but he's right, this is the kind of pressure that's a privilege and that's exactly the way I feel about it. The fact that they trusted me enough to allow me to condition her over here is a gift."
Grieco, who cared for the aforementioned Market Share, sees some of his relaxed nature in Amazing Dream.
"One day [Linda] said Enviro is going to send their good mare from Down Under and you need to make room for her," said Grieco. "Like Market Share, she has the laid-back attitude. Never misses a meal. If she leaves one morsel in her feed tub, I jokingly tell Linda you better call the vet immediately.
"There's nothing flashy about her, but she has a little Bettor's Delight head. I don't think I've ever really had a good, good mare that I could compare her to. I think the thing that stands out about her compared to most fillies or mares is nothing phases her. Some mares can be temperamental and moody and so far, I haven't seen that side of her at all."
After looking at a list of which drivers were committed to other pacing mares, the connections thought McCarthy was the perfect choice.
"He was a driving force in Sydney before he came to the States," said Hanover. "Down there, he always drove [our horse] Our Majordan [almost] every week."
"I spoke to Todd back in September in Lexington about driving this horse and he said he would if he could and he's been as good as his word," said Banks. "Now it's up to her to prove to him that he made the right choice.
McCarthy drove her to an easy victory at The Meadowlands on Saturday (April 9), in her U.S. debut. She has banked over a million in earnings and now has 25 wins in 49 career starts – including 10 Group 1 races Down Under – and has only failed to hit the board a total of five times.
"When I was asked to go with her, I felt that it was an amazing opportunity and that she'd been doing such a great job down there, so it was easy enough to give her a shot and I certainly hope it works out," said McCarthy.
According to Grieco, Amazing Dream doesn't like to stand and wait in line and she appreciated how McCarthy dealt with that situation on Saturday.
"We were going out to post parade and she was starting to get a little bully and Toddy just started sweet talking her," said Grieco. "He talks to her all the time. Going out in the post parade she's got earplugs in so she probably can't hear it, but to me it means a lot as a caretaker to know that your driver respects and cares for the animal between the shafts as much as you do. Because I am that type of caretaker, my horses are my kids and when they hurt, I hurt.
"It's always nice to work your butt off for good owners that appreciate the effort that you put into their horses. After so many years they become family. I've been with Linda going on 19 years. I just hope we can have a little fun with her this summer."