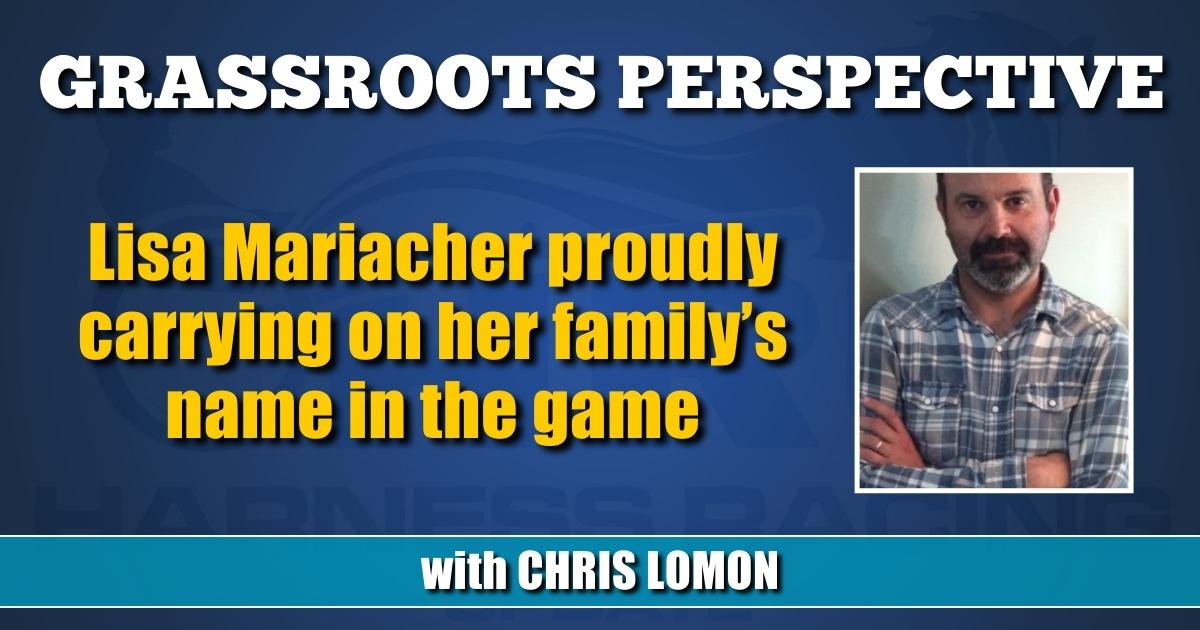 Lisa Mariacher proudly carrying on her family's name in the game
by Chris Lomon
There's no doubt Lisa Mariacher's father would be proud.
During his time in horse racing, Al Mariacher earned a reputation as a top-rate standardbred trainer, a horseperson who always had his pacers and trotters in peak condition before the starting gate began rolling.
He was also respected and revered by his contemporaries for his generous ways with both humans and horses.
If she ever needed a reminder of just how well regarded her father was, she found it often.
"When I first got into racing, there were a lot of new people at the racetrack, but there were also lots of people from my dad's time. They would come up and say, 'I have to tell you this story about your father.' It would be a really funny story. I remember one night I was in the paddock and I had a horse that I owned. I wasn't training at the time. I was having trouble finding someone to warm the horse up. It was getting closer and closer to race time, and I was asking people, but no one had the time, and didn't really know who I was. Someone who did know my dad came up and asked if I wanted him to warm up my horse. After he did, I went to hand him money for doing it and he said, 'I don't want any money. If it was my daughter, your dad would have done the same thing.' It's so nice to have that kind of help if I need it and also to see how people felt about my dad."
Sixteen years after his passing, she's proudly carrying on the family name.
While she hasn't followed the same horse racing path her father did, Mariacher's fondness for the sport and its equine stars is quite similar.
Her association with the sport began at an early age before she circled back into the industry years later.
"My dad trained in the '70s, '80s and '90s," said Mariacher. "I was young at the time, but I was involved in it. Towards the end, before he retired, I got into riding horses. I did that for a few years and then I went away to college in West Virginia for equine studies. I came back home, had a son, and then got out of the horse business. Then, I met my current husband, Billy Verney. His father had a small stable at the same time as my dad. When I met Billy, he was working at a barn and had some horses. That's how racing came back into my life, kind of full circle, I suppose. I couldn't have asked for a better story."
A story that has had no shortage of compelling chapters so far.
Take for instance Mariacher's first training win. Or in this case, training wins.
It was a milestone moment that ended up being twice as nice.
"I actually had a double," she said with a laugh. "I had just got my license and I had a trotter, Iaintnomomaluke, and another one, now retired and that I still have, [pacer] M G Home Run. They both won on the same night [October 6, 2015, at Batavia Downs]. It was super exciting and it was a great night. It was amazing. I remember that Jim Morrill drove both of them that night and he has an amazing set of hands and can get so much out of these horses. I was really lucky to have him driving both of them."
Mariacher, who won three races in her rookie year, recorded a career-best 13 victories in 2021.
This year, she's off to a flying start, well on her way to setting personal-best numbers.
On April 6, she relived her double from six-and-a-half years ago when trotter Le Millenaire and pacer Pumpkinspicelatte both recorded wins.
"The last month has been very successful. I can really contribute that to the connections and the grace of God. I have absolutely amazing owners, who trust me and allow me to do what's best for the horse, whether that means getting them rest, moving them up in class or staying at the level where they are currently at. All of that makes a huge difference in how the horse performs. So, this success is about a lot of things, including supportive owners. Bad owners can give you a lot of stress and make you question your abilities, good owners can make it successful and fun."
She is also quick to give credit to those who sit in the sulky.
"The drivers I have on my current horses definitely play a role in my success. Each of them gets along so well with the horses they are driving for me right now."
Mariacher's not letting any of the big results go to her head.
"You can have the best horse, the best driver and the best post position, and anything can happen. You can get locked in, a horse could break in front of you, they could cancel that night because of weather – you always need a lot of things to come together to make a win happen. I don't start celebrating until they hit the wire."
And she doesn't forget the helpful words of wisdom spoken by her father.
One particular gem stands out above all the rest for the horsewoman who also runs an online fabric trim store.
"We don't have any grooms right now. We have six racing and two retired right now. It's just Billy and I. My son, Jesse, who is 15, is a very mature teenager. He's very involved in riding horses and he wants to become a blacksmith. He really helps us a lot at the stable and in the paddock. My thing is – and what my dad told me – that if you want anything done right, you have to do it yourself. No one is going to work as hard as you do for yourself. Because of that and the small number of horses we have, we are able to give them 100 percent every week. I know there are some great grooms out there, but's it's nice to know everything that's going on with your horse and that you are right there."
For Mariacher, that also means she's right where she wants to be.
While she's happy to look ahead to future success, any trip to the racetrack is also a chance to walk down memory lane.
"When someone comes up to me and says, 'Hey, you're Al's daughter! He was such a great man.' That makes me feel that he is still with me here, through all of the stories that his friends tell me. I was really close with him and it's hard not to have him in my life, but through all of these people talking about him, it gives me peace. I always say that win or lose, I'm lucky. I have a family and job I truly love. Most can't say both."