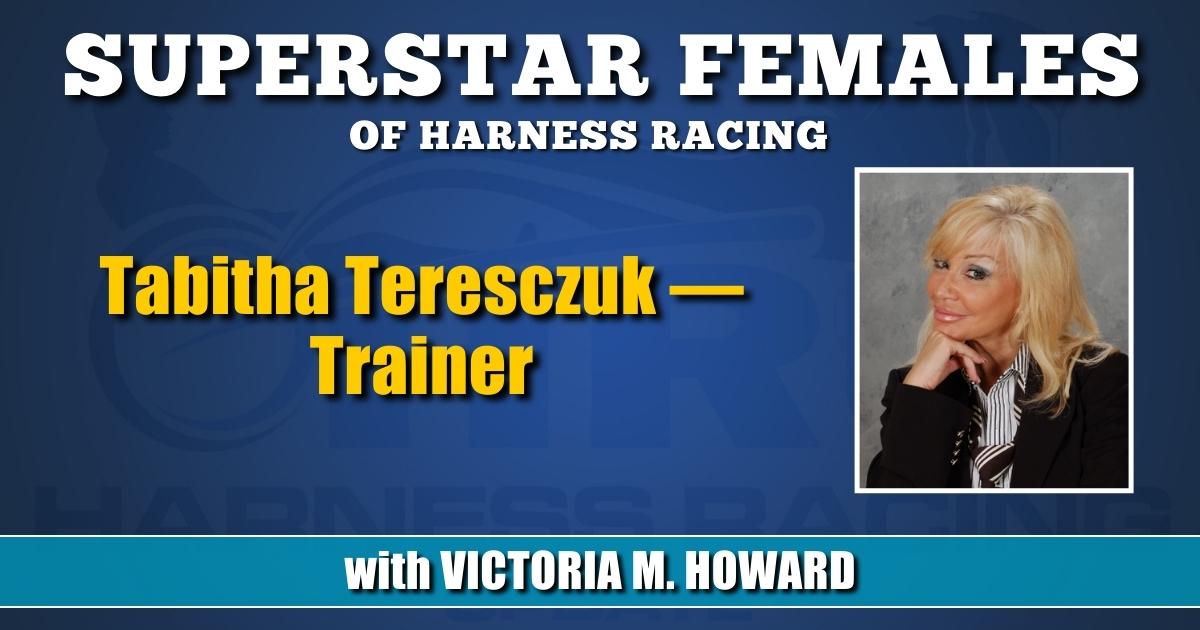 Tabitha Teresczuk — Trainer
by Victoria Howard
With so many harness tracks closing (the latest being the great Pompano Park which will sadly say 'goodbye' to it's horsemen and patrons after 50 years), there is a grim outlook for our great sport.
There are several reasons why the sport has steadily declined over the past decade(s): the main one being the onset of off-track betting and the opening of casinos.
So it's no wonder many people hesitate before taking the
plunge into making a career of driving, training, grooming and owning standardbreds.
There's not a lot of 'young fresh blood,' which is what harness racing desperately needs; but that didn't stop this issue's superstar, Tabitha Teresczuk.
Although her family was not involved in the business, Teresczuk started riding horses at the fairgrounds when she was 16.
"I've always loved horses and grew up mostly around
quarter horses and would go to the rodeos on the weekends," Teresczuk said.
"I was born in Cleveland, Ohio, and would watch the racehorses at the track and I guess you could say it was 'love at first sight' with the sport.
"I started out at Northfield Park doing catch paddocks for Jodi Schillaci, and a few others. I was immediately hooked and before long got my trainer and driver licenses and went out on my own. Jodi taught me so much about hard work and paying attention to the 'little things.'
"I drove a bit at the fairs and started riding under saddle when they had the series. I went to various tracks and it was great experience.
"One day I was involved in a bad accident while competing under saddle, so I had to quit driving and started concentrating on training.
"I've worked for some of the best trainers in the business, such as Virgil Morgan, Dan Altmeyer, and Sam and Jodi Schillaci.
"I have been good friends with the Schillacis for over 20 years and after working for them awhile we purchased a couple of horses together. We did very well and although I am now on my own we remain close. They taught me a lot and they are some of the hardest working people I know."
Who was your best horse?
"The best horse I've trained would be Dennis. His owners sent him to me as a 4-year-old and he held the world record on a half-mile as a 3-year-old in 1:53.3.
"Trainer Roland Mallar originally trained him and did a terrific job because he was a difficult horse on the track. Dennis was a lot of work, but he was worth it. He was a handy horse that could race on any size track, but I kept him mainly at Yonkers and Pocono. After he tore a suspensory in a qualifier at the Meadowlands, we decided to retire him."
Who was your favorite horse?
"There's too many to pick from but it would probably be Magnum Kosmos. I took care of him on and off during his entire racing career. He made the Hambletonian final, but unfortunately, broke behind the gate.
"After that I began riding him and took him to the standardbred show in New Jersey. He ended up being Grand Champion one year in halter, and after he got injured he became my riding horse and has a home for life."
What was the highlight in your career?
"That would be when my trotting filly, Liz, was the 2-year-old Trotting Filly of the Year at The Meadows Racetrack.
"She ended up winning a couple legs of the stallion series and the final that year.
"Liz was a homebred that her owner sent me. That girl had a mind of her own.
"She would run for no reason and it took me a long time and a lot of equipment changes to figure her out, but when I finally did, she ended up being a really nice 2-year-old."
Teresczuk has raced her horses at Dover Downs, Harrington, Tioga, Yonkers, Monticello, Chester, Pocono Downs, The Meadows, The Meadowlands, Freehold, Northfield and spent several winters in Pompano. Today, she trains a small stable of three at Mark Ford Training Center in Middleton, NY.
"I'm really a 'hands-on' person and enjoy doing everything myself. It's rewarding when all your hard work pays off, but can be frustrating at times, but that is when I put my big girl pants on and do my best and try again next week."