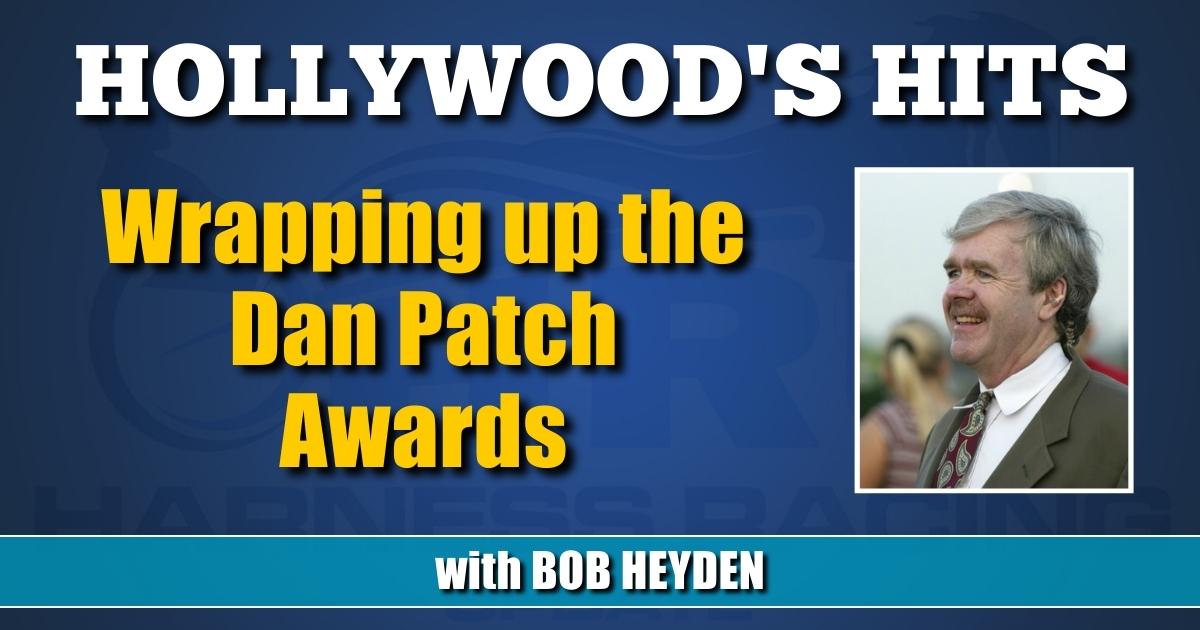 Wrapping up the Dan Patch Awards
by Bob Heyden
Any way you slice it, Sunday's (Feb. 20) Dan Patch Awards was a huge night for New Zealand. Trainers from that country swept the top three spots in the Horse of the Year voting. Also, Australia's driving McCarthy brothers making history too.
First the Kiwis:
Test Of Faith is trained by Brett Pelling
Niki Hill is trained by Chris Ryder and driven by Dexter Dunn
Bella Bellini is trained by Nifty Norman and also driven by Dunn.
As for the Aussies, Andy McCarthy drove Ramona Hill (2020) and Jujubee back to back and Todd McCarthy had Anoka Hanover and Allywag Hanover consecutively. This makes them the first brothers to win Dan Patch Awards as drivers in back-to-back years.
Low voter turnout
Just 71.1 per cent of the year-end ballots sent out were returned. Were these the same people who-a half century ago said no to Sandy Koufax, when he received just 86.9 per cent of the 1972 Hall of Fame votes?
Feel good moments of the night
It was a tie.
Greg Wright, Jr. winning the Trotter of the Year award for Jujubee and bringing his father's name back into the harness racing conversation. Greg, Sr. was the leading trainer at the Meadowlands each of its first four seasons.
Mike Tabasco, caretaker of Jujubee, a harness racing lifer who has endured, persevered and triumphed having the time of his life with this fantastic trotter.
No senior tour necessary
David Miller drove three of the four 2021 millionaire horses in the industry at age 57:
Perfect Sting $1,273,847.
Test Of Faith $1,069,739.
Venerable $1,039,966.
Dexter Dunn drove the other, Bella Bellini ($1.1 million).
Kentuckiana's fun night
Big representation from the ownership of HOY Test Of Faith, -among them the forces behind Kentuckiana Farms. Remember they bred the 1993 HOY Staying Together, who is still the last horse to lower the all-time race record a full second — 1:48.2 in 1993 down from Artsplace's 1:49.2 in June of 1992.
Pacing fillies-1-2
For the first time ever, pacing fillies were 1-2 — Test Of Faith and Niki Hill. Sophomore fillies went 1-2 in 2001, but it was pacer Bunny Lake and trotter Syrinx Hanover.
Deja Vu? Let's hope not
Brett Pelling last won the HOY title in 2005 with Rocknroll Hanover, then left for a decade going back home.
Youngest guy, fastest horse
Todd McCarthy, at age 27, had the fastest mile of 2021 when Allywag Hanover won in 1:46.4 at the Red Mile.
Dexter power
Dexter Dunn has been voted Driver of the Year in his first three full years in North America. No other driver in the 21st century has matched it. For three straight years he's had the HOY runner-up: 2019 Bettors Wish, 2020 Party Girl Hill and now 2021-Niki Hill. And he's not 33 until Sept. 1.
Happy 65th birthday Tommy Haughton
The youngest ever to win either a Hambletonian heat (23 with Final Score in 1980) or a final (25 in 1982 with Speed Bowl), Tommy Haughton hits 65 on Sunday (Feb. 27). Look at the following list he now belongs on:
Seven drivers since 1950 have won their first Hambletonian and lived at least 40 more years:
Harry Harvey won in 1953 with Helicopter at age 29 and lived a record 63 more years.
John Simpson, Jr. is at 52 years and counting since his 1970 score with Timothy T at age 27.
James Arthur won the 1961 Hambletonian with Harlan Dean and is the only other driver to surpass a half-century making it 51 more years.
Howard Beissinger took his first Hambletonian at age 46 and lived another 49 years.
Delvin Miller won it in 1950 with Lusty Song and the sport lost the Miller 46 years later.
Ray Remmen was 34 when Shiaway St Pat got it done in New Jersey in 1981. The Chief is still here 41 years later.
Tommy Haughton at 65 is #7. His father, Billy Haughton, didn't win the Hambletonian until he was 50, then won an amazing five in a nine-year span.
Remembering a great man, Robert Mulcahy
The CEO of the New Jersey Sports and Exhibition Authority's Sports Complex from 1979-1997. He was 85. He was a quiet, mild-mannered man, with a towering presence.
He took on the huge undertaking of the Meadowlands, The Giants, The Nets and Continental Arena — quite a task. Rarely does an employee get to know and fully appreciate his boss of bosses. But that was the case for me. In 1997-1998, Mulcahy was vying for the athletic director's job at Rutgers University — my alma mater. I wrote a letter to them that they published in their quarterly magazine, emphasizing that it is rare to go to a State University and then work for that same state in continuity — and that Bob Mulcahy was a difference maker who got things done.
He made all of us better. Then, he got the job and came to the Meadowlands on a special trip to thank me. Of course, I didn't think my letter was a big factor, but it probably didn't hurt. He made it his business, like always, to reward the people — nobody too big or too small — who teamed up to make the product the best they could. He did this in a most dignified way, without ever calling attention to himself. Not once.