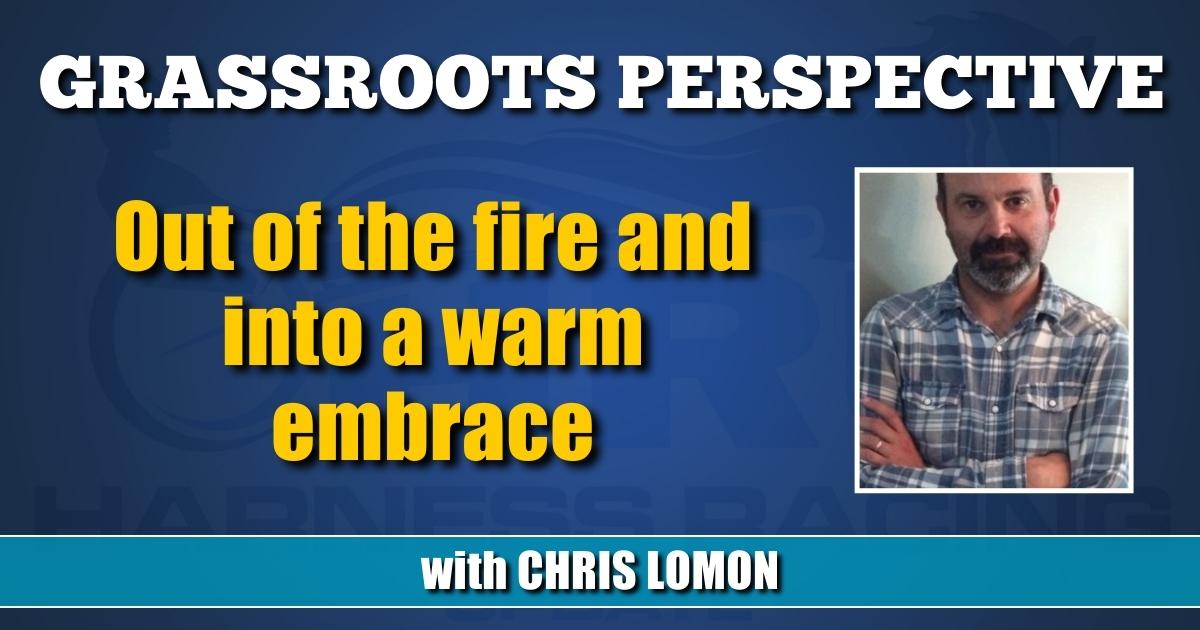 Out of the fire and into a warm embrace
Teenager Carey Le Cain not only helped Ahi recover from the First Line Training Center barn fire and return to the races, she did so as the pacer's new owner.
by Chris Lomon
The teenager with the big heart and the pacer who defied the odds were undoubtedly meant for one another.
Carey Le Cain easily recalls that day, the one when she met the small-in-stature standardbred who had survived the fire that had taken the lives of five horses at First Line Training Center just over three years ago.
"After the fire, I met him and there was something about him that me realize he was special," said Le Cain. "I loved him right away and I wanted to do whatever I could to help him."
And so she did.
Le Cain doted on the bay son of Sportswriter and helped him through his rehabilitation process from the injuries he had incurred from the fire.
Along with her brother, Brodie, Le Cain, who worked in the stable of Mark and Shawn Steacy through a co-op program at her school, played an instrumental role in Ahi's return to the races.
She was there when the pacer, bred by Hudson Standardbred Stb Inc., had his picture taken in the winner's circle at Flamboro Downs on Jan. 4, 2020, his first racing mile since he was sidelined by the aftermath of the fire.
It was also Ahi's first win since Aug. 14, 2018.
"That was amazing," said Le Cain of the three-quarter length score with Shawn Steacy in the race bike. "That just showed what he was like. He never gives up, he always tries and he shows the big heart that he has every day. It was pretty exciting. It was that 'little horse that could' moment. To see him out there, trying so hard and winning… it was really special. He had been through so much and overcome so much, and to see him standing in the winner's circle was something I will always remember."
When she found out that Ahi's connections were thinking of selling the horse, she had only one thought in mind.
"I went home and told my dad [horseman, Scott Le Cain] that I wanted to buy him and that I'd do whatever it would take to make that happen."
Le Cain, then 17, went to work, literally, in her quest to purchase Ahi.
She worked five days a week for the Steacys, worked for horse owner Mary Christopher on the weekends, and did stall gigs on Sundays.
All of it – long days, early mornings, and late nights – would finally pay off.
On Oct. 5, 2020, Le Cain took ownership of Ahi. Shawn Steacy continued to hold the reins as the conditioner.
Eight months later, at Hanover Raceway, the pacer and his proud owner celebrated a first together.
"I didn't think he had won," said Le Cain, of the head score. "My friend told me that he had won and I had never run across the track at Hanover as fast as I did. It was close, but when I looked at the replay, he stuck his head out and you could see he got it."
The narrow margin of victory made the moment that much sweeter.
"You always want to win those close ones and he found a way to do it. He was just himself, giving everything he had to get the win."
When the starter began rolling on the night of Jan. 6, it provided yet another first for Le Cain.
The owner added a new role to her racing repertoire, that of trainer.
"It's stressful at times because I'm off on my own now. Going from a groom to now, it's been a lot of learning and finding out things on my own. My dad, he's always there if I need him, which is a good thing to know. It was tough at the beginning when I started owning and training because I was so used to asking people questions every day. And when you own him and train him, you realize, 'This is my horse.' That was something I had to get used to."
One thing she didn't have to familiarize herself with was knowing every inch of the horse.
Whether it was the mornings, the minutes leading up to a race, or preparing for his next start, Le Cain and Ahi are undeniably in sync with each stride he takes.
"On the track, he always tries. When you're jogging him, he's quiet as a mouse. Most of the time, I jog him, but sometimes, my dad helps me out. It's nice when Ahi and I are just out there by ourselves, just sharing that time together. It's always something I enjoy."
Le Cain, who has worked for veteran horseman Jack Moiseyev since last November, helping him with the training of his standardbred band on his farm, is embracing her busy life.
As for her future plans, the 19-year-old, based out of First Line Training Center, is still mulling over her options.
"I'm not really sure what my big goal is yet. I own half of a McWicked filly with Mary Christopher, so that would bring me up two horses. I guess having about five or so horses would be ideal for me. Right now, I'm going with the flow."
That means staying grounded throughout the ups and downs of owning and training a horse.
"In this sport, there are always challenges in whatever job you do and I think I've learned along the line that patience is something you have to have. At times, things can get frustrating, but you always find something that keeps you going."
In this instance, it's Ahi, the little pacer that could.
"There aren't many horses like him. It's very hard to describe. Everyone says they have the best horse, but for me, whenever I look at him, I see something special, something that you really can't find the words for. All I know is that he is one of a kind. It's very peaceful working with him. You think of all that he went through and how far he has come. That is something that will always be very inspiring for me."