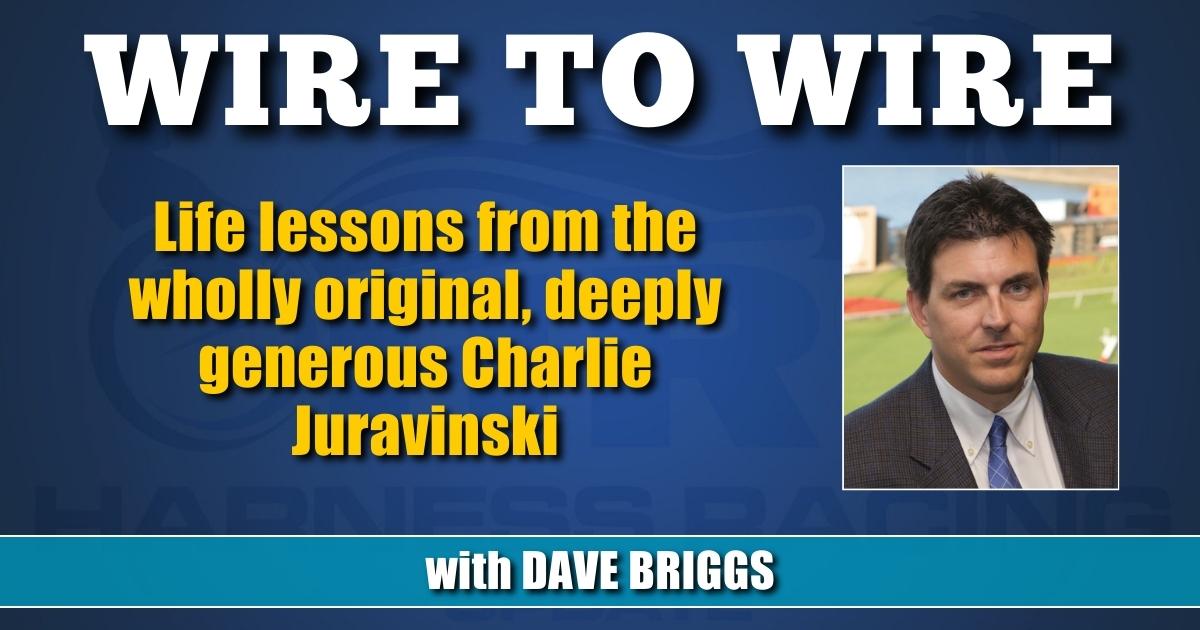 Life lessons from the wholly original, deeply generous Charlie Juravinski
The former owner of Flamboro Downs died Wednesday at the age of 92, but not before becoming one of the biggest philanthropists in Canadian history.
by Dave Briggs
It would be easy enough to remember Charlie Juravinski for the flamboyant clothes, his deep tan or the nicotine-thick, no-BS bossman's bark that came with telling you exactly how it is. In that way, there was a certain J. Jonah Jameson quality to the man.
It would also be appropriate to remember Juravinski's many passions: his deep, 65-year romance with his wife Margaret at the top of a list of loves that included horses and dogs and Flamboro Downs, the Hamilton racetrack he founded with principal partners Ray Connell and John Grant and proudly ran like the commander of a battleship. On Juravinski's ship, no quarter was given to his rivals at the Ontario Jockey Club or horsepeople that disagreed with how things should be run. Yet, he also ensured everything was spic and span with not a thing out of place.
On the latter, I can remember a day spent with Juravinski, 25 years ago now, when he detoured to pick up the tiniest piece of garbage on a trip through the Flamboro grandstand and even quickly produced a dust buster from beside his desk to whisk away the slightest speck of cigarette ash that had the audacity to evade his ashtray.
For a man born the day the stock market crashed in 1929 and North America was plunged into the Great Depression, the sting of poverty never completely faded.
"I'm still in my heart of hearts as cheap now as I was when we were in the height of the Depression," he once told me.
Yet, the Depression also taught him to work hard and formed his fastidiousness for taking care of the things he loved.
The people of Hamilton know this best.
Juravinski died Wednesday at the age of 92, but not before donating some $60 million to a variety of health care initiatives in Hamilton and establishing a $100 million endowment fund that will long provide funding to care for those that took care of him as former customers at Flamboro Downs.
"All of those people supported us. They came to the track. They put the money in our pocket, in our staff's pocket," he once told me just before being inducted into the Canadian Horse Racing Hall of Fame as a builder. "We decided, 'What better way is there to give back and touch their lives?'"
Juravinski and his partners opened Flamboro Downs in April of 1975. The track cost $5 million to build. The idea was to get the cash flowing as quickly as possible. When Flamboro opened, boy did it flow. Opening night was a smashing success.
"We caused a traffic jam on #5 highway and #6 highway. You couldn't move in the grandstand… It was cheek-by-jowl. We had to lock the door because you couldn't let anybody else in. There was no room to move," Juravinski said.
He sold Flamboro Downs to Magna Entertainment in 2002 for $72 million (the track is now owned by the Great Canadian Gaming Corporation). Long after he sold the track, Juravinski still showed up at the door to greet customers on Confederation Cup night and present the trophy as if he still owned the joint. No one was about to tell Charlie Juravinski any differently.
This was the same man that loudly proclaimed that he would roll in the mud if his Georgina Seelster won an Ontario Sires Stakes event at Flamboro in 1988 and then followed through — lime green suit and all — when she did. Despite his reputation as a tough guy, Juravinski loved to have a good time.
Juravinski was connected to a number of outstanding horses, including two Hall of Famers — Matts Scooter and his beloved homebred mare Ellamony.
"The thing that destroyed me as far as horse ownership was when we had to put Ellamony down," he once told me. "She was going to be the broodmare of all broodmares, as far as we were concerned."
For many years after Ellamony was inducted into the Canadian Hall of Fame in 1998, Charlie wore her ring until he got his own.
But his greatest achievement was devoting his life to extreme philanthropy after selling Flamboro Downs.
Just the day before his death, and in the spirit of Valentine's Day, he and Margaret announced a $5.1 million donation toward health care in the city through the Juravinski Research Institute.
Many years before, when he announced his first multi-million-dollar donation to Hamilton health care, Juravinski called the press to Flamboro to implore the horse racing industry to follow suit as a gesture to thank the people of the province that gifted the industry the lucrative Slots at Racetracks Program (SARP). His logic: no politician would dare cut a program if the industry was using some of the proceeds to support health care.
Naturally, the industry ignored his advice — as it was often wont to do — and SARP is just a distant, fading memory.
But I hope Charlie Juravinski won't be. While his death has left the world a lot less colorful, his extreme generosity and unmatched flair for life should be a constant model for us all.