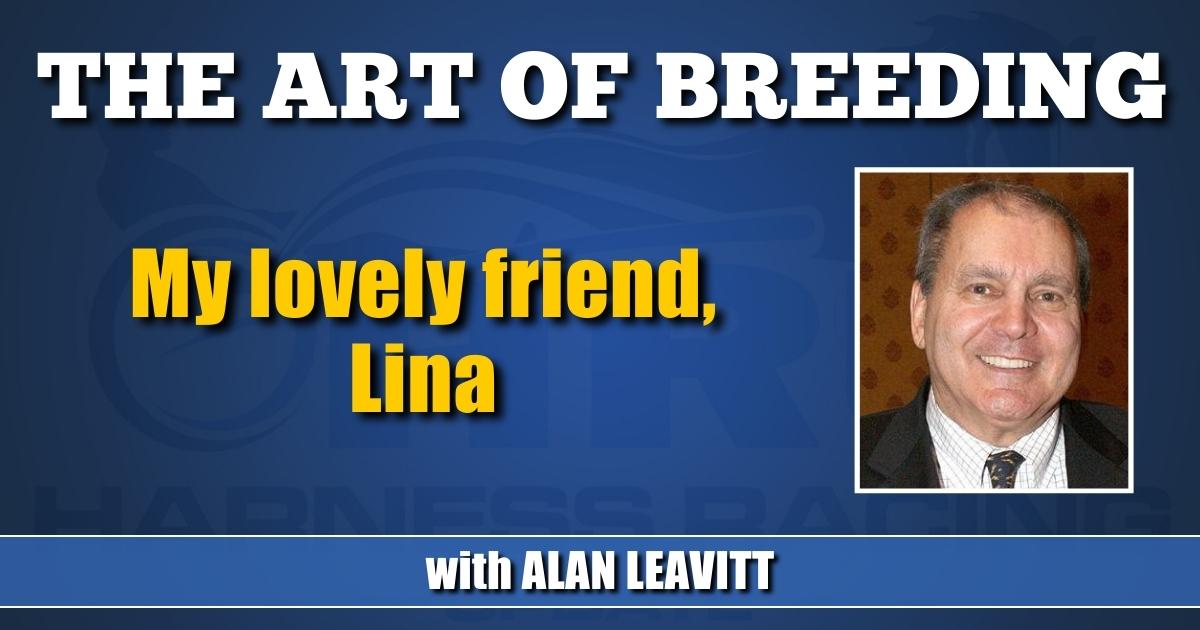 by Alan Leavitt
As I mentioned in passing last week, I received an interesting email from Lina Alm, a charming woman from Sweden. Alm and her significant other, Thomas Moberg, play a major role as advisors to one of Sweden's biggest players. Additionally, Alm herself is a successful breeder in her own right.
Here is as good a time as any to acknowledge that correspondents like Alm are probably just as knowledgeable about pedigrees as I am. That someone as smart and informed as Alm should ask my opinion of breeding matters is enormously flattering, although far from warranted.
Alm mentions her great respect for Hoot Mon, who, by now, is a foundation sire. I knew Hoot Mon personally, as a young sprout living in Hanover, PA as I got into this biz light years ago. I frequently dropped by the stud barn at Hanover. Besides Hoot Mon, there was Star's Pride, Dean Hanover, Titan Hanover, and briefly, Scotch Victor. I can't recall any pacers being there, although Hanover had acquired a third interest in Adios by then, but they wisely knew better than to relocate a 15-year-old stallion.
Regarding Scotch Victor, he came with a little story. At that time, the biggest racing operation in the sport was S. A. Camp Farms, of California. Sol Camp was a rich man who had made his money, I believe, in truck farming, and he loved harness racing. Joe O'Brien was his private trainer, and they won every big race, including the Hambletonian and the Little Brown Jug.
The Harrisburg Sales at the time sold the yearlings on the last two or three days, as opposed to today's schedule. The last session was made up of the crème de la crème, which meant the Hanover yearlings sired by Adios.
As Norman Woolworth explained to me, all of the big players would each zero in on one Adios, and there may have been a little discussion beforehand among them, but it never stopped those Adios yearlings from bringing fabulous prices.
Woolworth was one of the major players, and he was thrilled the year he wound up with Muncy Hanover. For the record, Muncy was a world champion at 2 and 3, and won $221,615. He also was the first good pacer I stood at my fledgling Lana Lobell Farms. I leased him from Woolworth, and he fell to colic after only serving one crop of mares. If he had lived, he might have been the horse to carry on the Adios line, based on his only small crop.
Anyway, Woolworth told me about sitting with Sol Camp during one of those high-powered yearling sessions. He was still somewhat blown away as he described Sol Camp buying half a dozen of the priciest Adios yearlings, sans blinking an eye.
So, back to Scotch Victor, a Scotland colt who was one of the many great bred trotters Joe O'Brien had every year as Camp's private trainer.
Scotch Victor was a nice colt, although far from a great one. But, on a whim, O'Brien bred him to one mare before he started his campaign at 3. From that mating came a colt named Double Scotch, and he was a good stakes colt.
The thinking was that if that was what Scotch Victor could do with just one mare the sky would be the limit with a full book. So Hanover grabbed him when the Camp horses were dispersed, and they and everybody else bred to him with stars in their eyes.
Alas, Double Scotch was the only good horse Scotch Victor ever sired. But I think this was before his crash down, because I still can picture him in my mind. He was a good looking horse, and quite friendly. I soon became the only person who had a good word to say about him.
Back to smart Alm and her interest in Hoot Mon. He was a truly dominant sire, with winners of all the big races, including I don't know how many Hambos', but at least several.
Here's the hook. Although Hoot Mon didn't have me in mind when he did it (from the ancient saw that your father wasn't thinking of you when he made you), by far the best horse he ever sired was Scott Frost. O'Brien had picked him out for Camp as a yearling from the Frost Hill consignment, and he went on to be Horse of the Year at 2, 3, and 4.
Scott Frost was in the same class as Greyhound, and Volo Song on the racetrack, two immortals who set the all-time standards, and I rank Scott Frost right there with them. And when you look at Scott Frost's pedigree, he's by Hoot Mon, whose second dam, by Tilly Tonka, is by Spencer, and his dam, Nora, is also by Spencer.
That's a 2 by 4 inbred cross to Spencer,. It was synergistically explosive then, just as it can be today. Just as a refresher, when the same name appears twice in a horse's pedigree, and the sum of the two generations in which it appears is six or less, that horse is inbred to the common ancestor.
When the sum of the two generations is seven or eight, the horse so bred is considered line bred. When there is no common ancestor in the first four generations, that horse's pedigree is described as an outcross.
You can get a good horse, regardless of his pedigree, if the gods are smiling upon you. But, to continue the clichés, if you want to stack the genetic deck in your favor, you'll keep your friends close and your pedigrees closer.