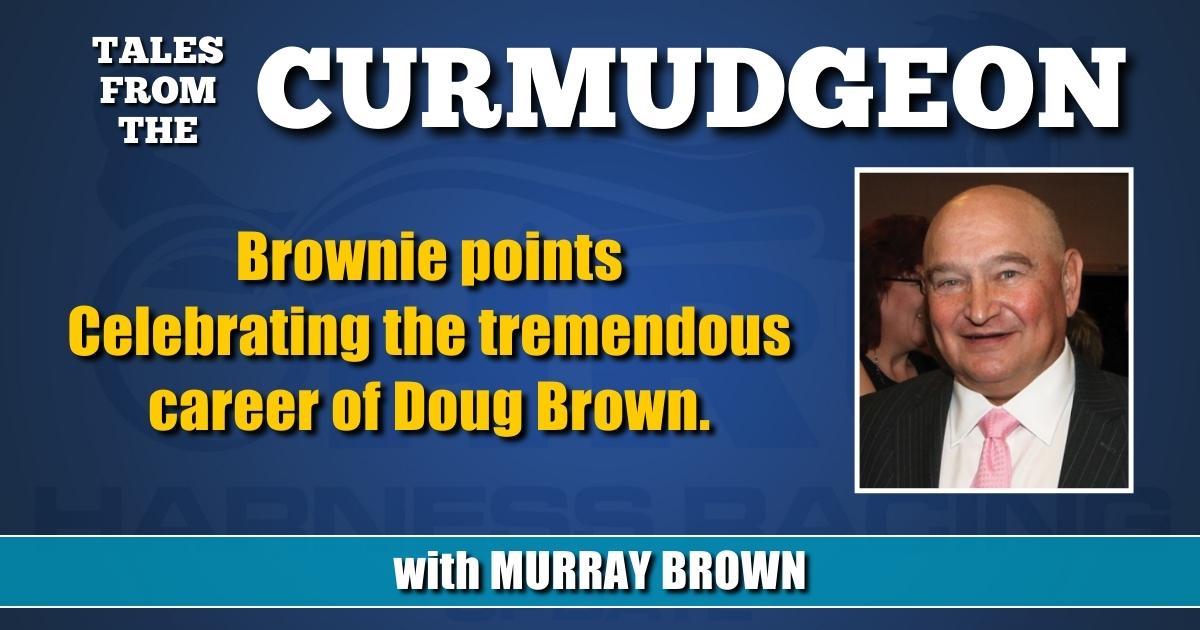 Celebrating the tremendous career of Doug Brown.
by Murray Brown
Consider these facts:
Doug Brown was the leading driver on the then Ontario Jockey Club each year from 1988 through 1997.
Doug Brown received the O'Brien Award for leading driver in Canada seven of the first eight times the award was offered.
Doug Brown steered horses have won 8,512 races and $87,838,888.
Brownie was the driver of the first sub-1.50 winning horse ever in Canada with Ball And Chain.
Despite those feats and many more, one has the feeling that when it comes to great drivers, Brownie does not always get his due.
Sure, he was installed in the Canadian Horse Racing Hall of Fame in 2006. This scribe, for one, feels even then that it was an honor somewhat overdue.
Now at the age of 66, Brown is doing what he always has done, although with less horsepower at his disposal. He is training two young trotters that he feels should give a good accounting of themselves once the 2022 racing season gets rolling.
When Brown is asked about his illustrious career, the first response you get is that as outstanding as his career has been, it would have been much less so if not for the friendship and loyalty of his dear friend and fellow Hall of Famer Stew Firlotte.
It was with Firlotte that Brown had amazing success with such greats as Town Pro, Historic, Brees Brief, His Mattjesty and Mattduff, among many others.
Brown even got to race Ralph Hanover once when his regular driver and the horse's part owner Ron Waples had to be at a horse sale. Ralph Hanover won the stakes event at the much-missed Blue Bonnets.
Brown's journey in harness racing began at the tender age of 8 when his father allowed him to jog and sometimes even train some of the horses in the stable.
Brown drove his first race at Kawartha Downs and won it at the age of 17 behind a horse named Out Ahead.
That began a career that led him to drivers championships at Kawartha, Belleville and then his favorite track ever, Greenwood.
You started driving at the smaller Ontario tracks and then progressed to the big time on the then Ontario Jockey Club tracks — Greenwood, Garden City and Mohawk. In the interim, you drove in stakes races at virtually every major racetrack throughout North America. Which was your favorite?
"That would have to be Greenwood and not by just a little bit. As with most good things in this life of ours, we didn't really appreciate it for how good a place it was to race until we didn't have it any more. We drivers would sometimes complain about having to take our horses through the throngs of people who would sometimes verbally harass us from the paddock located right in the middle of the grandstand, mostly in a joking manner, but sometimes cutting to the core. Little did I realize how much I and the entire sport would miss these same people when they were nowhere near us. It came to light the very first night we raced at Woodbine. An integral part of the racing experience was missing, never to be regained."
You have driven numerous good to great horses. Which one was your favorite?
"Even though he wasn't the best, my favorite would have to be Sherman Almahurst. He was as game a horse as ever lived. He always gave it his all and always dug in. He had to be the best horse his sire Royce produced.
"In terms of the best, undoubtedly, Town Pro would be the one. She was simply an incredible filly. She was great at both 2 and 3 and very good at 4.
"I've jokingly said that if they opened her up, they would likely find a pair of testicles there. She was that tough. I've never driven one as gritty and resilient as she was.
"There were others of course, many others. Historic was one of them. He was just a little guy, but could he ever fly. He had a long striding gait and covered a lot of ground.
"I once got to drive Ralph Hanover while Ronnie Waples had to be somewhere else. What a machine he was. Others I got to drive, some regularly and others that I just picked up along the way, were Precious Bunny, Chairmanoftheboard, Lord Stormont, Lime Time, Brees Brief, Anniecrombie, His Mattjesty, Digger Almahurst, Mattduff, Ball and Chain and Teagarden Hanover. There were others of course, that don't immediately come to mind."
You mentioned that Stew Firlotte had a great influence on your success. Tell us about your special relationship with him.
"We were the closest friends for over 35 years. I look back and think of how loyal and how much of a dear friend he was to me. I know it for a fact that he lost horses to train, because owners wanted him to use someone else to drive their horses. I told him to use someone else, if his only other option was to lose the horses. Stew wouldn't hear anything of it. He said that if they didn't have enough faith in both him and me, then he didn't need them in his stable."
Author's note: This from a previous owner in the Firlotte Stable: "Here's an example of Brownie's commitment to Stew. The first good horse we had with Stew was a Matts Scooter colt by the name of Mattduff. He was a fast and precocious colt, but he wasn't the soundest. Stew had him sounder than he had been all year and was prepping him for the Matron to be held at Pompano in early December. The week prior to the race Pompano carded a Saturday evening 2-year-old overnight with a purse of $3,000. When told the colt was in to race, Doug booked off all his substantial weekend drives at home and flew to Pompano to race in a $3,000 race, because he felt that his friend needed him there."
Here's a story from Stew's wife Joanne: "We were racing a filly named Poinsetta in a minor stakes event at Peterborough. Doug was probably around 18 or 19, I guess. Stew asked Brownie to drive the filly for him. Doug said yes and won the race with her. Little did we realize that this caused some discord in the Brown household. Doug's dad Stan had one in the same race. Dad was not happy with his son picking our filly over his. This filly led to Ralph Hanover. We earned enough money with Poinsetta to buy Royal Goldie, whose biggest claim to fame was that she once beat Fan Hanover. With Royal Goldie's money we bought A.M Playgirl. She then earned enough money so that we could afford to buy Ralph Hanover for $65,000, I believe. Ronnie Waples was one of the owners of Ralph, so he drove him, but all of the others were driven by Brownie."
Were there any other trainers with whom you were especially close?
"Two that come immediately come to mind are Joe Stutzman and Bill Robinson. Joe was a pleasure to drive for. He would generally just hand me the lines and wish me good luck. Regardless of how we did, he wouldn't say much afterwards. If I drove bad, he knew it and I knew it, so why bother rehashing it.
"Bill Robinson was always great to drive for. He was decades ahead of his time. His horses were always ready to go out do battle and often win. I've heard much criticism leveled at him because he rarely sat behind one. Bill could see more about his horses from his office than I could sitting behind one."
Let's talk about some of the better drivers you've driven against.
Keith Waples — "He was the granddaddy of us all. If you watched him, did some of the things that he did and had a reasonable amount of talent, you would do well. He was very kind to horses. Very rarely would he hit one."
Ronnie Waples — "Ronnie was very much like his cousin, Keith. But why wouldn't he be? He came out working for and with Keith. He was probably the hardest worker I've known in all my years in the sport. He was a man in perpetual motion, never slowing down. Everything he did, he did well."
Ron Feagan — "As great a driver and natural talent as I've ever seen. His loss at such a young age was shocking to everybody. Why that happened is something we will never know."
Mike Lachance — "He could make a horse go fast. He has a great mind and used it both on and off the racetrack."
Luc Ouellette — "Much like his uncle Mike Lachance, he could make one really go."
John Campbell — "Undoubtedly the greatest driver ever. All you have to do is look at the numbers. Nobody is even close. A pleasure to be around both on and off the racetrack."
Bill O'Donnell — "For a period of time, maybe five to eight years, he was as good a driver as anybody who ever sat behind a horse. He always treated horses well with the respect that they deserve."
Bill Wellwood — "As great an all-round horseman as ever lived."
Trevor Ritchie — "Very good driver. Extremely patient. He could rate a horse as well as anybody."
Steve Condren — "My chief rival during all my years racing on the OJC and WEG. We were the best of friends and golfing buddies off the racetrack and fierce rivals on it. He was very smart and his horses benefitted from his wisdom."
Wally Hennessey — "I became friends with Wally and his brother Dan when I spent my winters training in Florida. Wally is still one of the top drivers around anywhere."
What was the greatest thrill you experienced in harness racing?
"Undoubtedly that would be my installation in the Canadian Horse Racing Hall of Fame. It was something I dreamed of, but never really expected. It's the greatest thing that one who participated in harness racing could possibly enjoy. It was both thrilling and humbling."
Your name is sometimes associated with that of Bobby Orr.
"Before we go any further, I will unequivocally state that Bobby Orr was the greatest hockey player to ever play the game. Although his numbers are very good, they might not be as good as some others. Nevertheless, he revolutionized the game. We grew up together in Oshawa when Bobby first started playing junior hockey for the Oshawa Generals at the age of 14! Even at that age, he was still always the best player on the ice. I used to sponsor a charity golf tournament and Bobby would usually show up to help us raise money for a good cause."
Did you ever think of taking your whip and colors to the States and pursuing your craft there, as so many other Canadian horsemen have done?
"It never even crossed my mind. Why would it have? I was riding a gravy train for many years and doing just fine up here. For a period of 10 to 15 years, life was great. I had all that I wanted. Then, of course the government came around and changed things taking all the slot money from us. At the time, I thought that we would likely get a haircut, but they came around and chopped our collective heads off. The WEG tracks managed to survive, but that was the death knoll for all of the B tracks in Ontario. Of the few smaller tracks still racing, there is no way that the horsemen racing there can possibly make a decent living."
Where do you see us and where are we going?
"If you have the quality of horses that can race at Mohawk, you still have a decent chance of making a good living. There are so many more options for the fans, both gambling related and not. In addition to the casinos and lotteries, you now have sports gambling on the horizon. I expect that might eat into our revenue pool, as well. I'm sorry to come across as being so glum, but I'm afraid that is the reality of our times.
"All and all, I am so thankful that I came around when I did. I've been blessed to have been around so many great people and have been privileged to drive great horses at the best of times and against the best of competition. It has been a great ride. I wouldn't change it for the world."
Before we end, tell us a little about your family and how you are working your way through COVID-19.
"As far as COVID is concerned, it probably hasn't hurt us more than most others. It certainly hurt racing when we were forced to shut down.
"We are careful and follow the rules and recommendations. My wife Nancy and I have been married for 38 years. We have two children a daughter Kristal and a son Kyle. Kristal has two sons. Her family lives in Calgary, and unfortunately we don't get to see them often enough."
*    *    *
At the risk of sounding maudlin, maybe the worst part of getting old is not only the realization that the grim reaper is keeping his eye on you, but maybe even more so, the fact that he keeps eliminating your friends and the people dearest to you.
In the last two weeks the sport has lost two of its greatest fans and supporters — both dear friends of mine from my Montreal days — each going back well over half a century.
Conny Leber is perhaps the better known of the two. He has owned horses for the last 60 or more years. He loved to play in the big leagues and had much success with horses such as Sunshine Beach and Safe Arrival.
Eddie Schneerer had been my friend since our high school days at Northmount High in its first graduating class of 1958. Actually, Schneerer was involved in harness racing slightly before me. He and I were part owners of the first horse that each of us ever owned a part of, a tiny Good Time pacer by the name of Auction Time. At one time, Schneerer actually aspired to become a trainer. However, good sense took over and he established one of Canada's premier art moving companies. However, he never stopped going to the races, betting on horses and reading all about harness racing. In recent years, he became a significant owner in some of the horses in Anthony MacDonald's The Stable. Even though Schneerer owned small positions in many, he cheered them on as though he owned the horses all by themselves.
Have a question or comment for The Curmudgeon?
Reach him by email at: hofmurray@aol.com.