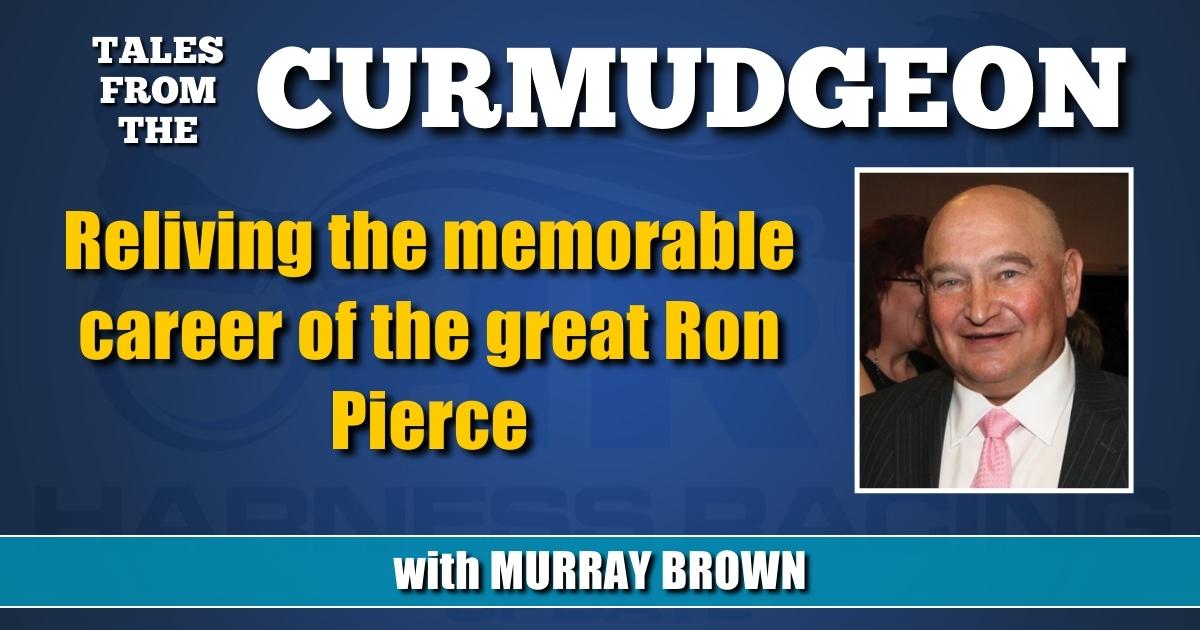 Reliving the memorable career of the great Ron Pierce
by Murray Brown
When most anybody involved in harness racing thinks of Ronnie Pierce, one would naturally think of one of the greatest drivers to ever sit behind a horse.
Yours truly certainly thinks that way, as would any student of the history of racing.
However, when I hear his name, the first things that usually come to mind are two areas of which most people might not be aware.
I was privileged to be in the winner's circle when four different horses driven by Ronnie, of which I owned a small interest, won races. The first words spoken by Ronnie were always, 'Thank you for the drive.'
The other instance was when I was at Mohawk Raceway for a Grand Circuit Stakes event for 3-year-old pacing fillies. I remember neither the horse, nor the event.
I was sitting at Myron Bell's table. Ronnie was catch driving a filly that Myron was managing for George Segal's Brittany Farms. It happened that Ronnie did not drive her well and she didn't do as well as was expected. So what. Such things happen all the time.
Water under the dam. Turn the page.
Three races later, Ronnie had finished all his drives for the evening and he appeared at our table. "I just wanted to come see you and apologize for the way I drove your filly," he said.
Those might be fairly normal occurrences with some drivers, but I don't know of too many.
In my particularly case, I don't know of any others.
I've wanted to do an interview with Ronnie almost from the time the concept of this column came about.
But due to chronic back and neck problems Ronnie had been forced to retire from racing.
He was out in the American West with his best friend Diesel living the good life, doing what he next loved doing most, hunting and fishing.
Fairly recently he became a friend of mine on Facebook. On a whim, I sent him a personal message asking if he would be willing to do an interview for a forthcoming column.
He immediately responded that he would and gave me his contact information. He warned that phone reception wasn't the best where he was and we might have some problems in that area. He also gave me his email address.
What follows is a combination using the two marvels of today's technology.
Before we get into the racing end of things, let's talk about what keeps you occupied today. Where do you live? What would your typical day consist of? How much in touch with the modern world and specifically harness racing are you?
"I live here in Montana with my two best friends, my dog Diesel and my mule Monk. We do lots of things together, the chief of which are fishing, hunting and hiking. I have a home, a barn, a paddock and 20 acres alongside the Missouri River. It's not as though I am disconnected from the real world. I'm connected through television and perhaps to a lesser degree with social media. I still follow harness racing, to some degree following it through Harness Racing Update.
"When I first retired from racing I spent the best part of three years in Alaska. I loved it there as well.
"To follow up on a previous question of yours, 'Do I miss it?' Yes, indeed I do. But all good things must come to an end. I had made a promise to myself quite some time ago, that when I left the sport, I wouldn't be washed up, begging for drives as I'd seen happen to some others.
"All along, I was planning to retire at 60. As it turned out, physical circumstances caused me to leave a few years before I was ready. But I still was able to keep that promise to myself. When I stopped, I was pretty close to the top of my game."
How about your background in the sport? I know you are from California and spent most of your early days racing at various California tracks.
"I was born and raised in California, but I suppose you could describe me as having been a racetrack brat. My dad Don was a very good horseman who raced all over North America. I don't know exactly how many schools I attended growing up, but there were surely a whole lot of them.
"I suppose I began interacting with horses knowing that was where I would be spending the rest of my life was when I was on the California fair circuit. They raced thoroughbreds, quarter horses and harness horses there, sometimes all on the same card. I tried all three. At one time, I wanted to become a jockey, but I soon realized that I was going to be too big to ever become one. It was then I decided that if I ever became good enough, I would drive harness horses to make a living.
"I raced in California and did pretty well there. I was still pretty young and maybe a little foolish. I got into a few dumps on the racetrack which might have eventually led to my ongoing neck and back problems. I got run over and sustained some nerve damage in my neck.
"I started at The Meadowlands working for Artie Unger. I then got my A driver's license and went to work for Ernie Spruce at The Meadowlands. To this day, he remains the horseman with the greatest amount of common sense that I've ever been around. He possessed that one abiding asset. He owned and trained all the horses in his stable and was one of the leading trainers at The Meadowlands for quite some time. He bought Senor Skipper for $40,000 which was one hell of a price for a horse back then. He then gave him to me to take care of. He set a track record of 1.53.3 which was really flying back then. I was one proud and happy dude.
"I suppose that I first knew I was destined to be a driver when I was working for Ernie. He had a horse by the name of Yankee Twinkle that one night was in to be driven by Benny Webster. For some reason Benny couldn't make it and without consulting Ernie, I told the judges to put me down to drive her. Ernie had bet on her and tried to get the judges to take me down for someone else. He wasn't allowed to. She just jogged and paid something like $19. From that point on, I considered myself a driver. I began getting some drives and doing better as time went on.
"That was one great group of drivers then. Billy O was the best. At that time, he was truly the Magic Man, but there was also John Campbell, Ray Remmen, Buddy Gilmour, Cat Manzi, Benny Webster, Mike Lachance, Teddy Wing, Carmine Abbatiello, Herve Filion and quite a few others. The competition was ferocious. When you won a race, you really earned it. I was also driving some at Freehold in the afternoon and really learned a great deal from watching and learning from Herve Filion. It was there that I first met up with the Dancer family."
You have spoken of Stanley Dancer and the friendship you developed with him.
"Stanley's brother Vernon had broken a kneecap and I was hired as his assistant trainer. I was all of 19 years old and here I was working for the world renowned Dancers. Of course, I had heard of his brother, Stanley, who might have been considered the greatest horseman in the world at the time. Who hadn't?
"One day I got my nerve up and crossed the road from Vernon's place to his farm. I knocked on Stanley's office door and introduced myself to him. He actually knew who I was. He welcomed me in. We soon began what was probably a two hour or more conversation. During the course of that conversation I learned three life-long lessons that have stayed with me for the remainder of my. life. I told him that my goal was to become a driver, hopefully to become one good enough to compete with the best at The Meadowlands. He told me: 1. One hundred percent effort isn't near good enough. You need to go beyond that, go 110 or more. Sure, you will make some mistakes, but you will always know that you have done the best you can. When you drive poorly, turn the page. Don't take a bad race to bed with you. Tomorrow is a new day. There will always be tomorrow, another horse and another day of racing.
"2. Be careful who you hang out and deal with. There are a lot of great people around the racetrack. There are also a few with who you don't want to be associated. Stay away from the bad guys.
"3. You might get banged up in some racetrack accidents. Unfortunately, that is just sometimes the nature of the beast. If that happens, if you have the option, do not let them cut on you. I've had surgery far too many times. It has never turned out for the better. That was something I kept in mind when I got in a terrible wreck at Macau which resulted in my breaking my shoulder in four different places. While still in Macau, they flew me to Hong Kong and wanted to cut on me. Instead, I chose to return to California and underwent a year-long recuperation without major surgery."
You mentioned Macau. That certainly had to be interesting.
"It was the '80s. I was young and foolish. I wasn't always young, but I guess I might have sometimes been foolish. Dick Williams was going to Macau to bring a starting gate there and to teach the folks how to operate it. He asked if I wanted to go along. Of course I did. It was a lot of fun racing there. Nothing but work and partying, a lot of partying. Macau is the Las Vegas of Asia. I did pretty well until I broke my shoulder and then came home."
You mentioned that you've always been privileged to be around and worked for a whole lot of great horsemen.
"It started with my dad and grew from there. There were many I encountered through the years: Stanley and Vernon Dancer, Brian Pelling, Kelvin Harrison, Jimmy Takter, George Teague, Brett Pelling, Steve Elliott, Ronnie Burke, Ross Croghan, Joe Seekman, Noel Daley, Eddie Hart, Bob McIntosh and Ben Wallace. I suppose just about every great horseman of consequence in the last few decades. I'm sure that there are quite a few that I've left off. To those I deeply apologize. I've been very fortunate."
Are there any among those who really stand out?
"They and some others are undoubtedly great horsemen. However, if I would have to choose between them, there are two that I might be inclined to label as being special, very special. They would be Brett Pelling and Jimmy Takter. They both have and had some very special attributes.
"They each had great teachers. In Brett's case, it was his father Brian. There was never a horse that I've known of that Brian Pelling couldn't help. In Jimmy's case, it was his father Bo-William and then Soren Nordin, two of the greatest horsemen ever from not only Sweden, but from the world.
"Both Brett and Jimmy are thinkers. Neither of them is impulsive. When presented with a situation, they think it out and invariably come up with a solution. One of their best assets was the same one possessed by Ernie Spruce — a great deal of common sense. One of the very craziest things to be found in all of harness racing is the fact that Brett Pelling is not enshrined in the Living Hall of Fame. It's not only crazy, but in my opinion, it's also shameful. Can you imagine, the guy dominated racing here for decades, went back to Australia for another decade and then came back here and picked up where he left off, without missing a beat — and doing it with less than a third of the horses he previously had in his stable?
"Jimmy just knew and knows things that ordinary mortals do not. After Always B Miki broke a couple of bones, he told me, 'No worries, this horse will still become the fastest horse ever.' How did he know? It sure beats me."
There are maybe a handful of guys, who might have driven as many great horses as you. Maybe just a handful, but no more. Mr Muscleman, American Winner, Donato Hanover, Blissfull Hall, Cambest, Shady Daisy, Dragon Again, Shake it Cerry, Rainbow Blue, Dream Away, Like A Prayer, Well Said, Sweet Lou, Art Official, Roll With Joe, I am A Fool, Timesareachanging, Dorunrun Bluegrass, Muscle Massive, Dream Away, Southwind Allaire, in no particular order are just some of the ones which you drove regularly and occasionally.
"There are two reasons I've been fortunate enough to have been used behind so many great horses. The first would be Stanley Dancer's advice, I've always done my very best. The second is that I've been fortunate enough to have been involved with so many great trainers and owners. Let's not forget the owners. They are the most important factor. Without owners, we have nothing."
Let's talk about a few of these wonderful horses.
Casino Cowboy — "He's the one that got it started. Jeff Pocaro had enough confidence in me to give me such a quality drive."
Sam Francisco Ben — "He came along at about the same time as Casino Cowboy. I was fortunate enough to win the Woodrow Wilson, the richest race of the year with him. Together with Cowboy, they gave me the one-two punch needed to get my career in overdrive."
American Winner — "He was the next great one and of course my first Hambletonian winner. What a wonderful little horse he was. He wasn't the soundest, but he had high speed and always tried so hard."
Mr Muscleman — "Maybe the greatest that I ever sat behind. What a wonderful horse he was. Most people know his story. He was purchased at Tattersalls right after 9/11/2001 by John Wagner for $2,000. He was trained by John and Syl King at 2. They got him right and then sold him to Adam Victor, to be trained by Noel Daley for I think a price of $175,0000. I started driving him at 2. I thought he was really good, but certainly not the great horse that he turned out to be. He was very laid back and always did what was expected of him, but not in a flashy way. I think my biggest disappointment in racing might have been when I drove him in the Elitlopp in Solvalla, Sweden. He cut the whole trip under pressure every step and just got beat in the final step by a horse that got a perfect trip. He is now retired at the Kentucky Horse Park. I need to find my way there one of these days to have a visit with him."
Donato Hanover — "What a wonderful colt. Steve Elliott developed and trained him. He was really good from the get go. I think he might have only been beat twice in his life — once early as a 2-year-old and in his final race at 3 when he might have been a little tired after a tough race going heats in the Kentucky Futurity. He would bear in a little on the turns, but could just fly on the straightaways."
Rainbow Blue — "One of several really good horses that George Teague gave me to drive. She absolutely stood out over her opposition. She got spooked by something on Hambletonian Day at The Meadowlands and made a break because of it. That was her only loss at 3. None of the other fillies could even smell her. She was a big filly and covered a tremendous amount of ground."
Shady Daisy — "I inherited her from Mike Lachance. I think that Mike might have suggested to Lew Bauslaugh that he get me to drive her. Mike had one for Brittany Farms who's racing schedule conflicted with hers. Could she ever fly. Her acceleration was scary. She might make you think you were riding a motorcycle. When you said go to her, you were gone."
Sweet Lou — "What a wonderful horse. He was a great 2-year-old and was great every year that he raced. Just a perfect racehorse that gave his all every time you sat behind him. You didn't have to worry about him ever going a bad race because he never went one. I'm indebted to Ronnie Burke for letting me travel with him after Dave Palone raced him to begin with.
Art Official — "He is probably a horse whose name I will always be associated with because of his upset of Somebeachsomewhere in the Meadowlands Pace. Joe Seekman who trained him told me that he couldn't leave. But scoring down, he felt really good. I figured that there was no way I had a chance to beat Somebeachsomewhere by not trying to sting him or by letting him have his own way in the race. I figured what the heck, I'll get him out of there. I'm not going for second money, I'm going to try to win. I not only stung SBSW, I also stung Art Official. Coming down the lane were two horses, each of whom had gone incredibly tough trips. I felt my horse swell up halfway down the lane. I thought to myself, 'We can win this.' Art Official just found a little extra energy and managed to win. That was Stanley Dancer's 110 per cent in play."
Well Said — "Another wonderful horse trained by Steve Elliott. He was the best both at 2 and 3. He did everything you wanted him to do and did it all well."
Shake It Cerry — "A wonderful filly trained and developed by Jimmy Takter. As with all Takter horses, she was always ready to do her best."
Muscle Massive — "He wasn't a great horse, but he was a very good one who Jimmy Takter had ready on Hambletonian Day, when it counted."
Blissfull Hall — "He was about as consistent a horse as you could possibly find, but he probably gave me more anxiety than any horse that I've ever driven. That certainly was no fault of his, his trainer Ben Wallace or his owner Daniel Plouffe. It was entirely self-induced. He was in line to win the Triple Crown. That was something extra special to me. The Messenger, the last leg was coming up. For no reason at all, I was concerned. I distinctly remember watching Ben go his last trip with him. He looked fine. I thought to myself, he'll be fine and he was. He jogged. I felt a huge load had been lifted from my shoulders."
How about your opponents, your fellow drivers? Who were the best? Did you ever fear any of them?
"I would use one word to describe all of them. That word would be 'warrior.' They were all that. When I first started at The Meadowlands Billy O'Donnell was the king of the hill. But he wasn't all alone. There was always a great driving colony — Cat Manzi, Buddy Gilmour, John Campbell, Jack Moiseyev, Ray Remmen, Ronnie Waples, Benny Webster, Teddy Wing and then Mike Lachance and his nephew Luc Ouellette came over from Yonkers; then David Miller and Brian Sears came from The Meadows; then Georgie Brennan began to shine. For a while, Walter Case was there as well. I feel that all of us probably benefitted, if only a little bit, by Dave Palone not leaving home from his base at The Meadows.
"It was never easy and never should have been. It was highly competitive. Generally speaking, you earned every race that you won.
"I'd be remiss if I didn't mention some of today's terrific young drivers like Yannick Gingras, Timmy Tetrick, Scottie Zeron and of course the Down Under invasion of Andrew and Todd McCarthy and Dexter Dunn. I raced against Yannick, Timmy, Scottie and Andrew. They are all naturals who came up the right way, learning and respecting the horses that they drove.
"In terms of fear. I can honestly say that I never felt fear before going out to race or while I was racing. I would go further and say that if a driver is afraid, he has no business being out there racing horses.
Respect for your opponents and the horses they are driving is very important. Fear has no business being out on a racetrack."
Have a question or comment for The Curmudgeon?
Reach him by email at: hofmurray@aol.com.