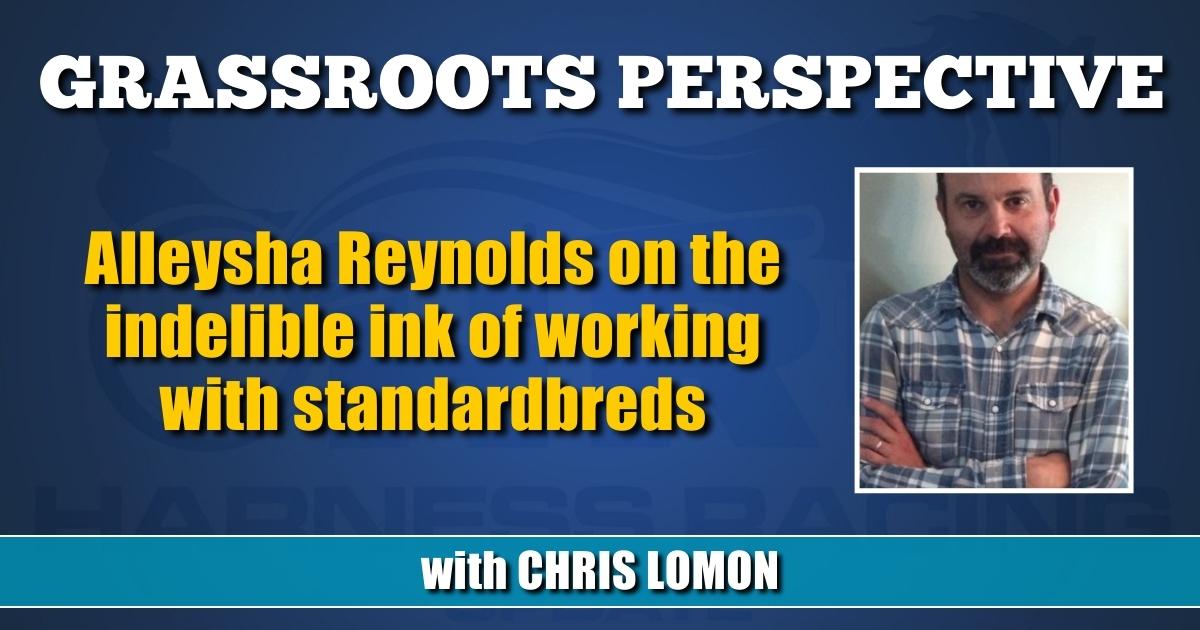 Alleysha Reynolds on the indelible ink of working with standardbreds
by Chris Lomon
It's by no means a reach to say Alleysha Reynolds is stamped for standardbred racing success.
If one were to ask the groom from Pennsylvania how she could best illustrate her dedication and devotion to harness racing, the answer would take the form of show and tell, so to speak.
"I have an infinity knot tattooed on my leg with both of their freeze brands in it," started Reynolds. "One is CFour Po, who is an Explosive Matter trotter I took care of for [trainer] Charlie Norris. He wasn't really a nice horse, but I have a tendency to like the ones no one else likes. Brees Creek, he was a pacer I took care of for [trainer] Chris Oakes. He was the first full-time horse I ever took care of."
Reynolds, whose connection to racing began at a young age, has always found great happiness caring for horses.
That she found her way to the racetrack was certainly no surprise.
An affiliation with horses and horse racing goes back generations in her family.
"My dad's grandfather, my great-grandfather, Paul, was part of racing at Pocono Downs, back when it was just Pocono Downs. It went down the family tree from there. My family had their own stable for many years – my grandfather, my uncle, my dad, my mom, they all worked in the barns."
Before her first day of school, Reynolds was already a fixture at the racetrack.
And although she didn't have years of experience as a groom, it didn't stop her from doing a thorough job with each horse she helped take care of.
"I kind of became the barn kid. By the time I could walk, I was brushing horses. I'd stand on their backs – my dad would put me up there because I couldn't reach – and brush them. I started out doing that and I never left."
Reynolds, who became a full-time groom when she was 16, went off to college to pursue a degree in equine science, with a specialization in breeding.
She enrolled at Delaware Valley University and in 2018, earned her degree in Equine Science.
Currently, she works in the barn of trainer Steve Brabrook.
"I work for him full time and I catch-paddock in the summertime here at Pocono. It's been great and I'm really enjoying myself. I love being around the horses, so every day, even if it has its challenges, is a good one."
Those challenges, albeit admittedly frustrating at times, don't faze Reynolds.
In fact, working with pacers and trotters who require specialized attention is something she readily embraces.
Mushana is a perfect example.
The 7-year-old trotting son of Muscle Massive contested the 100th start of his career on Nov.10.
A $10,000 purchase at the 2015 Lexington Select Sale, Mushana has posted 17 wins and 37 top-three finishes, along with just over $140,000 in lifetime earnings.
His most recent trip to the winner's circle came on July 17 at Pocono.
"Mushana, he's my pet. A lot of his starts this year, he made breaks. Sometimes, it's almost like a kid who can't handle things if it doesn't go their way. It's really discouraging when you see that happen, but you go to the barn and it's almost as if he's saying, 'I'm sorry. I didn't mean it.' And that just melts your heart."
It also reinforces an important lesson for Reynolds.
"As a groom, you can only do so much. You can work the whole week and prepare the horse the best you can, but once the driver has those lines, it's out of your hands. I feel I have to remember that because I do get frustrated at times."
Despite those trying moments, there are, she noted, many memorable occasions to celebrate.
The biggest one to date was courtesy of CFour Po.
"I groomed the horse in his 2-year-old year for Charlie Norris at Pocono. He kind of was what he was. He didn't break his maiden. He was in non-winners of one right up until he was 4, which is when Pocono requires you to move up. After you're 5, you can't race in non-winners of one.
"In his 2-year-old year, he was sold, and I thought he was gone. The people I work for now, Steve and his girlfriend Stacey [Dey], they were the ones who had the horse. I was good friends with them before I worked for them. When Stacey asked me if I wanted to come work for them – she wanted me to take care of CFour Po – I was able to reunite with him two years later, when he came back to Steve after racing for other trainers. I actually broke his maiden with him at Pocono (on Oct. 28, 2019) and it was so rewarding. To have that come full circle and be part of something that is so huge in a horse's life, winning his first lifetime pari-mutuel start, it was so amazing."
Reynolds will soon be taking her talents to another state, where she will look to put her scholastic endeavors to use.
The 25-year-old, along with her fiancé, Elmer Strollis, are moving to Kentucky in 2022.
"Right now, I'm working full-time with Steve and Stacey, but my fiancé accepted a job in Lexington. Ever since I was 12, I attended the Harness Horse Youth Camp there, and it's a place I've always wanted to live. So, in the next six months, we'll head there, and I'm hoping to work with breeding stallions or in the area of equine rehabilitation. I'm really into the stallion side of the breeding aspect, but also enjoy equine research, how their bodies work… it's fascinating to me."
If Reynolds ever needs to be reminded of her association to the standardbred world and the horses, her days off are an ideal example of a deep affinity for the sports and its stars.
While she could use time away from the barn to catch up on any number of tasks, it's not uncommon to see her heading to a certain familiar place.
"I have a puppy, so I hang out with him when I'm home. But other than that, my horses, they are my kids. I spend a lot of hours in the barn, and I enjoy it. The barn is like a safe haven for me. Even when I'm not required to be at work, I'll go to see the horses. My mom used to always tell me, 'If you love what you do, you'll never work a day in your life.' And that's what it is for me. I do get frustrated at times, but at the end of the day, I wouldn't trade my career path for anything."
With the opportunity to add to a new chapter in her equine career on the horizon, Reynolds has plenty to look forward to.
And perhaps, one day, she'll have some more horse-themed ink to share with the world.