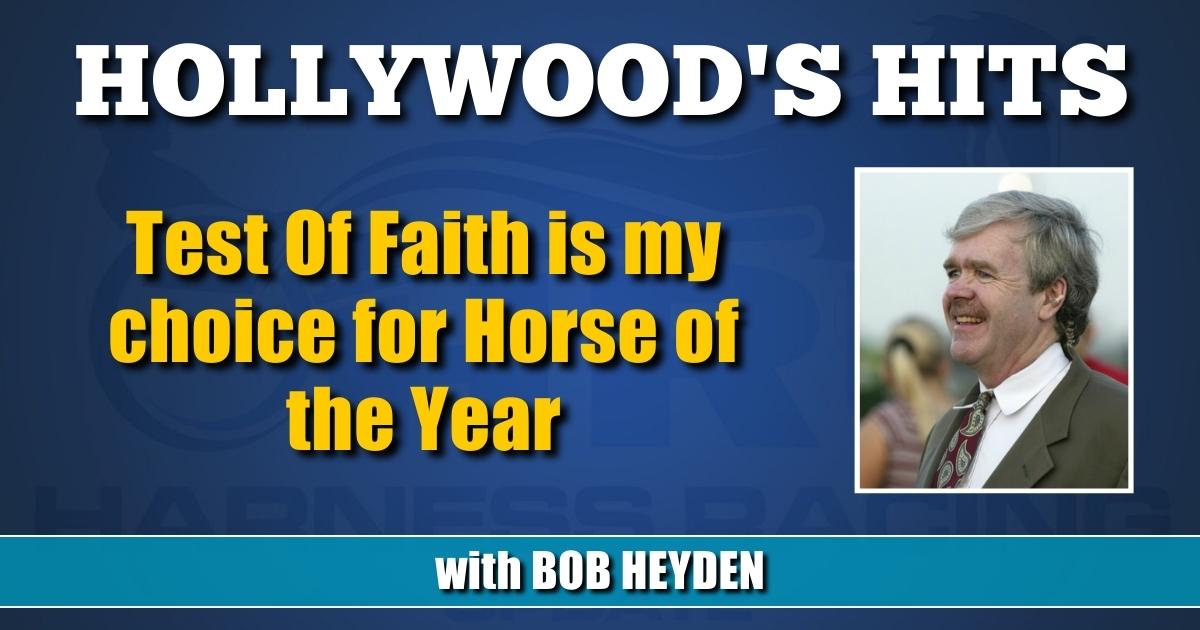 Test Of Faith is my choice for Horse of the Year
How and why I came to select her over Niki Hill.
by Bob Heyden
My choice for 2021 Horse of the Year is Test Of Faith, but it was a difficult choice between her and Niki Hill.
What made the difference? Let me be a nit-picker. You see, the HOY votes are all about dissection.
The one loss for freshman pacing filly Niki Hill came in an elim for a final she won. Think that doesn't matter? Take a look at 2004, when Windsongs Legacy had three losses — all in elimination races where he won the final — including the Hambletonian. He finished 9-for-12, but lost 119-98 to Rainbow Blue in the HOY tally. You can be 100 per cent sure had he gone 11-for-11 he would have been HOY. Elimination losses matter greatly in HOY balloting. Had J K She'salady not gone 12-for-12 in 2014, any blemish would have cost her the title. As it was, she only won HOY 57-52 over Pacer Of The Year Sweet Lou.
Test Of Faith easily outdistanced the division in earnings by over $400G (over Hot Mess Express). She lost twice — once on the square to the 2YOFP winner of 2020 Fire Start Hanover at the Meadowlands and the other in the Jugette. The horrible weather/racetrack at this year's Jug/Jugette means whether you won by 10 or got beaten by 20 that day a toss pretty much in division/HOY consideration. I know everybody had to deal with the same conditions, but I would have felt the same way had she dominated.
I told David Miller one night in the paddock at Hoosier Park the week after the Breeders Crown had already been contested, "There are two horses this past year who I would not want sitting behind me coming into the stretch on top — Perfect Sting and Test Of Faith."
His smile and non-answer-told me volumes.
Tim Tetrick himself referred to Test Of Faith in an interview as the "best mare in North America,' which is saying something since Tetrick drives Lyons Sentinel.
Did you see how easily Test Of Faith won? She dominated. Her career win percentage is higher than last year's HOY Tall Dark Stranger. She was toying with rivals at Northfield, measuring them off at the Red Mile and again in the Breeders Crown. She was mowing down everyone in sight.
For years I have stood my ground that Tarport Hap (1974-1977) was the best female pacer I had ever seen. It was not until Party Girl Hill came along last year that I reconsidered. Now, I am anxiously anticipating 2022 when both Niki Hill and Test Of Faith step back onto the track.
Test Of Faith's trainer, Brett Pelling, is the first trainer ever to have a sub-1:50 winning female (Armbro Romance — 1:49.4 in the Ladyship on June 27, 1988).
I cannot wait to see if Test Of Faith improves to age 4 and what she might be capable of. She has other worldly talent.
If you are undecided in who to vote for in the 2021 Horse of the Year tally, go back and watch how she breezed through the year without ever rubbing anyone's face in it. Also, there's a touch of retribution in the air here. She got punished in 2020 for not being eligible to the Breeders Crown and was not voted 2YOFP of the year because of it. But she more than did her part in 2021.
Four decades on…
This year marks the 40th anniversary of the first female pacer named HOY —Fan Hanover in 1981.
Glen Garnsey trained and drove for owner Dr. Glen Brown. The daughter of defending HOY sire Albatross (1979-1980 Niatross), Fan Hanover was a $20,000 yearling. She went 17-for-23 on the season and won $497G and easily outdistanced runner-up Royce 130-to-20 in the balloting for HOY.
Not perfect, but still impressive
Joe Holloway's Perfect Sting is the richest horse in North America at $1,273,847. His record was 16 7-8-1, making him the second horse in the last four decades to lead in earnings despite not winning half of his/her starts.
With a commanding lead in the money department — $394,000 over Charlie May — it appears to me that Perfect Sting has done more than enough to warrant divisional honors.
David Miller's staying power
David Miller, who celebrates his 58th birthday today (Dec. 10), drove Perfect Sting, Venerable and Test Of Faith. All are HOY candidates. Driving the richest performer of the season, at age 57, makes Miller the oldest since Billy Haughton did so with McKinzie Almahurst in 1981 at $936,418 at age 58. Happy Birthday to David-December 10-what a testament to this mans' staying power to have THREE viable HOY candidates!
Huge exactas
What were the pre-season odds of Mark Evers and Greg Wright, Jr. having the leading 2YOCP and 3YOCT money winners of the year? It happened. Monte Miki went 6-for-7 and pocketed $665,276 for Evers and Jujubee was 14-for-18, good for $948,791, for Wright, Jr.
Also, everybody knew last January that Maharajah and Infinitif would each sire a Breeders Crown winner in 2021, right?
Ecurie D DK had just the two USA starts but amazingly was still sixth in money earned among the older set with $393,000. He should have no problem at all taking down the division after his brief dominance in a division that lacked star power in 2021. Think two USA starts is not enough to warrant divisional consideration? Look up Peace Corps and Varenne. That should take care of that.
Tops among the older set
Allywag Hanover and Lyons Sentinel finished 1-2 in earnings over the age of 3 in 2021 and they both had the same 10-for-19 slate.
Cattlewash had some of the best timing of 2021. He had only three wins — one in an overnight — but he also won the Graduate and the William Haughton.
This Is The Plan had just one win in his last 12, but he banked $806G and set the all-time half-mile mark of 1:47.3.
So Surreal had two of the top five female pacing earners of 2021 — Gias Surreal at $268G and Racine Bell at $288G.
Dynamic duo
Atlanta and Manchego are $44,175 away from each other in career earnings. Both are past $3 million as they look at age 7. Moni Maker's final year was in 2000 at age 7, after back-to-back HOY seasons.
Atlanta is due back but Manchego retired.
As Nancy Takter said, "Manchego was the first mare since Moni Maker in 2000 to win the Cashman… and won four open class trotting events in 2021 — the only female to do so… She won the Cutler from post 9 in her season's debut parked the mile… was #1 in the weekly harness poll 16 straight weeks  before injury forced her to the sidelines."
Truly a mare for the ages.
"MAC" attacks
The likely top three ballot-getters in the 2YOTC division:
Paul MACdonell Duly Resolved (second in Mohawk Million — won over $500,000)
Mark MACdonald King Of The North (leading money winner at $568G)
Ricky MAComber Dover In Motion (never lost in INSS)
All three drivers drove their colts in each and every start.
Doubly proud
Linda Toscano must be proud — very proud. Her Chapter Seven sired Joviality S who had better than a $900G season (9-for-12). Her Walner had the leading earner in the division in Venerable who was 9-for-11 and won over $1 million. And it did not take long. Walner is from the first crop of 2012 HOY Chapter Seven and Venerable is from the first crop of 2016 2YOCT of The Year Walner. Both were Toscano trainees.