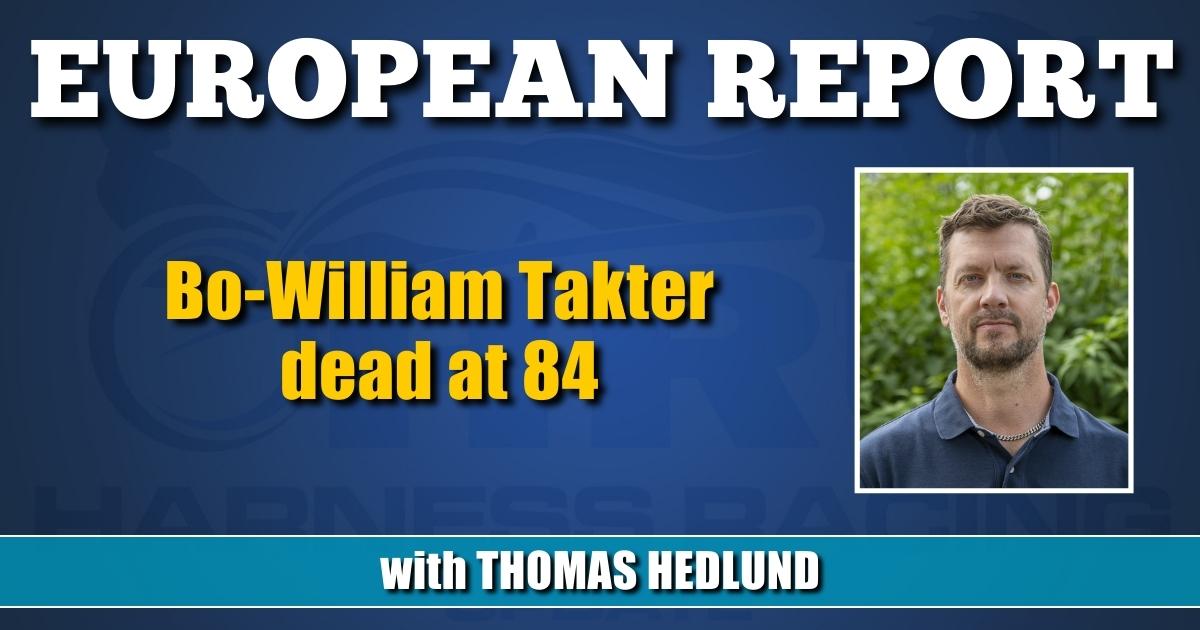 Bo-William Takter dead at 84
by Thomas Hedlund
Legendary Swedish trainer Bo-William Takter died on Tuesday (Dec. 7) at the age of 84.
Considered, by many, as one of the greatest trainers ever in Europe, Takter was known for his ability to transform lower class horses to high level trotters. In many ways, he contributed to the strong development of harness racing in countries where he raced.
His sons Jimmy and Johnny have both had fantastic successes in the harness racing industry and Bo-William was the trainer that got their careers started in the early 1980s. That tradition of excellence continues with Bo-William's granddaughter, Nancy Takter, daughter of Jimmy Takter.
Bo-William will be greatly missed.
Cleangame best in France
The final of the $147,000 Grand National du Trot in France was held at Vincennes on Sunday (Dec. 5) afternoon and despite a 50 meters handicap, Jean-Michel Bazire's gelding Cleangame (Ouragan de Celland) proved to be outstanding his rivals over 1.7 miles.
Cleangame got an early order of attack three wide and when three quarters of a mile remained of the race, Bazire found position outside of leader Deganawidah. Cleangame looked strong in the last turn and opponents that tried to attack from behind could never get close to the gelding, who claimed his second title in this race in mile rate 1:55.4 over 1.7 miles.
Jean-Michel Bazire has transformed Grand National du Trot to "his" race. The French champion trainer has seized the trophy six years in a row. His previous winners are: Aubrion du Gers 2016, Bel Avis 2017, Ble du Gers 2018, Cleangame 2019 and Elie de Beaufor 2020.
Three-year-old Izoard Vedaquais (Bird Parker) claimed his 12th consecutive win and is still undefeated after a safe win in $79,500 Prix des Pmu Ile-de-France. Philippe Allaire trains and Eric Raffin drove  Izoard Vedaquais to impressive victory in a mile rate of 1:57.1 over 1.7 miles.
Nuncio son tops in Italy
Italian bred 2-year-old Denzel Treb (Nuncio) continues to impress in his home country and on Wednesday (Dec. 8) night he claimed the title in the $204,000 Gran Premio Varenne in Naples.
Denzel Treb was sent to the lead in the first turn and the talented 2-year-old – who is 7-for-7 so far in his career —danced smoothly to a safe win in a mile rate of 2:00.1 over 1.3 miles.
In the $204,000 Gran Premio Ilaria Jet for 2-year-old fillies, Diletta Axe (Muscle Hill) hit the front position at an early stage and driver Andrea Guzzinati had everything under safe control all the way. Diletta Axe is, just as Denzel Treb, undefeated so far and the Wednesday's triumph was her fourth consecutive win.
$125,000 Gran Premio Royal Mares for older mares was held in Naples during the same race card and a quick finish by 7-year-old Viscarda Jet (Pine Chip) resulted in victory in 1:55.4.
Set for second B-race in Paris
It's time for the second chance to qualify for Prix d'Amérique 2022 and Sunday's (Dec. 12) $125,000 Prix du Bourbonnais over 2,850 meters at Vincennes has 17 participants, among them, champion trotter Face Time Bourbon.
The Sébastien Guarato trainee was superior when the first B-race, the Prix de Bretagne was held at Vincennes last month and some new opponents are set to appear up in Sunday's race. An interesting change can be noted. Jean-Michel Bazire will drive Italian trotter Zacon Gio this time and it's also time for Delia du Pommereux to test the best trotters in Europe again.
Prix du Bourbonnais 2021
2,850m meters
Horse – Driver
Rebella Matters – Christophe Martens
Frisbee d'Am – Björn Goop
Express Jet – Adrien Lamy
Fakir du Lorault – Francois Lecanu
Violetto Jet – Yoann Lebourgeois
Detroit Castelets – Franck Ouvrie
Diable de Vauvert – Gabriele Gelormini
Chica de Joudes – Alain Laurent
Etoile de Bruyere – Charles Dreux
Etonnant – Anthony Barrier
Feeling Cash – Francois Lagadeuc
Carat Williams – Matthieu Abrivard
Zacon Gio – Jean-Michel Bazire
Delia du Pommereux – David Thomain
Davidson du Pont – Nicolas Bazire
Bilibili – Laurent Claude Abrivard
Face Time Bourbon – Eric Raffin