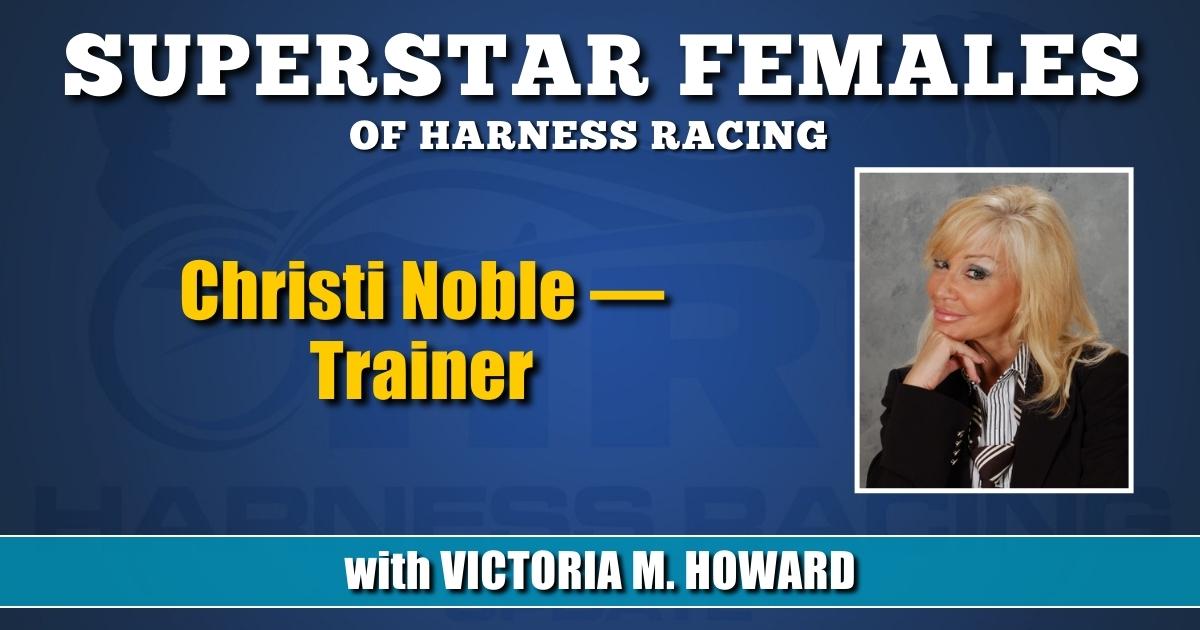 by Victoria Howard
In the sport of harness racing there's a family who comes from Ohio that warrants respect and admiration for their continued success in the sport — and that name is Noble.
Most horsemen knew Sam "Chip" Noble III, a member of the Ohio Harness Racing Hall of Fame who learned the sport from his father, and then Chip passed on the success to his son, Dan.
And that legacy would continue when in 2012 while driving at Buffalo Raceway, Dan would meet met his future wife, Christi Pokornowski, a female trainer, who also came from a long line of horsemen.
"I have been in the sport of harness racing for as long as I can remember. My parents were always involved in the sport," Christi said. "I'm a fifth generation as my paternal grandfather, Ray Pokornowski ,and maternal great-grandfather, Lester Snyder, were also actively involved up until their passing.
"Many of my cousins, aunts, and uncles are involved to some degree. It's definitely what you would call a family affair.
"I was born in Batavia, New York, and my husband, Dan, and I now live in Xenia, Ohio. When I met Dan I was training a stable of eight at Buffalo Raceway. He started helping me out and the rest is history.
"Dan wanted to move back home to Ohio, to be closer to his family. I'm so glad we did because his father, Chip, got sick shortly thereafter. Unfortunately, I never really got to know my father-in-law before he passed. He was only 60 years old. He was quite a horseman and I would have loved to pick his brain and learn from him.
"The entire Noble family is still involved in the business, as Dan's mother, Debbie, brother Sam, sister Meredith, and older children, Koltin and Sophia, all have a hand in it to some degree.
"Dan and I work together in the barn and make a good team. We make decisions together, but he doesn't question me on what I do and why I do it. I think that is why we get along. We bounce ideas off of each other and it works.
"We have a farm of our own with a few stalls outside of town, but currently stable our 30 horses at Greene County Fairgrounds in Xenia, Ohio. We have two broodmares: one pacer and one trotter, and a combination of aged horses, 3-year-olds, and yearlings — all are Ohio bred: three trotters and seven pacers — but we have been slowly transitioning to focusing on stake horses and top older horses, specifically.
"Primarily, we race at Scioto Downs, Miami Valley, Dayton and the Ohio fairs. In 2021, during stake season, we traveled to Kentucky, Indiana, Pennsylvania, New Jersey and New York.
"We recently bought seven yearlings between the Ohio Select and Lexington Sale, and have three homebreds — one is a Western Vintage colt who is a ½ brother to Ocean Rock."
Yes, THE Ocean Rock who surprised many fans and bettors when he won the Breeders Crown. The 4-year-old gelding by Rockin Amadeus  was one of three horses who received a bye from the elimination.
Winning the prestigious race gave Ocean Rock millionaire status —totaling his earnings to $1,209,522
"Going into the race I felt very good about his chances with a little luck from the racing Gods. Ocean Rock felt great, trained great, and I thought he was ready to perform his best.
"He beat some very good horses — Allywag Hanover and Cattlewash — but Ocean Rock is a very good horse himself.
"Dan gave him a perfect drive and Ocean Rock gave his all, and it paid off with a win. I was speechless, to say the least. The horse hadn't got the respect he deserved all year long, so I'm so happy he got a chance to shine on the big stage."
The Nobles have had Ocean Rock since the day he was born. The pacer is a homebred owned by the Nobles' good friends the Burnett family. There is a long history between the two families that stretches over 40 years.
"Dan's father, Chip, and the late Jack Burnett bred, raised, trained and raced the dam of Ocean Rock — Ocean Pearl. Ocean Rock is her first foal.
"Jack's wife, Sandra, and their children, Jim and Susan, elected to keep their horses with Dan and I, and it has all worked out great. I hope Chip and Jack (Burnett) are smiling down on us all, for we have formed into a big family ourselves.
"Ocean has taken us on quite a journey. Winning the Breeders Crown is every horseman's dream. Some people are in the business for 50 years and never get to experience this. It is so exciting to have a horse you have had since he was a youngster and go on to win one of harness racing's top races.
"I feel very blessed, but couldn't have accomplished this without my husband, Dan, and our team. It was not my fastest win as a trainer, for Ocean won in 1:48 at Dayton, and again at 1:48.1 at Northfield last year…. but it is by far the most exciting!"
"This year we bought seven yearlings between the Ohio Select Sale and Lexington, and have three homebred yearlings to break. In fact, Ocean Rock has a Western Vintage half-brother who we are excited about, but we know that it is a hard act to follow stepping in his brother's hoof steps."
Dan and Christi are hoping to take their one-year-old son, Nash Samuel, and train their stable in sunny Florida this winter. Presently, they train at the fairgrounds in Ohio and the winters can get pretty tough with the weather and track conditions. But obviously the frigid winter temperatures didn't hurt Ocean Rock.