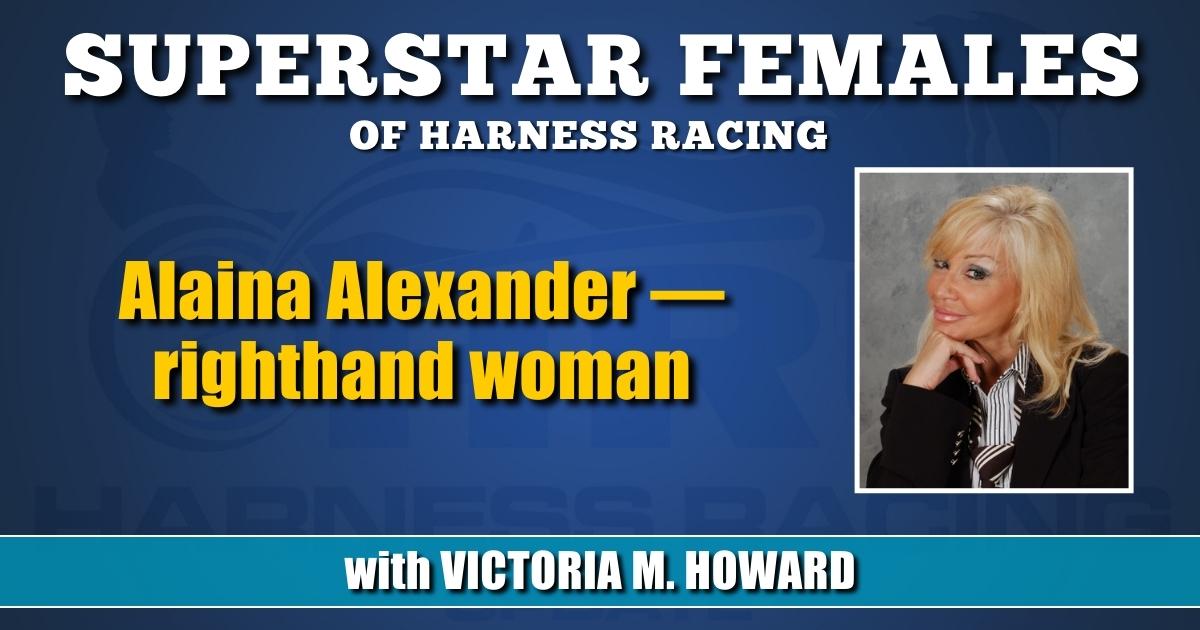 Alaina Alexander — righthand woman
by Victoria Howard
In harness racing there are as many disappointments as victories — unfortunately more — so if you can't take the lows with the highs, then perhaps you better get out now.
Horsepeople wait years for that special horse and then one day he or she hopefully comes along.
In the Travis Alexander Stable, they got their superstar in a horse called American Courage.
Alexander's wife, Alaina, picks up the story.
"We were at Lexington and there was a filly I wanted to see named Nota Fool Bluechip," she said. "She was a full sister to Fool Me Once, a horse owned by family friends and trained by the late Mark Austin.
"I thought the filly would be out of my price range, but hoped for some luck. We watched her in the sales ring and her price hung around $50,000. We thought at the least she would make a good broodmare, so we purchased her.
"Nota Fool Bluechip had a lot of talent, but she struggled with stifle issues. She raced a few times and took a lifetime mark, and then we decided to breed her to American Ideal.
"Her first foal was a good-looking colt we named American Courage. Training down as a 2-year-old, the colt was game — making sure no matter where he was sitting, he would always finish ahead of all the others. That's something you cannot teach a horse," said Alaina.
"Ending his freshman year winning seven out of eight races (and adding five more wins from 11 starts in his sophomore year) American Courage increased his earnings to $539,122 — winning the MGM Grand Messenger Stakes final in 1:51.4 at Yonkers, the first leg of the Triple Crown of Pacing for 3-year-old colts and geldings and surpassing all our expectations."
But along with the highs come the lows, such as in the Cane Pace on Hambletonian Day at The Meadowlands when American Courage finished a disappointing seventh. Travis discovered the American Courage had thumped badly. (Thumping is a condition a horse suffers due to abnormal spasms of the diaphragm.)
Heartache #1.
Several weeks later, an MRI on American Courage's left front hoof found bruising on the toe of the coffin bone — an injury that would put the champion on the shelf for the remainder of 2021.
Heartache #2.
But for Alaina, she knows this is part of the game.
"Yes, it's a setback, but we know that with time off he will fully recover; but I'm heartbroken nonetheless — both for us and the horse.
"American Courage ran into a road of bad luck. When he didn't win the race he knew it. He would get so mad walking off the track.
"But I know this is how the game is played and we are so blessed to have a horse like this. I couldn't be more proud of him. He is so special and I always tell him, 'This is what dreams are made of, boy.'"
But purchasing Nota Fool Bluechip, wasn't the only good thing that happened to the Alexanders, for that year they also bought a mare called I Said Please."
"I Said Please is the dam of Pleaseletmeknow,  who went on to win The Springfield, the very same race American Courage won at Yonkers last year.
"Pleaseletmeknow, who we call Paulie, was a nice surprise.
"We couldn't be more proud of our team, for this year our small stable has already won over $1 million in purse earnings — and the year isn't over yet!"
Growing up in Windsor, ON, Alaina's father trained horses on the side, after finishing his full time job.
"I'd go to the barn any chance I could get as a kid for there wasn't anything I'd rather do than get up in the morning, get in the truck with my dad and go take care of the horses. I was hooked from the start," Alaina said, laughing.
"I met my husband, Travis, at Windsor Raceway and as they say, the rest is history. He's a fifth generation horseman who lives and breathes the sport. Our horses are our children and we live to see them go out and be successful. It makes all the long hours and hard work worth it!
"Being married to a horseman is hard enough so I spend as much time with our 'kids' as he does, and for us it works.
"Travis says 'I'm the boss' and I laugh, but we really both do our part working as a team.
"We train at Mark Ford Training Center in the spring/summer, and at Sunshine Meadows in Florida during the winter. It's a lot of work but I love it. Currently we have 30 horses, so we eat, breathe, and sleep horses.
"My main job is taking care of American Courage, but overall I see everything: packing all the gear for race nights and making sure everything is copasetic… His eyes are on the track, and mine are on the entire barn. Travis laughs and says I'm basically the floor general."
American Courage is a favorite, but so is Daddy Mac.
"Daddy Mac is a one-of-a-kind horse that has the biggest personality. He will always hold a special place in my heart. He is living out his retirement with Corbretti, another horse I've owned his entire life. They are 17 and 18-years-young."