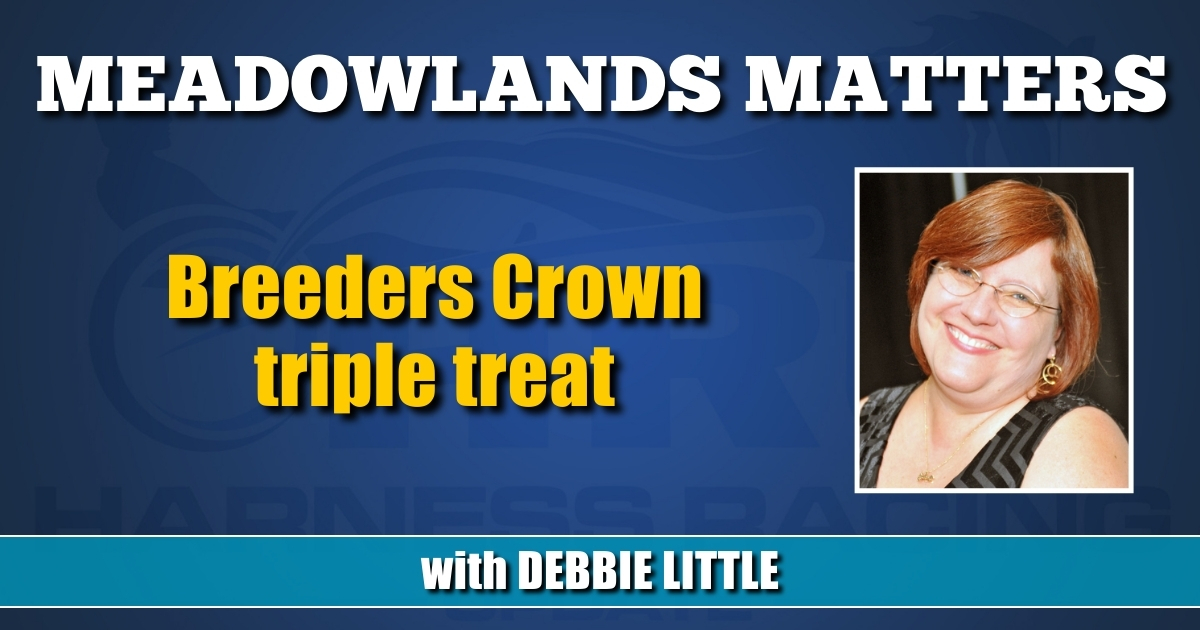 Breeders Crown triple treat
by Debbie Little
Roger Huston, Anthony Stabile and COSA-TV will provide some early Halloween treats for Breeders Crown fans this weekend.
The Hall of Fame "Voice" of harness racing, Huston, will make a special appearance at The Big M and call the first two Breeders Crown races both tonight (Oct. 29) and Saturday afternoon (Oct. 30).
"I was asked if I would do it and I said yes," said Huston. "I know how much these races mean to the owners, trainers, drivers and caretakers that have worked so hard all year and it's a big thrill for me to be part of their big day."
Huston's Crown connection goes back to the event's inaugural season and even though he has called over a dozen finals over the years, including all the 2- and 3-year-old races at Colonial Downs in 1998, his favorite will always be his first.
Even though it was a memorable competition, It's the behind-the-scenes things that made that race special to Huston.
"That year [1984] I was, more or less, the publicity director for Dragon's Lair," said Huston. "We kept touting him wherever he went as the horse from The Meadows and I made the statement numerous times that Dragon's Lair was the best 2-year-old pacer that year and that was going directly against Nihilator, of course.
"And when we got to Delaware (OH), Billy Haughton asked me 'Do you really think Dragon's Lair is better than Nihilator?' and I said 'Yes, Dragon's Lair will win the Breeders Crown.' And Billy said 'Well, we'll just have to wait and see.' And the rest is history."
Although this stat has never officially been kept, Huston, at 79, appears to be the oldest announcer to call a Crown race. In addition, he's called the Crown at multiple tracks, more than anyone else.
Announcing Breeders Crown races in the booth at The Meadowlands will also be special to Huston because it's where his protégé, the late Hall of Famer Sam McKee, called from.
"I know for a period of two years after he died, there would be times just in the middle of a horse race, I would all of a sudden think of Sam and for a while those were the toughest races to call," said Huston. "There was something special about Sam and I realized that from the get-go."
Anthony Stabile, co-host of the New York Racing Association (NYRA) pre-race show "Talking Horses," will join The Meadowlands' own Jessica Otten and provide handicapping and analysis for live coverage of the Saturday Crown races on Fox Sports 2 (FS2) and SportsNet New York (SNY).
Stabile, part of the Hambletonian broadcast on "America's Day at the Races" at Saratoga, may work for the thoroughbreds, but his first love was harness racing.
"Some of my first memories of the racetrack were at Roosevelt Raceway," said Stabile.
You had to be at least 6-years-old to get into Roosevelt, and even though Stabile was only 3, his parents managed to smuggle him in.
As an adult, Stabile still knows his way around a harness track, having participated in more than half a dozen exhibition races at Goshen Historic Track, Monticello Raceway and Yonkers Raceway.
"When you consider the Breeders Crown is this weekend followed by thoroughbred racing's biggest weekend, the Breeders' Cup, it's a great time of year for racing and I look forward to being part of all the Saturday action for the Breeders Crown," said Stabile.
The Breeders Crown broadcast on FS2 is from 12:30-4 p.m. while SNY's coverage goes from 3-5:30 p.m.
The Central Ontario Standardbred Association (COSA) will have its COSA-TV at The Meadowlands for the Breeders Crown doing their first live shows outside of Ontario.
COSA-TV was launched in 2019 as a way to help Ontario racing increase its fanbase and provide valuable content to their followers.
"To get people interested they've got to be fans before they're bettors," said COSA president Bill O'Donnell. "And that's what I thought with this COSA-TV thing. We have some marketing money, let's put it to use rather than buying a bunch of hats and t-shirts, let's get it out there to people on those platforms and it's kind of a brand now."
Curtis MacDonald will produce the live broadcast with host Greg Blanchard. Otten will co-host tonight with Michael Carter in the paddock, while on Saturday, Carter will move into the co-host chair with Otten occasionally adding some paddock content.
"Our goal isn't to duplicate what [The Meadowlands' in-house show] is already doing," said MacDonald. "We're not focused on handicapping and giving people tickets to bet. We're focused on people in the paddock and giving some exposure to the people that don't typically get it in the paddock with the horses. It's something completely different and more of an entertainment thing than anything."
Sweden's ATG will be taking wagering on the entire Saturday card and The Meadowlands' Facebook page and YouTube channel will show all the action live tonight and Saturday afternoon.