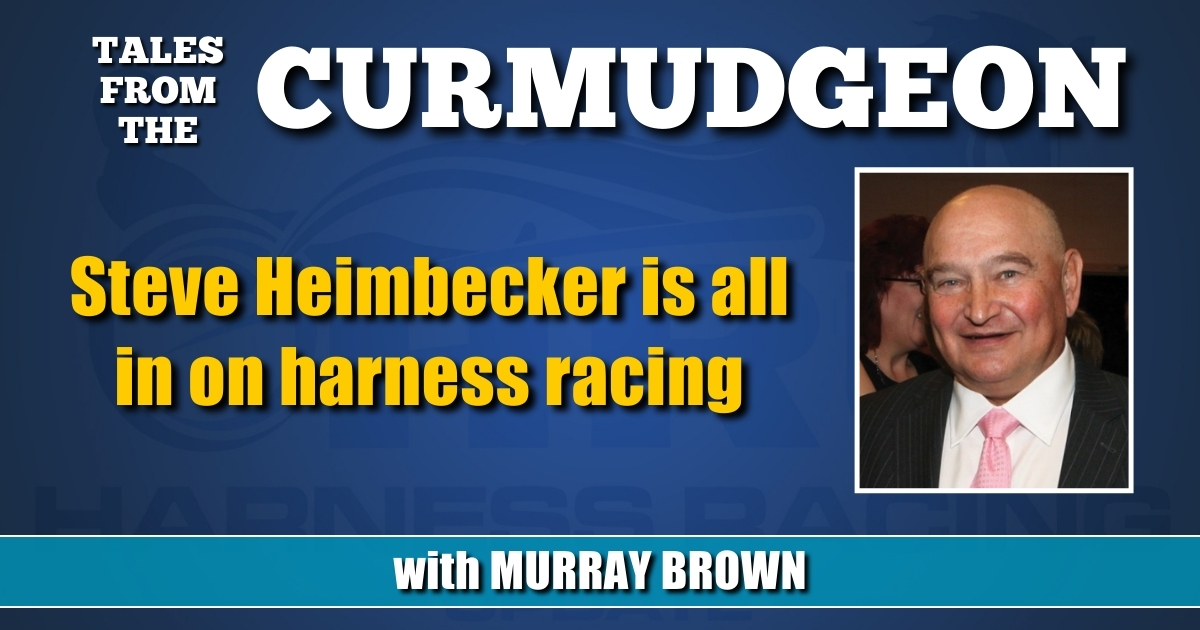 Steve Heimbecker is all in on harness racing
The owner from Ontario has already purchased 37 yearlings this fall and was the largest individual buyer of horses in Lexington.
by Murray Brown
"My goal is to have a lot of fun and visit as many winner's circles as I am able to, both next year and in the years to come," so saith the largest individual buyer of horses (32) and spender of dollars (more than $2.3 million) at the recently-concluded Lexington Selected Yearling sale.
When asked if he is done for the year, Steve Heimbecker said that he is nowhere near done.
"There is still the upcoming London (Virtual) Yearling Sale and of course, Harrisburg. To this point, all of my buying has been focused on colts. In the upcoming sales I intend to buy some fillies and concentrate on Ontario breds. I live in Ontario and hope to be a factor in racing right here, both in the high quality overnight races, stakes races and in the Ontario Sires Stakes events."
Prior to the Fall of 2020, Heimbecker was relatively unknown outside of Ontario.
He started going to Greenwood Raceway with his father sometime in the 1980s.
He started betting on the horses. That led to greater interest and in the years 2004 and 2005 he invested in a few claimers.
However, he had more important interests. He was quite involved with his wife Joanna in raising a family composed of his son Calum,16 and daughters Carys, 13 and Rori, 9.
For 20 years he was on the road to financial success, utilizing the combination of working long days and nights and some good fortune in the financial field.
"I felt it was time to have some real fun and enjoy the fruits of my toil and good fortune. Those who know me, know that I do not like to do things half assed. I'm usually all in, or not in. That is the way I've approached the horse business. I spent a good deal of money last year. I had some success on the racetrack, but not a whole lot of it. I'm an optimist by nature. So I look for better results next year and in the years to come."
You identified yourself as a major yearling buyer last year, but you have really amplified your status beginning especially with this year's sale in Ohio and then going on to the Lexington sale. What do you look for in your yearling purchases?
"Of course, pedigree comes first, then I go from there. I peruse the catalogs carefully. I also look for value. But at this point in time there was very little perceived value to be found — especially in the offerings at this year's Lexington Sale. Of course, when the results are known next year at this time, even some of the most costly yearlings will have turned out to be bargains. That's why we spend the big money.
"I watch the videos. I like a quick moving, athletic horse. Then I look at or have others whose opinions I respect look at the individuals. I wasn't able to secure my number one pick at the Lexington Sale. He was Hip No. 32, Cypress Hanover, the full brother to When Dovescry. He is an awesome colt. Nancy Takter bought him for $475,000. I was the underbidder at $450,000, the most I've bid on a yearling, but wasn't able to get him. I've spoken to Nancy and she still might be able to get me in for a piece of the action."
What pedigrees do you look for? Do you have any favorites?
"I guess I favor what most people do. That's why they cost so much," he said, laughing. "I love and especially want to see Somebeachsomewhere in the pedigrees of the pacing-bred yearlings. He is likely the greatest and most influential sire of this era. He was a great, great sire himself. His sons and daughters are carrying on the tradition. Captaintreacherous, Downbytheseaside and Huntsville already seem to be well established. I intend to partner with my friend Brad Grant on some Stay Hungry yearlings, perhaps some that he bought in Lexington and some that he will undoubtedly buy in Harrisburg. Then there is Papi Rob Hanover whose first foals will be arriving next year. There are some who believe that Papi Rob Hanover was SBSW's most talented son.
"With trotters, I love Walner. So does everybody else and why not? He first crop has been downright amazing with both colts and fillies. There are some who believe that his daughter Venerable could be the 2021 Horse of the Year. There are lots of other choices. Of course Muscle Hill is still great. So are Chapter Seven and Bar Hopping. Old Cantab Hall is still churning them out."
Any other remarks on Lexington?
"Speaking in generalities, today's breeders are turning out a fantastic product. The horses looked great and I feel certain that a good many of them will perform well on the racetrack. I loved the atmosphere and the enthusiasm displayed by just about everybody I encountered there."
You bought a lot of yearlings. Who will train them?
"In the States, most of my horses will be trained by Julie Miller and Nancy Takter. Here in Canada, they will be mostly trained by Dave Menary, Gregg McNair, Aaron Byron and Amanda Fine.
"You may have noticed that three of the six that I will use are women. I believe strongly in girl power. That is not by accident.
"From my experience, women are especially adept with horses and communicate well with them. Some of that might relate to the fact that women outnumber me in my household," he said, laughing.
"I am especially impressed by Amanda Fine. Her work ethic is just amazing. She has done extremely well working with little pedigree and buying power. She now has some of both. I look for great things from her.
"We have, so far, purchased 37 yearlings, counting those bought in Ohio, the Winbak Ontario sale and Lexington.
"I also have a few overnight horses with Julie and Andy Miller's son, Tyler.
"I really want to support young people and be with people I like.
"I'm not sure of the exact number, but guessing I'd say I have close to 60 horses in training."
You mentioned your children. Please tell us about them.
"My son Calum is the oldest at 16. He is a much better than average soccer player. He will be going over to England next year to play competitively.
"Next is my daughter Carys. She is 13. She is also very much involved in sports with significant time spent with basketball.
"The youngest, my daughter Rori, is nine. She is the only horse lover among them. She takes a great interest in the horses already. I expect that this will grow as time goes on."
How do you see the harness business and what of its future?
"Unfortunately, we exist in a bubble — a very small bubble. We need to expand that bubble. We desperately need exposure. So many people, actually the vast majority of people, do not even know that we exist.
"The Standardbred industry here in Canada extends from coast to coast, yet few know we are here. There are so many nice people including some real characters in the game. Speaking for myself I'm here for the long haul. I want to be involved and I want to contribute.
Do you see yourself being involved in the breeding business?
"I wouldn't close the door on it. But right now I would say it's premature. I'll concentrate on racing. Most of all, I want to win races. The more the better. I'm guessing that we will develop some good fillies that will tempt me to send them to become broodmares. Of course, we all dream about developing that great stallion prospect that will go on to stand at a major breeding farm. If that would come to pass, I might be tempted to get into the breeding business. Who wouldn't?"
I'll close as I do most recent columns with COVID-19. How has it affected you?
"It hasn't been as bad for me as it has for others. It has been especially rough on the kids. To some degree it has prevented them from being what they are —kids.
"It has been challenging and restraining and has created difficult employment issues for both employers and employees. Being the optimist that I am, I know we will get through it hopefully sooner rather than later."
Have a question or comment for The Curmudgeon?
Reach him by email at: hofmurray@aol.com