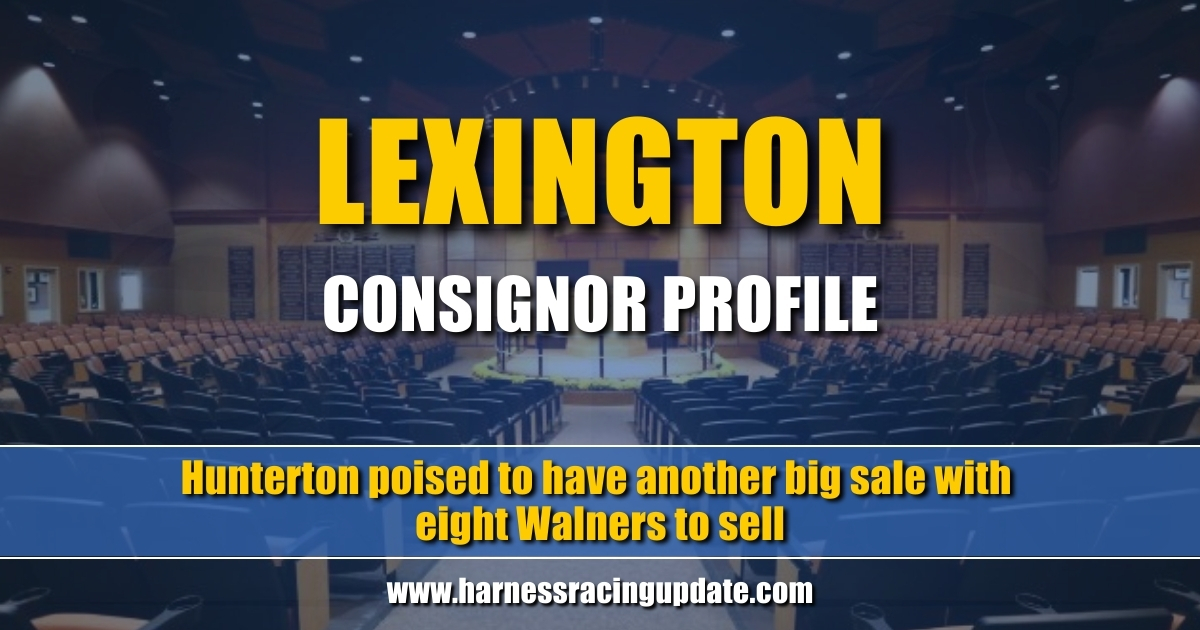 Hunterton poised to have another big sale with eight Walners to sell
by Dave Briggs
Steve Stewart of Hunterton Farm said the incredible year Walner is having with his first crop of racehorses should prove to be good karma for Hunterton's prospects at the Lexington Selected Yearling Sale.
"We have eight Walners, so that will bode well no matter what," Stewart said. "The Walners stand out."
Hunterton sold the sale topper in 2020 when Kadena, the Walner filly out of Mission Brief, topped the sale at $725,000. This year, Stewart said the Walner sister to Mission Brief, hip 105 Cyberspace, is one of his top picks from Hunterton's 98-yearling consignment.
Stewart said Cyberspace's dam, Southwind Serena, wouldn't cycle, meaning Cyberspace is a June 18 foal. Stewart points out Mohawk Million winner Venerable — the second straight Mohawk Million winner Hunterton has bred coming on the heels of Venerate in 2020 — is very close to being a June foal.
"All these people say, 'I wouldn't buy a June foal,' well, (Venerable) is a day or two away from being a June foal, so it's remarkable that here she is undefeated and vying for Horse of the Year," Stewart said.
"Southwind Serena is so unique. We struggled and she hasn't had a foal in several years. Her last one was an embryo transfer, but then we've struggled to get a baby and then we get a really nice Walner… Some of it had to do with the fact that Walner is so fertile, so Southwind Serena we struggled to get her in foal the last few years and so Walner is very fertile, so we went to Walner."
Another Hunterton standout sired by Walner is hip 52 (D'Apper), the first foal out of Breeders Crown winner D'One.
As for non-Walners, Stewart said, "number 49 (Boudicca) is an outstanding Father Patrick filly. The other outstanding one is Muscle Mass' brother, number 68 (Anointed), Graceful Touch's colt. He's really special, too."
Anointed was sired by Tactical Landing, whose first crop of yearlings is selling this year.
"The Tactical Landings are special for us because we've come full circle. We bred him and foaled him and then kept a small piece of him. He sold for $800,000… we've had some bad luck and we've lost a few Tactical Landings along the way in the first crop, but that happens."
As far as pacers, Stewart highlighted hip 51 (Echolocation), a Captaintreacherous filly and hip 74 Captain Taylor, a Captaintreacherous colt. Captain Taylor is named for Stewart's son, Taylor Stewart, a captain in the Air Force.
VALUE PICKS
As for "value" picks, Stewart selected three.
"525 (Cobble) is a really, really nice Cantab Hall filly. She took a very good video. Also, 380 (Velociraptor), another Father Patrick and probably the last one I would put down is 372 (Snowpiercer), the Muscle Mass out of Wheely Quick."