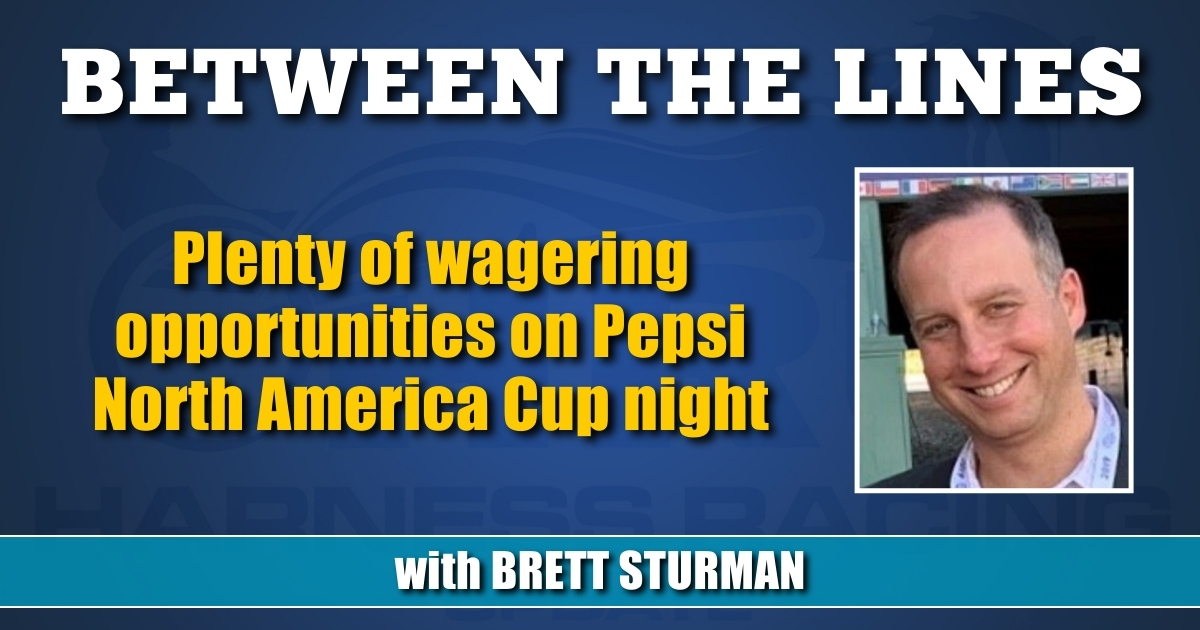 Plenty of wagering opportunities on Pepsi North America Cup night
Woodbine Mohawk Park has been on a betting roll of late with the last two Saturday cards each topping $3 million in wagering.
by Brett Sturman
Handle has been surging at Woodbine Mohawk Park, and that's bound to accelerate even more on Saturday's (Sept. 11) $1 million Pepsi North America Cup card. After posting a handle of $3.2 million two Saturdays ago, the track upped it to over $3.4 million last Saturday. From a wagering standpoint, the North America Cup card features two separate $100,000 guaranteed Pick-5's, as well as a mandatory payout on the final races Jackpot Hi-5 which brings into it a carryover of $300,257. Pool for that race alone will be well over $1 million. Here are my picks and analysis for the night.
Early $100k Guaranteed Pick-5 Starting Race 1:
5-6-8 / 5-7-8 / 4 / 2-4-5-7 / 3-4-6-7 $28.80 ($0.20 Cost)
All Stakes $100k Guaranteed Pick-5 Starting Race 7:
3-5-6 / 3-8 / 4-5 / 2-3-4 / 3-4-6 $21.60 ($0.20 Cost)
Mandatory Jackpot Hi-5 Ticket Race 13:
2 / 1,3,5 / 1,2,3,4,5 / 1,2,3,4,5 / ALL $19.20 ($0.20 Cost)
Race 3, $392,000 Peaceful Way
No one has been able to get close to VENERABLE yet and she is simply faster than anyone else at this stage. She can do it either way and maybe Miller will put her on the front to not take any chances, just like he did in the NJSS final. ADARE CASTLE is the other unbeaten filly in here, though seems a consistent couple of seconds slower on paper. DABRA DAY was interesting in her Peaceful Way elimination. She opened wide leads and two different parts in her mile and still held off everyone comfortably except for VENERABLE; may be able to be there with a kinder rating and is bound to be moving forward early again. That was a strategic drive last week from Miller on AMERICAN BEAUTY to get second. DELILAH HANOVER has come within 4 lengths the last two times she's faced the impending favorite; should be a massive price from post 10.
Picks: Venerable, Dabra Day, Adare Castle
Race 4, $213,170 Champlain
BOB LOBLAW was an unfortunate sixth last Saturday in his Gold OSS race and maybe that will help with the price for this Sunshine Beach gelding. After showing early speed, Filion elected to sit in with him approaching the three quarters and he was trapped for the rest of the mile while seemingly having pace whenever he tried to angle. Two back he won with a :26 final quarter. NAUTICAL HANOVER is another that was buried recently in his race two back, that one coming in the Dream Maker against True Blue Lindy. Once free he was able to get up for second though never threatening the race winner, though he disappointed last out as the 4/5 favorite in the Nassagaweya. MARKET BASED who is best known up to this point for being a half to One Eight Hundred didn't fire two back at the Meadows and then was a vet scratch from the PA Sire Stake final. He obviously has talent though current form is a total guess. MANY MOONS would have been favored against these a month ago but folded two back and wasn't a serious threat last out; needs to bounce back. ATLAS HANOVER and CENTURY INSPECTOR start from the two inside posts and are a combined 0-for-14 lifetime but don't seem all that outclassed, there aren't any killers in here.
Picks: Bob Loblaw, Market Based, Century Inspector
Race 7, $240,000 Goodtimes
LOCATELLI won the faster of the two Goodtimes eliminations last week and I thought that was a well-earned win for him. Hambletonian finalist came first over in that race and still had enough to sustain his wide momentum after PUBLICITY SEEKER popped the two-hole. FASHION FRENZIE had it all his own way in his elimination, getting off with a cheap :58 half mile split on the front end. He hasn't been headed in his last pair and will look to lead the way once again. What do we do with DANCINGINTHEDARK M? He would have crushed these in July, but he's now lost five straight races – all of which have come at odds-on prices. He couldn't get to the race leader in his elimination following the slow half, but at least he trotted the entire mile. LOGAN PARK was no match for FASHION FRENZIE last week but did beat him three back. I guess ON A STREAK just isn't the same horse he was last year at 2.
Picks: Locatelli, Fashion Frenzie, Dancinginthedark M
Race 8, $425,000 Fan Hanover
After not firing in the Lynch at Pocono from post 9 despite the best possible drive that McCarthy could have put on her, it was back to the big track last week and HOT MESS EXPRESS responded. Unbeaten in all but one start this year, she fought off a brave challenge in her elimination from SCARLETT HANOVER before opening up late and looks the best. FIRE START HANOVER looked like she might run into traffic in her elimination sitting last on the inside, though she was able to weave her way off the pylons and surge from there as Jamieson curiously moved OFF THE RECORD into the three-path to make room for her. Dunn may elect to secure a better early spot this time as to not let HOT MESS EXPRESS too far ahead. VOELZ DELIGHT had good late pace up the inside in her elimination after losing momentum to a tiring leader in front of her. NOTORIOUS PINK paced to consecutive 1:49.1 wins at the Red Mile two and three back.
Picks: Hot Mess Express, Scarlett Hanover, Fire Start Hanover
Race 9, $180,520 Champlain Stakes
Upset call here with BOUDOIR HANOVER. Granted that was only a field of four that she beat most recently at the Red Mile, but those were two higher regarded fillies that this $200,000 yearling sprinted past in the stretch and McCarthy looked like he was sitting comfortably at the end of that :25.1 final quarter. SILVER LABEL is yet to lose in five career starts and she won as MacDonald pleased in her last two Gold wins. I LOVE ONGAIT had some late pace up the inside last week and then ran into traffic; promotionally named filly will be up close once again from the rail. BIG BETTOR HANOVER couldn't quicken off a pocket trip where she didn't have to tip until mid-stretch, ditto for TREACHEROUS KISS.
Picks: Boudoir Hanover, Silver Label, Big Bettor Hanover
Race 10, $640,000 William Wellwood
In addition to the winner's share of the $640,000 purse, the winner of this race will once again get an auto-birth into Mohawk Million. DULY RESOLVED was looked right in the eye last week by the heavily backed LETSDOIT S and turned that one away and those two split clear of everyone else in the stretch. Two back he likely would have beat TEMPORAL HANOVER if not for traffic. LETSDOIT S had every chance last week and was one of many that couldn't go by after two-hole trips; now moves to the outside. KING OF THE NORTH was another big favorite to go down in the Wellwood eliminations and last week's defeat was the first of his career. He seemed clear but was caught up the inside by PERICULUM who showed speed early in the mile, and then sprinted with apparent ease through the lane once he had clearance; seems more advanced than when seen at the Meadowlands in July. TEMPORAL HANOVER beat WORLD AT WAR DEO in an elimination that those two had mostly to themselves throughout.
Picks: Duly Resolved, King Of The North, Temporal Hanover
Race 11, $1,000,000 Pepsi North America Cup
Pepsi North America Cup XXXVIII pits PERFECT STING against BULLDOG HANOVER with a few others not being far behind. In his elimination, PERFECT STING was headed by WHICHWAYTOTHEBEACH after pulling pocket in the stretch. It looked like he was a half-length down at one point, but PERFECT STING came back again to reassert himself in the end, you don't see that too often. He has a ton of guts. Almost as impressive that night was BULLDOG HANOVER. He took even more action than I thought he would, being bet down to 30 cents on the dollar against the Cane Pace winner. In that race, BULLDOG HANOVER came first over from fifth, paced a wicked third quarter while parked, and was relentless through the stretch. He's the real deal and the top two are almost impossible to split. WHICHWAYTOTHEBEACH looked like he was going to take it to last year's 2-year-old champ and was one of many over the last week to not capitalize off the pocket trip when it seemed like he was poised to do so. Still no disgrace at all in that race and he gets a third crack this year at Sting. ROCKYROAD HANOVER does his best work from off the pace but I'm not sure he can afford to get away 9th in here; it will be interesting to see how Dunn approaches the start. DESPERATE MAN closed well in his elimination after sitting off that big third panel; he isn't without a chance and will offer a price.
Picks: Bulldog Hanover, Perfect Sting, Desperate Man
TrackMaster PPs available here.
A special WEG program handicapping section is available here.