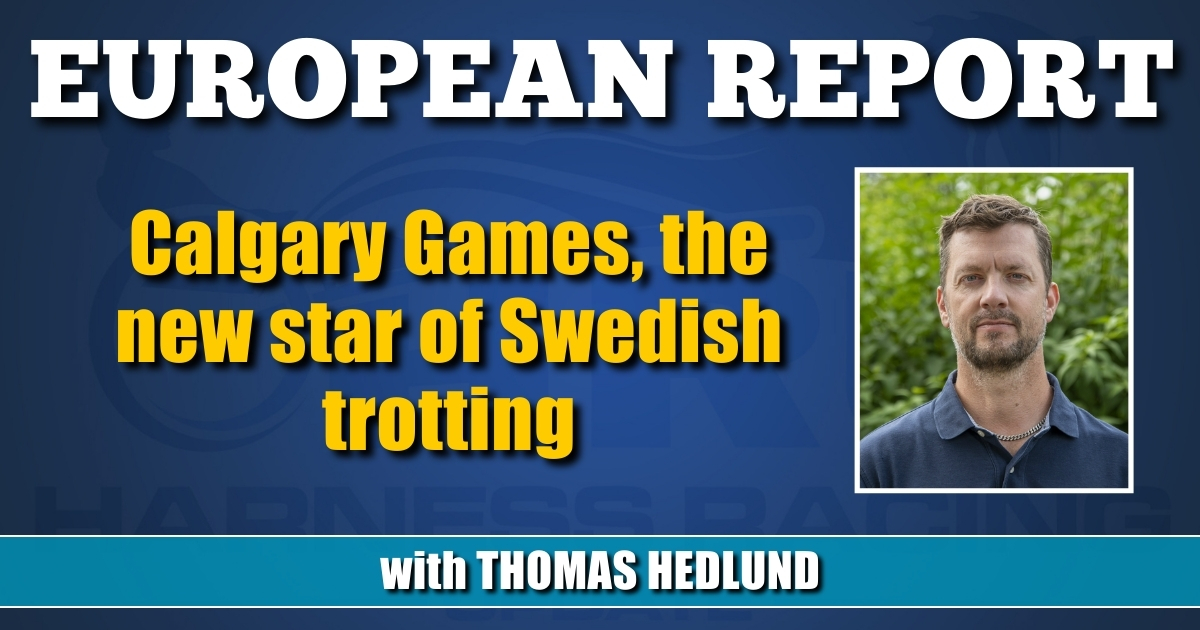 Calgary Games, the new star of Swedish trotting
by Thomas Hedlund
Nothing much happened in the race when the $930,000 Swedish Derby for 4-year-olds was held at Jägersro racetrack on Sunday afternoon (Sept. 5), but the impressions after the show was that harness racing fans might have seen the best trotter ever bred in Sweden winning the big race.
Timo Nurmos trains and owns Calgary Games (Readly Express) and he found the horse as a foal in the paddock at Menhammar Stuteri.
"When I saw Calgary Games as a foal, he was a copy of his father Readly Express. To train a horse like Calgary Games, with all his abilities, is a dream and I get happy every time I take him out for a training session. I've never driven a Ferrari, but I imagine the feeling is similar to sit behind Calgary Games," said Nurmos shortly after the Derby.
Nurmos just watched his horse give a world class performance over 1.6 miles, in a first over trip where the mile rate landed on a new world record for 4-year-olds on a 5/8 mile track over the actual distance: 1:55.2.
And the most remarkable thing about the Calgary Games' triumph is the road the horse has made to reach the biggest race in Sweden. The victory in Sunday's race was Calgary Games' seventh start in his entire career, an achievement hard to comprehend. It usually takes a lot of experience and merits to even reach a Derby final, but it's clear that Calgary Games is something special.
Calgary Games more or less pulverized his opponents in the Derby, it was a breathtaking show he put on at Jägersro paired with 68-year-old Jorma Kontio. The horse finished the last half mile in :54.3 from the outside.
Leader Önas Prince held strongly as runner up while San Moteur claimed the bronze medal.
"Calgary Games has never been tired after a race, not even today," said Nurmos, who claimed his fourth victory in the Swedish Derby.
The winner's father, Readly Express (trained by Nurmos), won both the Kriteriet and the Derby in Sweden and continued to collect more big trophies in Europe as an older trotter. His biggest win came in Prix d'Amérique in 2018.
More Readly Express in Derbystoet
The $465,000 Derbystoet for 4-year-old mares contained the best horses in the Swedish crop at Jägersro on Sunday afternoon and just like the final of Stochampionatet earlier this summer, Readly Express daughter Honey Mearas proved best after a tough first over trip.
Honey Mearas, driven by Örjan Kihlström, finished second to Global Brilliance in the eliminations whereupon she had to face post 7 over 1.3 miles in the final and many of the horses on her inside impressed in their eliminations, respectively.
Kihlström used Honey Mearas strength this time and he was confident in putting his horse in position outside of leader Global Brilliance, just like in the qualification for Derbystoet. The difference this time was the pace. Örjan Kihlström didn't want to let the leader save speed for the home stretch and Honey Mearas was the stronger horse when the last stretch remained.
Trainer Daniel Redén claimed his second win in a row in the race (Diana Zet won in 2020) and Honey Mearas noted a stakes record mile rate of 1:55 over 1.3 miles.
"Honey Mearas reminds of Diana Zet in such a way that she finds a high level every time it's a final ahead of her. She needs to get the elimination race to reach highest possible form and she has many great abilities to use in her body. When I saw that Örjan (Kihlström) looked over his shoulder in the last turn I understood that he had power in the lines and Honey Mearas impresses me a lot", said trainer Daniel Redén after the race.
Global Brilliance finished second ahead of strong finisher Sayonara.
Hagoort dominates in Germany
The $255,000 German Derby for 3-year olds in Berlin on Sunday afternoon (Sept. 5) saw a heavy favorite in Paul Hagoort-trained Usain Lobell, but turned out that it should be a stablemate who claimed the Derby this year.
Usain Lobell was interfered with shortly after the start and he couldn't keep his gait at that time.
Stablemate Lorens Flevo (S.J.'s Caviar) also made a short break in the start, but he eventually found a second over trip for driver Micha Bouwer and from that position Lorens Flevo fought to close win in mile rate 1:57.3 over 1.2 miles.
The winner was quite unmerited before the German Derby and he came to the race with only six prior starts in his career. Trainer Paul Hagoort is a specialist when it comes to this race and he claimed his seventh win the last ten years.
On the Saturday's (Sept. 4) race card, the $108,500 Derby for mares was held and the fans saw an outstanding wire-to-wire performance from Lumumba (Charly du Noyer) and Michel F. Rothengatter. The duo left the opponents over the home stretch and won in mile rate 1:57.3 over 1.2 miles.
Allaire's Italian is hard to beat
Philippe Allaire-trained 3-year-old Callmethebreeze (Trixton) showed early talent when he started his career last season and this year he has continued to claim big wins in Italy.
In the $182,500 Gran Premio Carlo Marangoni in Turin on Sunday (Sept. 5), the son of Trixton opened solidly for the lead and only Capital Mail could challenge over the stretch after a pocket trip. But Callmethebreeze held on in the lead and driver Andrea Guzzinati noted that he had a 1/2 length advantage when the wire was crossed. Callmethebreeze came home in a strong mile rate of 1:56.1 over 1.3 miles.