Did a "bell bettor" take advantage of the favorite and second choice not being on the gate just before the start?
by Garnet Barnsdale
Here we go again. Twitter was buzzing over a very short Exacta payout at Northfield Park on Monday night (Aug. 30) that most likely was cashed by "bell bettors" or "gate bettors" who took advantage of a big favorite and the second choice not being on the gate just before the start and got a sizeable bet down on the winning Exacta combination just before the off.
Anytime a 115-1 shot and a 32-1 shot combine for a meagre $325 Exacta payout in any race for any reason, that is going to ignite social media. That's what happened in Monday's 14th race. Horseman Jay Hochstetler tweeted a picture of the payoffs with this message: This looks bad. Like needs a criminal investigation bad.
DRF Harness's Matt Rose explained in his tweet why there was no chicanery in play in the actual running of the race. "It was nothing more than a gate punch with the 5 breaking well before the start and the 9 (who shows breaks and shaky lines) stuck in 2nd tier. Bell bettor happened to get lucky, that's all. Yes, crappy payoff but there's really nothing to see here…"
Ed DeRosa, who works for Twinspires and has access to wagering data, noted with this tweet: that the wagers that knocked the payoff down in the race Monday night occurred very close to the start After a 9-minute (!) post drag, the 8-1 exacta will pay for race 14 on Monday @NfldPark went from 617-1 to 161-1 in the final click, which was just 11 seconds after the penultimate update. The will pay was 1,994-1 just five minutes earlier.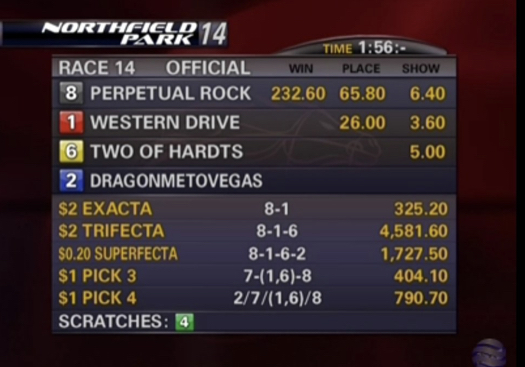 The way that this has been explained to me in the past suggests that certain bettors that are wagering at a specific simulcast wagering site give a specific Exacta box combination to the teller that excludes the top one or two betting choices, then the bet gets queued up and they yell go or stop depending on what is happening behind the gate just before the start. Their wagers get into the system just before the bell rings to note the end of wagering, thus the term "bell bettors". This is certainly not a new phenomenon. A similar incident that occurred at The Raceway at Western Fair was documented in this column in 2019 (full story here).
It should be noted that there is some truth to Rose's statement that the bell bettor "got lucky". The winning combos were punched when it was obvious that the second choice was on a break and the 1-5 favorite was second last leaving from the second tier. But the favorite quickly made a move for the front and broke stride just as he was about to make the lead. If he stays flat, we probably end up with a bit of an overlay on the winning Exacta with him in it, and the bell bettors lose.
But is there really "nothing to see here"?
You have a 115-1 shot winning the race with a 32-1 shot finishing 2nd. The Exacta, which in any typical race would pay well over $1,000 – if not most of the pool – comes back $325 for every deuce. Isn't anyone concerned with the optics of the ridiculously low payout and the inevitable fallout on social media? (Which happens every time following one of these low payouts).
This tweeter Chris Whaley wasn't impressed with the payout and he showed his anger with this tweet: Riddle me this. Exacta 115-1 30-1 paying $325 at Northfield for $2. $2 exacta combo 99-1 4-1(2nd choice) was paying $1,398. Even the 99-1 1/5 was paying $240. 1/5 and 4-1 both make weird breaks. What in the fixed bullshit is going on @NorthfieldPark? Judging by the volume of tweets generated from a non-winners of three raced late on a Monday night, there is apparently plenty to see.
For me, this is one of the biggest issues when these "bell bettors" make this kind of a score and totally skew the payoffs. The optics lead to cries of "fixed race", which in this case I think is obviously without merit, but it's out there in the Twitterverse now. Ask yourself how many of Whaley's followers are likely educated on the whole "bell bettor" process which creates the abnormally low payoffs. DeRosa, who has been working in the business for decades and got his start at Northfield Park seemed unaware of the whole bell bettor phenomenon. Or perhaps he knows and just didn't see the race or the replay and he required more information. Considering all that, what are the chances Joe Betting Public knows?
Here is the other issue; Whaley and me and thousands of others are betting from home. So, while the bell bettors aren't technically doing anything wrong or breaking any rules or laws, they certainly have a big unfair advantage over the majority of the wagering public. At one wagering hub, they apparently pay for a faster video feed so there is little to no time lag on the video feed. So, they are watching the start in real time and I am not. My concern was shared by tweeter Horseshoes and Hand Grenades who posted: Assuming they don't have my tv which is 45 seconds behind "live" then, lol.
This is bang-on, because there is no way with the lag on my video feed that I am getting a wager in at anywhere close to 11 seconds to post.
I don't know what the answer is. But at some point, we need to ask ourselves is this something that we are going to continue to accept because "that's how it's always been," and have to continue to answer for ridiculously low payouts in these cases, or are we going try to do something to level the wagering playing field in this case somehow?