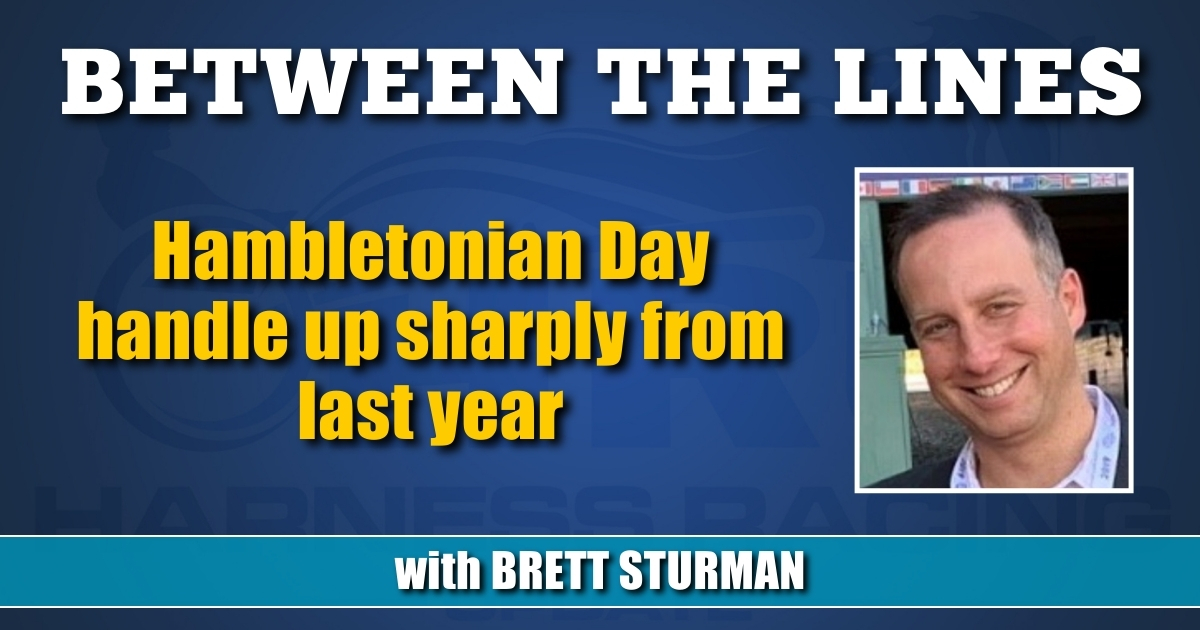 Hambletonian Day handle up sharply from last year
by Brett Sturman
All-source handle from this year's 16-race Hambletonian day card totaled $6,487,839, up over $750,000 from the 2020 card. Handle for the Hambletonian final won by Captain Corey was the highest for the race in 11 years.
With wagering totals for the day up from last year, what makes that handle even more impressive is that it countered the trend from the Meadowlands Pace just three weeks ago. In comparing the track's — and industry's — signature trotting event to the Meadowlands' signature pacing event, the Hambletonian numbers prove even stronger, relatively speaking.
Handle of $4,5203,213 from this year's Meadowlands Pace was down close to $500,000 from the 2020 race which cleared over $5,000,000 in all source handle and had one extra race on the card in 2021 to boot. Perhaps a dry Saturday afternoon played better for handle than the rainy mess from Pace night, but instead of a drop in handle for the day, Hambletonian Day handle surged to near $6.5 million for 2021 from a handle of $5,730,615 in a COVID-19-impacted 2020. There were 16 races on both cards this year and last.
The total race pool for the Hambletonian was $1,104,153, which marked the highest handle for any final/final heat going all the way back to the 2010 Hambletonian won by Muscle Massive.
In that number, handle for the 2021 Hambletonian race easily bested last year's final won by Ramona Hill by about $137,000. In 2020, the Hambletonian went earlier in the afternoon as race 12 as opposed to the second to last race this year, so the multi-leg exotics included in the pool totals are different. But a comparison of all standard pools between the races – Win/Place/Show, Exacta and Trifecta polls all show larger gains in 2021. With a heavy 2/5 favorite last year the total WPS money was $296,094 and this year with a more open field, WPS money was $322,301. Similar handle gains were seen compared to last year in the Hambletonian Oaks, won this year by Bella Bellini.
Analysis seems to show that the way the Hambletonian Oaks and Hambletonian were placed on the card played very much to the handle gains that were realized this year when compared to last.
Both cards began in similar fashion with stakes containing short fields and heavily-favored horses. With smaller handling races early in the card, handle cracked $100,000 in race 5 this year whereas that didn't happen until race 7 last year. However, this year, handle dropped back below $100,000 for a few races whereas last year there was a steady staying power above that $100,000 mark. Where much of the difference comes in is that handle last year dropped precipitously after the Hambletonian, which consisted of four more races. This year, handle continued to grow sharply in the races leading up to the Hambletonian, including $422,283 in the Hambletonian Oaks. By last year's final race, with the Hambletonian being long gone, WPS handle was just over $61,000. This year, the final race WPS pools were still strong at close to $93,000. Maybe that's something the Meadowlands will keep in mind for future years.
Early stakes races in the card were not kind for favorites. In back-to-back races, Fire Start Hanover lost at odds of 1-9 and then Dancinginthedark M lost at odds of 1-5. This year marked the second consecutive year that a 1-9 shot lost early in the cards, as Manchego finished third last year at those odds in the John Steele Memorial. This year, Manchego who is always a factor on this day – won as the 2-5 favorite in the John Cashman Memorial in a ding-dong battle to the wire with Beads. Perfect Sting was another odds-on casualty early in the day at 2-5, but following that, odds-on favorites roared back as the day went on. Beginning with Lyons Sentinel in the Lady Liberty, odds-on favorites won six of the next seven times those situations occurred on the card (Venerable, King Of The North, Manchego, Atlanta, Bella Bellini). The lone exception was Nicholas Beach who got caught by a neck at 1-2 odds to Catch The Fire.
In winning the Hambletonian at 6-5 odds, Captain Corey completed a favorite sweep of the Oaks and Hambletonian finals. Though favorites won those two races, exotic payouts were large due to huge longshots that finished underneath, which was a theme for many races throughout the day. In the Oaks, Iteration trotted second at 45-1 and she was followed by Contested Hanover at almost 100-1. It was similar in the Hambletonian where longshots Spy Booth and Ambassador Hanover ran second and third at odds of 55-1 and 41-1. By Spy Booth rallying late up the inside to be second for trainer Nancy Takter, it denied what would have been a 1-2-3 finish in the Hambletonian by Ake Svanstedt trainees.