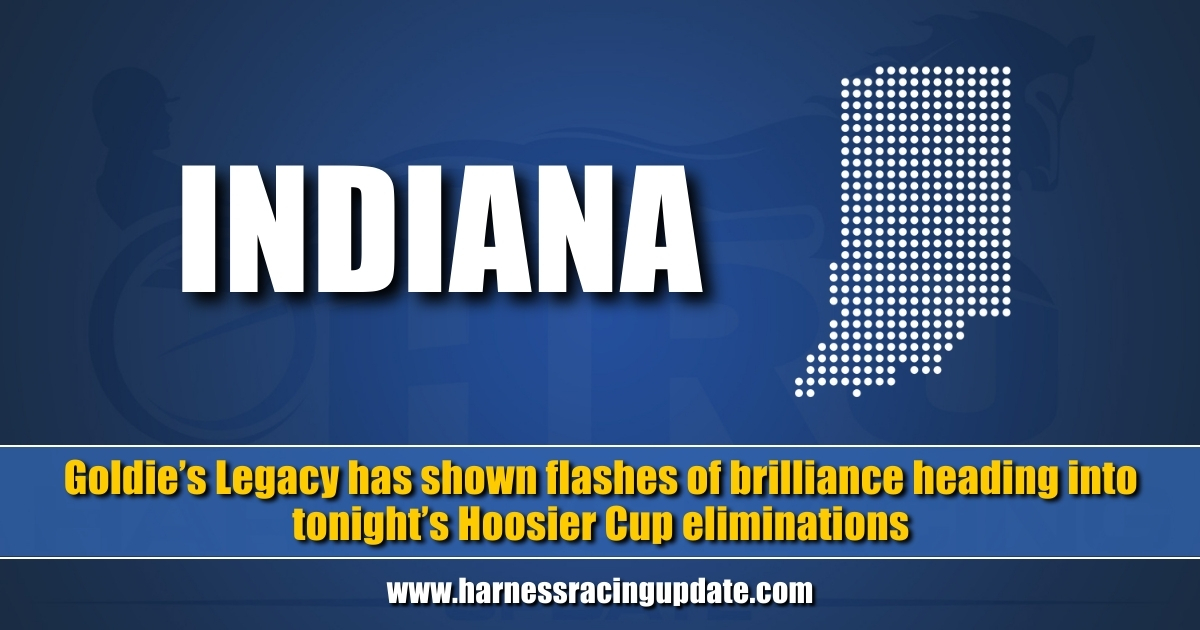 Goldie's Legacy has shown flashes of brilliance heading into tonight's Hoosier Cup eliminations
The son of former Indiana Sires Stakes champion mare Ag-N-Au Bluegrass is coming off a 1:49.2 victory in ISS competition.
by James Platz
Tonight, Harrah's Hoosier Park will play host to eliminations for the $75,000 Hoosier Cup, an event for Indiana-sired sophomore colt pacers. Trainer Jeff Cullipher will send out his hopeful, Goldie's Legacy, in the first elimination on the program, carded as race 10. A son of former Indiana Sires Stakes (ISS) champion Ag-N-Au Bluegrass, the 3-year-old has shown flashes of brilliance lately. He is coming off a 1:49.2 victory in the second round of ISS competition, but his conditioner and co-owner still describes the charge as inexperienced.
"He's just green and learning," said Cullipher, who has partnered with Tom Pollack on the gelding. "Last year we didn't try to make him flashy. We were hoping he would get it together before his 3-year-old year, but he didn't. Obviously, we didn't give up on him."
In 10 freshman starts, Goldie's Legacy hit the board three times, picking up a pair of victories. He competed in a trio of sires stakes legs, but did not manage to garner the points necessary to make the Super Final. Instead, he took his freshman mark winning the $25,000 consolation, pacing in 1:53.1. Cullipher and Pollack purchased the pacer, bred by Dave M Yoder of Paris, Kentucky, for $35,000 at the Hoosier Classic sale. They did so due to their familiarity with Ag-N-Au Bluegrass and her offspring.
As a racehorse, Ag-N-Au Bluegrass finished first or second in 23 of 27 starts over her 2- and 3-year-old campaigns. As a sophomore, she produced a 9-7-0 record in 19 starts, capturing a $150,000 Indiana Sires Stakes final and racing second in another before being named divisional champion in the Hoosier State for 2009. Banking just over $232,000 that season, she was recognized as Indiana Pacer of the Year for trainer John Merkel and owner Luel Overstreet.
Prior to the arrival of Goldie's Legacy, Ag-N-Au Bluegrass had shown she could pass her speedy genes on to the next generation. Au D Lox Bluegrass, a Panspacificflight filly that Merkel also raced for Overstreet, impressed enough that Pollack and Cullipher purchased her in May of her four-year-old season. Au D Lox Bluegrass won seven times for the new owners, including a decisive four and three-quarter-length victory in the $70,000 Indiana Sires Stakes final for older pacing mares, stopping the clock in 1:50. The mare would also set a Hoosier Park track record with a 1:49.2 performance that July. She was victorious in 10 of 22 starts and collected $146,850 in purses in 2017, a majority of the money earned for Pollack and Cullipher.
"His sister turned into a really nice mare," the trainer said. "She was somewhat the same way. I didn't have her at two or three, but she got better with age."
Returning at 5, Au D Lox Bluegrass made 10 starts, registering two victories and close to $40,000 in earnings. In her last start, June 9, 2018, the mare was nosed out at the wire in 1:49.4 in a $20,000 fillies and mares preferred event at Harrah's Hoosier Park. She never made it back to her stall.
"She finished second and died pulling up on the backside. She had an aneurysm," he recalled.
In making their purchase at the Hoosier Classic, Cullipher and Pollack hoped the son of Always A Virgin could repeat the efforts of his accomplished sibling. This season, his potential is beginning to translate into victories. Goldie's Legacy reached the winner's circle in his third seasonal start in early April, but did not return until the opening round of ISS, held June 21. Sent off at odds of 9-1 and guided by regular pilot Sam Widger, the gelding won by two lengths in 1:50.2 after taking command racing to the half. In his next start, Widger ducked the sophomore and Goldie's Legacy experienced road trouble to finish fifth. He bounced back June 13 to score a two-and-a-half length victory in the second round of sires stakes, earning a new lifetime mark.
"He still has no clue how fast he is. He doesn't even know how to go fast yet," said Cullipher, who currently ranks second in the nation in wins (114) and purse earnings ($1.4 million). "I know he went in 49.2. Sam shut him down and said, 'It's unreal. I'm just scared to turn him loose. He doesn't know what to do.' He had always shown something."
Tonight, he'll get another chance to gain valuable experience in the Hoosier Cup, once Indiana's richest harness race with an impressive list of former champions including Real Desire, Total Truth, Art Major, and his son, Art Official. Of the 22 sophomore colts entered in the trifecta of $15,000 Hoosier Cup eliminations, 15 have winning times of 1:52 or faster. In the division Goldie's Legacy has drawn into, three other entrants have recorded miles in under 1:51. Cullipher's charge has drawn the outside post in the field of seven. A top three finish will guarantee a spot in the final, slated for July 4.
"We're just trying to race him and teach him, and he has been known to make a break. It goes back to the fact that he just doesn't know how to race," added Cullipher. "But I think he's figuring it out. I still think he's going to be an even better 4-year-old."