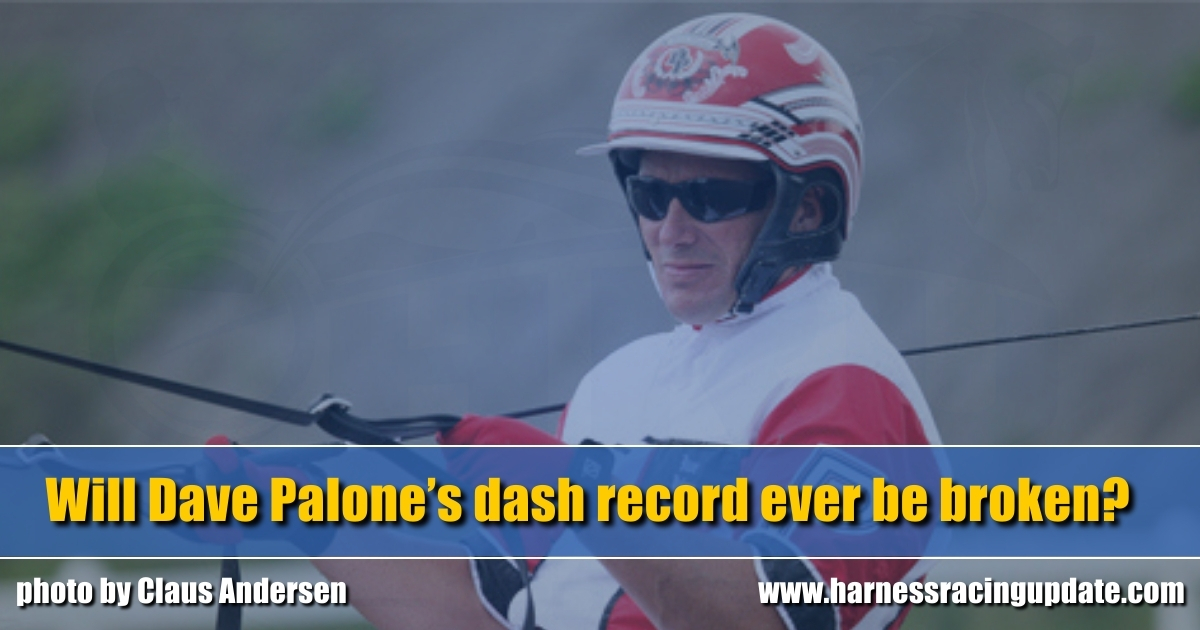 Will Dave Palone's dash record ever be broken?
On the day after driver Aaron Merriman recorded his 13,000th career win, the author ponders whether Merriman – or anyone – will ever surpass all-time wins leader Dave Palone, who is closing in on 20,000 career wins.
by Jay Wolf
Sports have always been about statistics and records. Many think that there are records in sports that will never be broken; the Boston Celtic's eight straight NBA championships, Byron Nelson's 18 Professional Golf Association tour victories in 1945 – including 11 events in a row and pitcher's Walter Johnson's 110 career shutouts or Cy Young's 511 victories.
Among the harness racing records, many think Dave Palone's 19,580 (and counting) driving victories will never be broken.
"I don't know if it is as safe as Wilt Chamberlain's 100-point game or his claim of 20,000 women," joked Palone.
Before we get into the examination, I should make a couple of notations. First and foremost, I am only looking at North American drivers. I am fully aware of Germany's Heinz Wewering's nearly 17,000 career wins and Finnish-born Jorma Kontio, who has 11,000+ victories. At 69 and 67 years of age respectively, father time is not on their side.
It should also be noted that all of the "lifetime" statistics are as of Jan. 1, 2021. The way these top drivers record victories, these numbers could change several times in an hour.
Let's start with those drivers who already have 10,000 or more victories. There are 18 reinsmen that have reached that milestone, of which 12 are still actively driving (See Chart #1). Palone's nearest challengers are 62 (Tony Morgan) and 56 (David Miller) years of age and the 58-year-old Palone has a sizable cushion on both.
Staying in the 10,000-win club it should also be noted that Palone has averaged 410 wins a year over the past four years, bettering everyone on the list except for Aaron Merriman (990 wins), George Napolitano, Jr. (610 wins) and Tim Tetrick (595 wins).
"There are so many things that come into play," said Palone. "Besides a few accidents, I have been pretty fortunate as far as that goes. The other thing is that I am still getting opportunities that I cherish and I still have to go there and prove myself."
"Now I think when you first start driving, you have to prove yourself and that you have talent and can get the job done. As you get older and your career is winding down, you also have to prove you can still get the job done because there is so much talent out there. You can't blame people when they go to the young guns."
The names most often mentioned as a threat to Palone's eventual mark are Tim Tetrick and Aaron Merriman, both are ahead of Palone's pace during at this point of their career (See Chart #2).
Tetrick, who won his 12,000th career race on February 16th of this year, recently told HRU's Brent Sturman that he's "got at least another 10 years" in him.
Dubbed the "Bionic Man" thanks to a pair of hip replacements, Tetrick passed the 6,000-career win mark in year 13 of his career. It took another 10 years to add another 6,000 wins.
Thanks to an unbelievable work ethic, Merriman appears to have the best chance to topple the eventual record. Merriman has been pulling The Meadows/Northfield Park doubleheaders for a number of years.
Merriman's talent and willingness to spend hours on the road has garnered the deepest respect from Palone.
"I don't think I have seen anybody with Aaron's work ethic," said Palone. "I had the chance to race with Herve (Filion) and Cat (Manzi) and there has never been anyone in this game that has worked harder than Aaron. I have made that two-hour drive and to think he does it three or four times a week is a credit to his work ethic. He is a good guy and easy to root for. He deserves everything he's got."
The respect is mutual.
"He's still incredibly sharp," said Merriman. "It is amazing what he does. He still strives at such a high rate. He's relentless. I know that going to the Meadows has made me a better driver."
"His record? I don't see it being broken," said Merriman. "He would have to completely shut down. I would have to keep up this rampant pace."
"I love driving horses, but the car has taken its toll on me the last few years. I love The Meadows. I love being there, I love driving the horses there, the people I have met there, the owners and trainers I drive for are awesome. Sooner or later, it is going to come to a halt and it will be okay," said Merriman.
"I see what Aaron puts himself through every day. I think that Aaron and Timmy are capable of breaking it," said Palone. "It is very, very, very hard to stay nose to the grindstone. If there are two guys who have a shot to do it, it is those two."
Another driver that Palone has gotten to know and compete with more regularly is Ronnie Wrenn, Jr.
Wrenn, 34, is currently ahead of Palone's pace through their first 13 years of racing (See Chart #3). Wrenn is 1,800 wins ahead of Palone during the same time period, but would have to keep this tempo for another 20+ years.
"Ronnie can be as successful as he wants to," said Palone. "I foresee Ronnie maybe taking the next step to the Grand Circuit. I just don't know if he loves to go up and down the highway that much either. It is a real grind, especially on those muddy, rainy, sloppy days."
Over the past few years, Palone has greatly reduced his travel and is applying his trade almost exclusively The Meadows, where he has been the leading driver every year since the Ronald Reagan administration.
"I have a farm that is about four miles from the track," said Palone. "The Meadows is a perfect set up for a guy like me. I go in at 12:30 or 1:00 and I am out the door at 5:00. I can turn the page and on to the next. I am not beating myself up."
During his 39-year career, Palone has made nearly 75,000 starts, another impressive start considering that distance would be three complete trips around the world's equator.
"I didn't know that, said Palone. "That may be the first stat that was not given to me by Roger Huston. That is a lot of going around in circles."
Does Palone expect to hang up the lines anytime soon?
"I don't have anything in mind," he said. "20,000 is a nice number. I still have a way to go to get to that. We don't have plans to shut it down. As long as I am not costing anyone money or getting in the way out there.
"Usually, your success will tell you one way or the other that you belong out there or not.
"They say records are meant to be broken and, in a way, I would love to see the record broken, because it would mean harness racing is still around and that would mean more to me than anything."