by Alan Leavitt
Muscle Hill is unquestionably the leading trotting sire of the present day, and it is entirely appropriate that the person responsible for this great horse is largely forgotten. That would be Charlie Keller, who, before he became a great breeder of standardbreds, was known as the great Yankee ballplayer history forgot.
Born in 1916, Keller broke in with the New York Yankees in 1939, and for the better part of 10 years he played left field for the Yankees while Tommy Henrich played right, and Joe DiMaggio played center.
There were years, early on, when Keller out-hit DiMaggio, but he never got a bit of the limelight "Joltin' Joe" basked in. His ball playing career finally ended because of a ruptured disk in his back, but even in his last two years as a pinch hitter for Detroit, he still was a dangerous man every time he walked to the plate.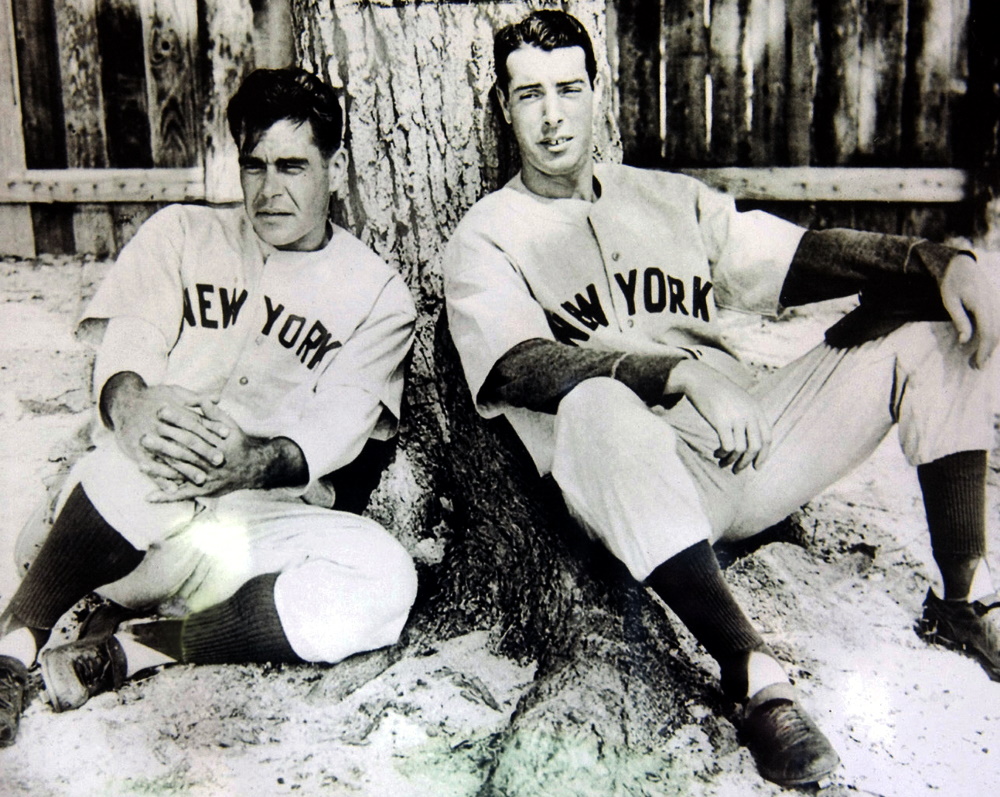 When he retired from baseball, Keller returned to his native roots in Frederick, MD. From then on, this kid is proud to say he knew Charlie Keller personally, and called him a friend.
Keller got into harness racing through Joe Eyler, who successfully trained and drove a small stable during the '50s. Joe had his own training track outside Thurmont, MD, which was the next town over from Frederick, where Keller had bought a little, undeveloped farm property.
With time on his hands, Keller wandered over to Eyler's place, first to watch and then to jog a few horses. Caught up gradually in the harness racing biz, Keller decided to venture into the breeding business. In those days, Eyler was not only a trainer and driver, he was also a general horse dealer, and he ran an auction company. This was early on in my days in the business, and I well remember driving up to Eyler's place and buying a lead pony from him for $600. This deal was made after both of us had cantered the pony around a paddock bare back. Eyler guaranteed him warm backed, and he was until you threw a saddle on and cinched up the girth. Which was why I never bought another lead pony without first trying him under saddle.
It was about this time, 1955 to be exact, that Eyler's Auction House was putting on a sale of standardbreds and mixed breeds that Keller decided to take a shallow plunge into the breeding business. One of the few standardbred mares in that little sale was China L, and how she got there is a profound mystery to me. She was bred by William N. Reynolds, who in those days was a major factor in our sport. He had a wonderful breeding operation, and Delvin Miller campaigned a great racing stable for him.
China L was a foal of 1945, by Whippet, out of Jane Revere, by Guy Axworthy. It was exquisite breeding, then or now. Jane Revere was one of the greatest broodmares who ever lived. Among her daughters was Alma Lee, dam of the legendary Hambletonian winner, Rosalind, and, for good measure, also the dam of Warwell Worthy, the dam of Worthy Boy. Worthy Boy himself finished second in the Hambletonian, and then he went on to sire Star's Pride, whose feat of siring eight Hambletonian winners will never be equaled.
Jane Reynolds, another of Jane Revere's daughters, made her mark through her pacing son, world champion Solicitor. As people with good memories may recall, Solicitor played an essential role in this kid's life though his champion son, Overtrick.
So that was China L's immediate family when she walked through Eyler's Auction Company sales ring, in foal to Volstadt. If anyone is curious about where Volstadt got his name, his namesake was responsible for The Volstadt Act, that created Prohibition. So I doubt that anyone ever drank to his name, although it is an interesting thought.
As I recall, China L topped the sale that evening at $1,600, and the 10-year-old mare became the property of Charlie Keller. He had already decided to call his farm Yankeeland, and China L was its first resident.
The farm China L now called home was lacking most horse amenities when she arrived. Those, however, were soon largely taken care of by a trotting filly by Titan Hanover, whose name for the life of me I can't remember or find anywhere. But Eyler picked her out as a yearling because he liked the way she led at the Hanover fairgrounds. She wasn't expensive, not even by the standards of those days when the entire Hanover yearling consignment averaged $7,500. She was a good trotting filly by anyone's standards, however, and she won over $70,000 with Eyler driving and training her for Keller. In Keller's words, "She put in most of the fences and the hard road."
But back to China L and Muscle Hill. You see, if it weren't for her, and Charlie Keller, there wouldn't be a Muscle Hill, because China L is his fourth dam. She had one filly after Keller bought her, named Yankee Duchess. Keller kept her, and then he kept her daughter, Yankee Bambi, and from her he bred Yankee Blondie, but fate intervened and Keller passed away in 1990, or he would have still owned her and himself been the breeder of Muscle Hill.
However, Keller's role in creating Muscle Hill goes even further. Muscle Hill's sire, Muscles Yankee, is out of Maiden Yankee, next dam Wistful Yankee, next dam Brazen Yankee, fourth dam Hoot Yankee. All of those mares are the creation of Charlie Keller's Yankeeland Farm. All of them are a tribute to this quiet, modest man who never got his due as a ball player, and now, once again in our sport, is becoming, "The man history forgot."
Not while this kid can still put pen to paper.
CORRECTION
I was wrong in my past piece when I said that Protonico was the sire of both Medina Spirit and Princess Noor. Princess Noor is by Not This Time.