by Thomas Hedlund
Stefan Melander-trained Click Bait (Cantab Hall) became the 14th horse invited and set for this year's Elitloppet. The 5-year-old American-bred horse should have raced in Finlandia-ajo on May 9, but was scratched due to a fever, but his previous performances this year have impressed Solvalla's sports general and Click Bait will be one of the participants next Sunday (May 30).
Spot 15 in the Elitloppet was at stake when the $96,000 Prins Daniels lopp over the mile was scheduled at Gävle racetrack on Saturday (May 22) afternoon and it became a great success for trainer Jerry Riordan.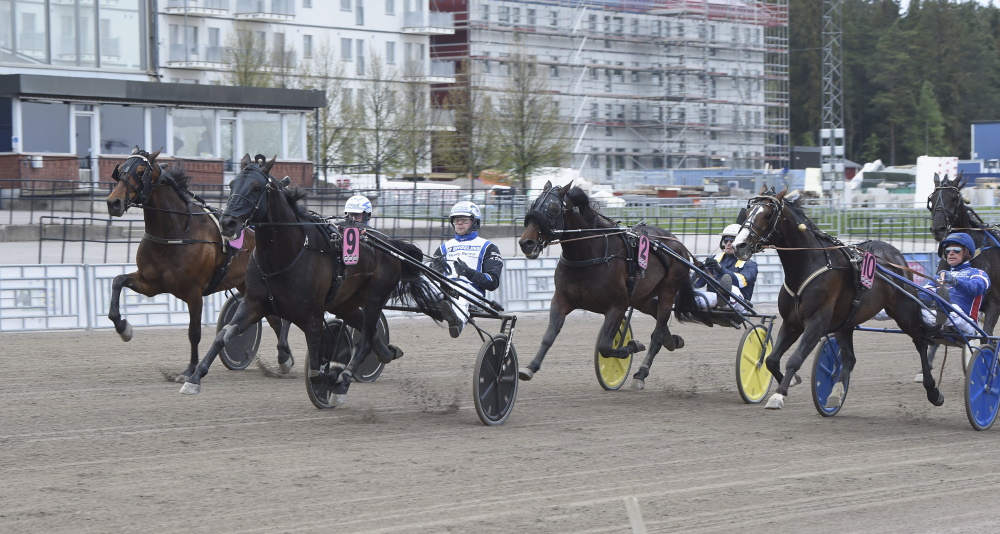 Eight-year-old Gareth Boko (Make It Happen) was a talented trotter early in his career and paired with (then) trainer Per Lennartsson, he won the $335,000 Uppfödningslöpning for 2-year-olds at Jägersro in 2015. Since the winter 2016/2017, Conrad Lugauer trained the son of Make It Happen until February of this year when the owners moved the horse to Riordan's barn in Halmstad, Sweden.
Gareth Boko took an impressive win in 1:52.2 in the first start for his new trainer and that performance gave him a wild card for Saturday's race in Gävle.
From post 9, behind horses, Gareth Boko carved out a third over trip and during the last half-mile he raced three wide. When leader Disco Volante was beaten at the top of the stretch, Racing Mange came to the front and behind him Gareth Boko saved his speed. Driver Magnus Djuse (who likely will drive Riordan's Aetos Kronos in Elitloppet) didn't have to use all of Gareth Boko's capacity over the stretch and a 1:52 mark in quite cold weather in Gävle is respectful. Gareth Boko must be considered a great shot at Solvalla next week.
The last horse in the Elitloppet field, the 16th, was not announced prior to press time.