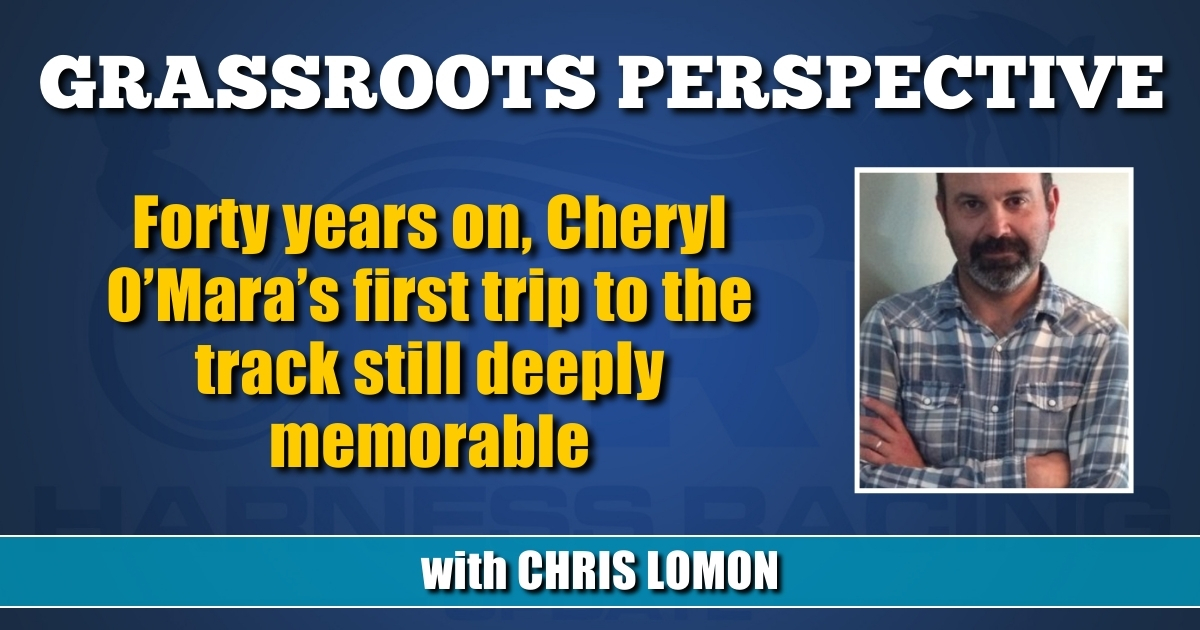 Forty years on, Cheryl O'Mara's first trip to the track still deeply memorable
by Chris Lomon
Cheryl O'Mara's first visit to the racetrack turned out to be a life-altering experience.
She was just 16 when she decided to tag along for a trip to the local harness oval in Michigan, an opportunity, at the very least, to see standardbreds up-close and in-person.
A fan of all things horses, O'Mara, at the time, had never give a second's thought of what it would be like to carve out a long-term, prosperous career in the horse racing industry.
But after standing by the rail for a few hours and watching intently as the horses flew by, she started to think about what a life in racing might be like.
"I was born in raised in Jackson, Michigan, and there was a racetrack, Jackson Raceway. My uncle, my dad's brother, came over to the house and then we all went to the racetrack. I've always loved horses since I was a little girl and I used to barrel race and go to horse shows, so I knew I would like going to see the horses at the racetrack."
So much so, in fact, that O'Mara didn't want to leave – both that night and long after.
The sights and sounds, the energy of watching races under the lights, all of it captivated the then-teenager and high school student.
"When we went to the racetrack that night, I just loved the atmosphere, and seeing how these wonderful animals perform. I can still remember that night. Everything seemed so perfect. As for the horses, they're amazing. I just fell in love with it all right there and then."
Over 40 years later, her devotion to racing and racehorses is as strong as it's ever been.
Working as a caretaker in the barn of trainer Joe Putnam, O'Mara has had the opportunity to work closely with several accomplished pacers and trotters, including Rockin Nola.
Campaigned by Putnam and his son Joey, Rockin Nola won the most races at Harrah's Hoosier Park in 2020. The daughter of Rockin Image made nine trips to the winner's circle over the 111-night racing campaign.
The mare, now 5, tied her career best mark of 1:49.4 in July and overall took 10 of 17 starts for JP Racing and Suttons Bay Racing, who purchased her for $15,000 at the Hoosier Classic Yearling Sale.
"She's an interesting horse. She can be handful, but I let her get away with a lot of things. When you go to get her ready, she likes to kick and bite. She is very strong willed. But I love her. Joe would tell you that I have her too spoiled, but all good mares get away with a lot."
Picking a favorite horse is a near-impossible task for O'Mara, who also worked in Canada for Hall of Fame trainer Bob McIntosh.
There are more than a few, however, that quickly come to mind, including Sum It Up, a two-time fair circuit champion.
"My dad bought his racehorse – the first one he ever owned – Sugar Puff, and that was the first horse I took care of. She definitely stands out for me. He bought me another one, Lobe Lad, whose nickname on the track was "Dirty Harry," because no one liked driving him. Sum It Up, owned by Joe Putnam and myself, gave us a lot of thrills. He always raced his heart out. I started working for Dan and Mary-Lou O'Hara, who taught me everything. I started out cleaning stalls and then gradually became a caretaker. That was my biggest stable… they had 15 horses. I remember one they had, Soul Michelle. She was a little, short thing, but she had the biggest heart.
"I then went on to work for Gord Norris. I was friends with his daughter. Gord had one particular horse – he claimed it at Hazel Park for $8,000 – named Shadow Fly Fly. That horse went from an $8,000 claimer to an invitational pacer. I really loved that one, too. Another one was Golden Raintree. He was a handful, but I loved him, too. When I worked in Canada, there was a horse named Delinquent Account [a millionaire daughter of On The Road Again, trained by McIntosh]. She won me my first Breeders Crown and that was a wonderful memory."
Upper-tier performers or lower-level claimers, O'Mara's measure of affection for the horses she takes care of isn't based on wins or speed badges.
They are all equal in her eyes.
"I see them as my children. Every horse has a unique personality, a different way of doing things. I just always want to make sure that I give them my all of my attention and my best care. You know them inside and inside out. You get to know their routines and you can tell when they are doing well or they aren't. You learn about them every day and that creates a bond."
O'Mara, whose three sons, Chad, Jeremy, and Justin Morrison, all work in standardbred racing, believes horses know when they've won, even if they happen to be a little camera-shy.
"They do. They definitely do. When Rockin Nola wins, she doesn't like standing in the winner's circle. She hears the camera and once it's done clicking, she wants out of there. She'll rear up and leap forward. You only have a few seconds to get a picture of her. She has a tough attitude, but all the goods one need it, and I think it helps them when they're on the racetrack."
Forty-plus years after that visit to Jackson Raceway, O'Mara, now 57, doesn't have plans to call it a career any time soon.
Not when she can be around the horses.
"I still love it. I don't think I'll ever change my life. I love the harness horses. There is just something about them that makes you want to be around them every day. I feel very lucky to be able to do that. Every time I see my horses, it puts a smile on my face. You could be having a really bad day, but the horses always make you feel great."