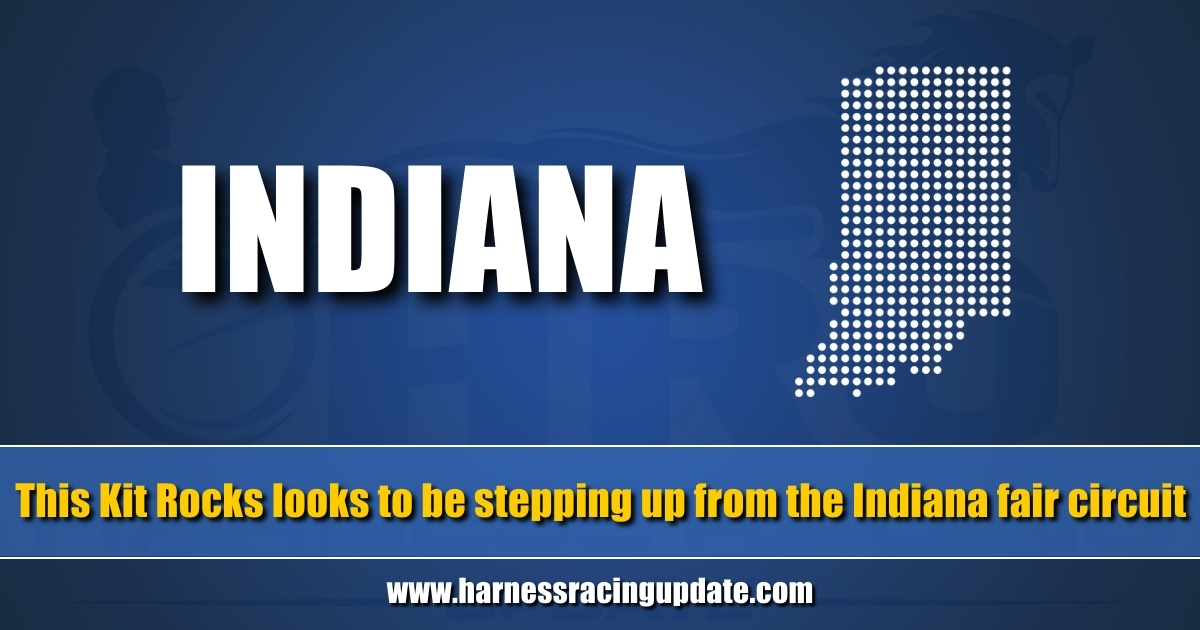 This Kit Rocks looks to be stepping up from the Indiana fair circuit
A wire-to-wire victory in 1:51.2 at Harrah's Hoosier Park on Friday for the Putnam family and partners has the pacer on the verge of competing in the Indiana Sires Stakes.
by James Platz
Last summer, This Kit Rocks was one of the toughest 2-year-olds on the Indiana fair circuit. Now a sophomore, his connections hope the Rockin Image gelding can step into the Indiana Sires Stakes ranks and compete with the best in the program. Friday night, May 7 the pacer collected his second seasonal win at Harrah's Hoosier Park, wiring his foes for driver Joey Putnam in 1:51.2.
"He looks like he's going to earn a shot to go with them," Putnam said of sires stakes, which kick off later this month. "He can leave, and he can get to the house. Those are the main things at Hoosier. You've got to be close early, and you've still got to be able to come home. We're going to give him a shot when the time comes."
Undersized as a freshman, This Kit Rocks made 13 starts on the fair circuit for Putnam's father, Joe, who trains the gelding, owns the horse in partnership with Trent Stohler, and is a co-breeder with Stohler and Bill Reepmeyer. The young pacer finished first or second 10 times last summer, missing the board only twice while accumulating six wins and $14,608 in earnings. In the Governor's Cup championship he raced fifth and was placed fourth by judges.
"He was really good. He was versatile. He liked the front, but he could come whenever," the young driver said. "Late in the year he got a little bit sore on us around the final."
This Kit Rocks managed to establish a new mark for freshman pacing colts at Corydon, IN last season with a 1:59.2 mile. He would take his 1:58.4 2-year-old mark on the half at Portland. His consistency earned divisional honors on the fair circuit. The connections could have moved him to Hoosier Park at the end of the fair schedule for another two months of racing. However, they decided to shut him down with eyes on 2021.
"We're about management. We were trying to do what was right. If he would have come to Hoosier as a non-winners of one, he would have been starting in a tougher spot than this spring," Putnam said.
The homebred grew over the winter, adding size and gaining muscle in areas he was lacking. Like his mother, Western Hero mare Western Kit, This Kit Rocks had to wait until 3 to see his first pari-mutuel action. Campaigned by Joe Putnam, Stohler and Reepmeyer, Western Kit won multiple Indiana Sires Stakes legs at 3 and went on to earn just shy of $120,000 that season, collecting eight wins and five runner-up finishes.
In order to be competitive in Indiana Sires Stakes, This Kit Rocks must show he has the ability to battle the best in the state. Debuting in the Jerry Landess Series, the gelding raced fifth in the opening leg before returning a week later to capture a division of the second leg in a time of 1:52.2. In the $18,000 Landess final, Putnam ducked his charge and raced from the back. Ninth at three quarters, This Kit Rocks stormed home in :25.4 — the fastest last quarter in the field — to finish fifth. Moving to the Hal Dale series, the duo raced third in the $11,000 opening leg before scoring a win Friday night. This time, when the gate folded, the pacer stepped out to the lead from post four and set every fraction on the way to a three-quarter-length victory as the favorite. Caption This and LeWayne Miller closed from fourth at the top of the stretch to finish second.
"At the fairs he was really good on the front even though he liked to look them in the eye. I think he's just as good off a trip or shaking loose late," said Putnam. "Twice he's won, once on the front and the other one I was sitting in the pocket and I came up the passing lane. In the other starts, I took care of him and just ducked him in the back and he paced home nicely."
Western Kit has produced five foals of racing age, the previous four sired by Real Desire. Four of them have gone on to reach the winner's circle, including Rosie Kit p,5, 1:53h ($98,880) and U'll Learn p,3, 1:51.3s ($114,208), both spending time in the Putnam barn.
"As far as where his head is at, he's a little more focused, but he can still be squirrely. He's better gaited than the other two," he said of This Kit Rocks. "He always finishes."
That ability to finish will be valuable as times continue to get faster this month. Earlier on Friday's program, Saddle Up and Rogers Image were noses apart in another Hal Dale division in a time of 1:51.4, and Certifiable edged Jewels Virgin by three parts of a length in 1:51. The $22,000 final, slated for May 14, will be a tough test leading into the opening round of sires stakes on May 21. It won't take long for the connections of This Kit Rocks to see if he belongs.
"I don't know what's in store for him. We'll have to try him in a leg of sires stakes and see where he stacks up," Putnam said. "I think he could maybe surprise us this year a little bit."