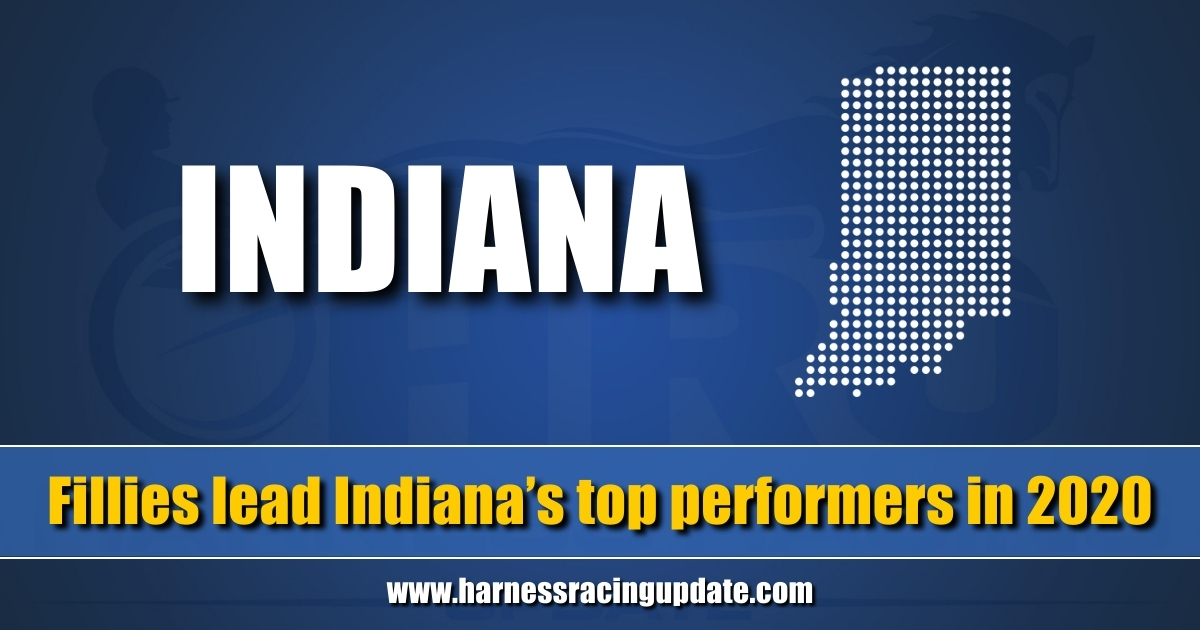 Fillies lead Indiana's top performers in 2020
May Baby voted Trotter of the Year and Somethingbeautiful voted Pacer of the Year in the Hoosier State for 2020.
by James Platz
The month of February is traditionally when members of Indiana's breeding and racing industry gather to celebrate the best of the previous season. This year, however, the decision was made to forego a formal banquet due to the COVID-19 pandemic. Still, there are many achievements from the 2020 campaign that deserve recognition. Leading the list of honorees are fillies May Baby and Somethingbeautiful, named Trotter of the Year and Pacer of the Year, respectively, in the state of Indiana.
May Baby, the pride of the James Yoder Stable, led all freshman and sophomore trotters in the Hoosier State last season with $271,125 in total earnings. Owned by Yoder's wife, Cheyenne, the Guccio—Free Wheeling filly won seven of 13 starts, including the $270,000 Indiana Sires Stakes Super Final. The Indiana-sired product qualified for the $500,000 Breeders Crown final at Hoosier Park and also ventured outside the state, competing in the $600,000 Hambletonian Oaks. May Baby was bred by Oakwood Farms of Montgomery, IN.
Somethingbeautiful was nearly flawless in her 2020 Indiana campaign. Trained by Dylan Davis, the Always A Virgin—Summer N Sand freshman won eight of 11 starts for owners Howard Taylor, Edwin Gold, Abraham Basin and Richard Lombardo, banking $312,000 while taking a mark of 1:51.4. The 2-year-old won each of six Indiana Sires Stakes legs and triumphed in the $270,000 Super Final. She raced second in the $220,000 Kentuckiana and qualified for the $600,000 Breeders Crown final before finishing eighth.
Grand Swan was recognized as Aged Trotter of the Year after a six-figure campaign capped by an Indiana Sires Stakes Super Final win. The Swan For All—Queen Mum 4-year-old notched three wins last year for the partnership of Never 2 Late Stable, Grand Swan Racing, Bruce Soulsby and Alan Weisenberg, pushing her career bankroll to just over $700,000 and becoming the third-richest offspring of Swan For All. The mare was bred by Larry E. Miller Jr.
Tookadiveoffdipper is the 2020 Aged Pacer of the Year. Collecting just shy of $150,000 in 27 starts last year, the Always A Virgin—Onceinabluemoon gelding registered eight wins for owners Jane Cross and Mark Cross during his 6-year-old campaign, picking up a victory in the ISS Super Final for older male pacers.
Jeff and Maria King's Victory Hill Farm has been named Large Breeder of the Year on the strength of 92 starters that combined to earn just over $1.6 million last season. One of the farm's top products is Little Rocket Man, who equaled Hoosier Park's 1:47.2 all-age track record last season as a 4-year-old. The award is the sixth consecutive for Victory Hill Farm. The LaGrange, IN breeding farm has received the distinction 10 times since 2007.
Aaron Stutzman, who bred Somethingbeautiful, has been named Small Breeder of the Year for 2020. Stutzman and his Goshen-based Luckiana Farm were represented by four starters last year that earned $360,751 in purses, a majority due to the success of the talented freshman.
Always A Virgin and Swan For All, stallions that both stand at Victory Hill, again topped all pacing and trotting sires in the state. It is the sixth time that Always A Virgin has led all pacing stallions. Last season, his progeny accumulated earnings of $5.5 million nationally. From 303 starters, he produced 213 winners that combined for 583 victories. His top Indiana Sires Stakes entries included the aforementioned Somethingbeautiful and fellow 2-year-old Family Recipe ($113,955), as well as 3-year-olds Crook Boyzz ($147,935) and Genie Rockwell ($143,110).
For Swan For All, the award is his fourth consecutive as leading trotting sire in Indiana. He was represented in 2020 by 193 starters nationally, 122 of them winners tallying 303 wins and earnings of $4.1 million. His top Indiana Sire Stakes performers included freshmen Swift Swanda ($237,137) and Brookview Bolt ($171,075) and sophomores Swan In Motion ($214,745) and Rock Swan ($193,291).
Trace Tetrick earned his ninth driving title at Harrah's Hoosier Park, which also secured Pari-Mutuel Driver of the Year honors. Tetrick, now a winner of more than 5,800 career races, finished the 2020 campaign with 277 victories and $3.1 million in earnings. Nationally, he scored 436 wins and $4.8 million in purses. This marks the seventh consecutive season he has earned Indiana's top award for drivers.
Tyler George earned his first training title at Hoosier Park last year, and he also garnered Pari-Mutuel Trainer of the Year recognition. He collected 73 wins at Hoosier Park to lead all conditioners. Overall, George sent out 125 winners in 2020 while competing in Indiana and Ohio, and his stable earned just over $1 million in purses.
Racing veteran Jack Myers broke the 11-season stranglehold fellow horseman Don Each held on the Governor's Cup Series Trainer of the Year award, taking the title with 35 trips to the winner's circle. His starters also logged 15 runner-up performances and finished third four times. The Myers-owned and trained J-S Jasper captured a $20,000 Governor's Cup championship last September at the Indiana State Fairgrounds, one of the stable's bigger wins of the campaign. The Stable also sent out divisional champions J-S Siesta Tan and J-S Ivan The Great.
Alex Udell picked up his first Governor's Cup Series Driver of the Year award for his efforts during an abbreviated 2020 Indiana fair season. The Goshen, IN resident won 36 times, finished second on 23 occasions and recorded nine third-place efforts. A long-time employee of Myers' racing stable, Udell collected a majority of his wins driving for the trainer.
2020 Indiana Sires Stakes divisional champions
(based on points)
2-YEAR-OLD COLT PACE
WHAT'S YOUR BEEF
Owners: WJ DONOVAN, FL; JOE SBROCCO, OH; KIRK NICHOLS, OH; JAF RACING LLC, NY
Sire: JK Endofanera
Dam: Kats Treasure
Breeder: Jeff S. Jones & Scott S. Lester, IL
Trainer: Brian Brown, OH
2-YEAR-OLD FILLY PACE
SOMETHINGBEAUTIFUL
Owners: H. TAYLOR, PA; EDWIN GOLD, PA; ABRAHAM BASEN, NV; RICHARD LOMBARDO, OH
Sire: Always A Virgin
Dam: Summer N Sand
Breeder: Aaron Dale Stutzman, IN
Trainer: Dylan Davis, DE
2-YEAR-OLD COLT TROT
BRECKENRIDGE
Owners: DAN SHETLER JR & DOJEA STABLES, IN
Sire: Class Included
Dam: Dazzling Miss
Breeder: Sawgrass Farms LLC, IL & Dan Shetler Jr., IN
Trainer: Dan Shetler Jr., IN
2-YEAR-OLD FILLY TROT
SWIFT SWANDA
Owners: ANTHONY LOMBARDI, IL & THE KALES COMPANY LLC, MI
Sire: Swan For All
Dam: Cheetah Hall
Breeder: Lavon L. Miller, IN
Trainer: Erv Miller, PA
3-YEAR-OLD COLT PACE
ODDS ON OSIRIS
Owner: ODDS ON RACING, FL
Sire: Rockin Image
Dam: Antigua Hanover
Breeder: Merlie A. Schwartz, In
Trainer: Melanie Wrenn, IN
3-YEAR-OLD FILLY PACE
MYSTICAL CARRIE
Owner: MYSTICAL MARKER FARMS LLC, IN
Sire: Tellitlikeitis
Dam: Mystical Victress
Breeder: Mystical Marker Farms LLC, IN
Trainer: Erv Miller, PA
3-YEAR-OLD COLT TROT
SWAN IN MOTION
Owners: M & M RACING, IN; NORBERT JOSEPH MAZA, IL
Sire: Swan For All
Dam: Keystone Sadie
Breeder: Lyle Dean Slabach, IN
Trainer: Jamie Macomber, IN
3-YEAR-OLD FILLY TROT
ROCKSWAN
Owners: S&R RACING STABLES, IN & ANTHONY LOMBARDI, IL
Sire: Swan For All
Dam: Jolly Jessica
Breeder: Bobby A. Brower and Debra S. Garland, OH
Trainer: Erv Miller, PA
Indiana-sired Governor's Cup divisional champions
2-YEAR-OLD COLT PACE
THIS KIT ROCKS
Owners: Joe Putnam, Trent Stohler
Sire: Rockin Image
Dam: Western Kit
Breeder: Joe Putnam, Trent Stohler, William Reepmeyer
Trainer: Joe Putnam
2-YEAR-OLD FILLY PACE
SLEAZY ROLLS
Owners: Eleven Star Stables
Sire: Time To Roll
Dam: Sleazy Does It
Breeder: Noah M. Wickey
Trainer: Justin White/Joe Putnam
2-YEAR-OLD COLT TROT
JESSIES OUTLAWED
Owners: Julie Rideout, Glider Stables
Sire: Jailhouse Jesse
Dam: Oakiedokie Hanover
Breeder: Harvey E. Fry, Alvin R. Fry
Trainer: Doug Rideout
2-YEAR-OLD FILLY TROT
J-S SIESTA TAN
Owners: Jack Myers Racing Stable LLC
Sire: Guccio
Dam: Swandover
Breeder: Luckiana Farm
Trainer: Jack Myers
3-YEAR-OLD COLT PACE
FAST FREDDY JO JO
Owners: King Racing Stable
Sire: Time To Roll
Dam: O Lucky Me
Breeder: Richard F. Fry
Trainer: Larry King
3-YEAR-OLD FILLY PACE
BABY LETS ROLL
Owners: Tom Weigel
Sire: Time To Roll
Dam: Babylon Sister
Breeder: Suttons Bay Racing
Trainer: Joe Putnam
3-YEAR-OLD COLT TROT
J-S IVAN THE GREAT
Owners: Jack Myers Racing Stable LLC
Sire: Swan For All
Dam: Leah's Ex
Breeder: Dave L. Mast
Trainer: Jack Myers
3-YEAR-OLD FILLY TROT
JUST FOR US
Owners: Bonnie Mattingly
Sire: Guccio
Dam: Ecstatic
Breeder: Marlin E. Eash
Trainer: Bonnie Mattingly