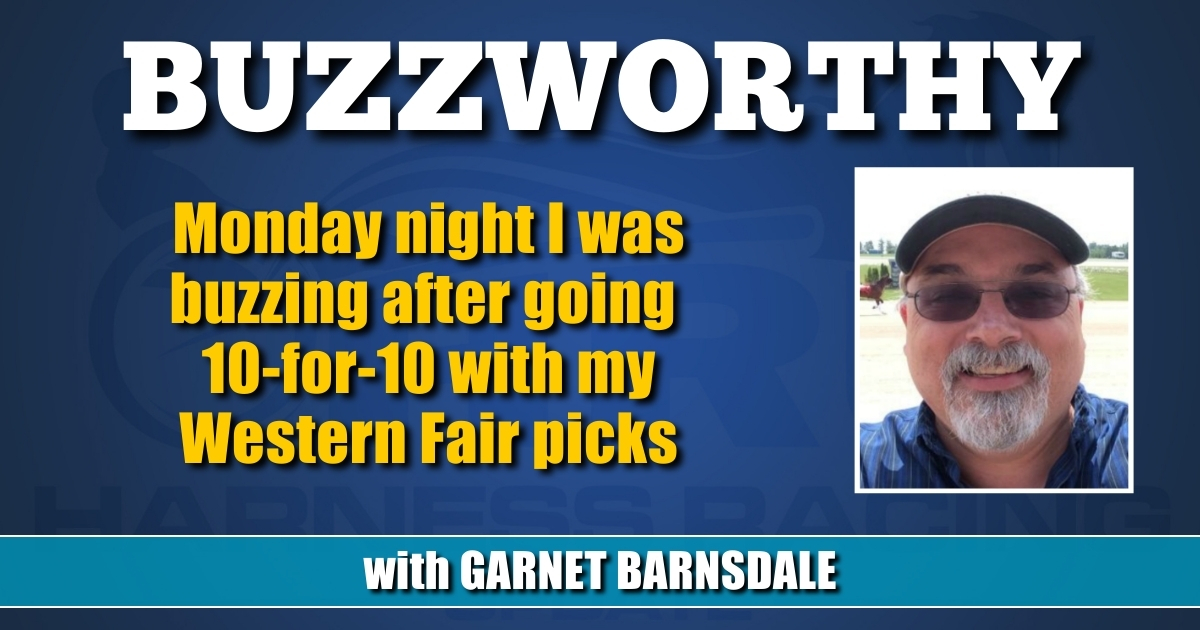 Monday night I was buzzing after going 10-for-10 with my Western Fair picks
by Garnet Barnsdale
Monday afternoon (Feb. 22) started out innocently enough with me sitting down to watch the card of harness races from The Raceway at Western Fair looking to make a few wagers on the selections that I provided to the Tips From The Pros section of the Ontario Racing website (full story here). When my to pick in the opener, Miss Chili Pepper, got the job done for driver Lorne House, I innocently tweeted a familiar refrain that many public handicappers do for amusement. "You can't sweep the card at The Raceway if you don't win the first!" I tweeted with tongue in cheek, never really expecting to create a buzz during this typical Monday card as I started to pick winners off one by one.
Would my tweet become prophecy? You'll have to keep reading to find out. My Best Bet in race 2, West River Cindy was facing an overmatched group and she got the job done as the 6-5 favorite. Despite going off as the overwhelming 3-5 chalk in race 3, Ideal Space may have been a fortunate winner as she rode the rail to the lane, the beneficiary of a pocket pull that went awry by second choice Crystal Dragon. Ideal Space saved all the ground, angled out in the lane, and wore down pacesetter Mark Your Paige to get up by a 1/2 length in 2:02 flat. Just like that I was 3-for-3, none of these winners particularly hard to come up with.
After 1-9 shot Veneno won the 4th and Jessica's Legacy crushed the field by 12 expanding lengths in the 5th, I proudly tweeted that my ice cold Pick 5 would have got you more than $98 for every buck. While that doesn't seem like much, imagine how many times you can hit it if you have five singles!
On to the back part of the card we go five winners in tow, but only halfway to a perfect game still not really even considering it might come down to the last race. I mean, you always get beat somewhere, right?
Race 6 featured a pacing warrior making his 14-year-old debut. Amazing Quest – by Badlands Hanover out of the Keystone Raider mare Catch Raider – had already notched 93 wins from 376 lifetime starts for a stellar win percentage close to 25 per cent in 11 years of racing action. A perusal of the past performances and some quick math revealed that Amazing Quest's five rivals had tallied 70 fewer wins than he had to date. It seemed like a good spot for the veteran and he didn't disappoint. Driver Garrett Rooney sent him right down the road in 2:01 flat for what I thought was a juicy $8,60 mutuel.
So now I'm six for six and not being superstitious, because, who really expects to go 10 for 10, I start chatting about it one Twitter. My top pick in the seventh, Quizzer, is a no-go and I scratch onto the winner Sports Nation, who jogs by 7 1/2 lengths and my top choice in the eighth Homey Joe rallies for a popular win at 3-5.
Clearly feeling my oats at this point, with only the late double to go, my confidence starts to swell as two of my best plays remain to get me back into the dugout having pitched a perfect game. I am so confident that I come up with this rhyming tweet: HOMEY JOE wasn't late and we went 8 for 8. Now looking for nine in a line with SIMON SAID, hoping we don't go dead.
Simon Said paced home a comfortable 3 1/2 length victor and it was all up to my spot play Fern Hill Breeze in the nightcap. At that point I had a flashback to July 28, 2016 where only a horse named Rosberg getting nailed in the final strides of race 3 that night prevented me from going a 10-for-10. Would history repeat? I was hopeful that Fern Hill Breeze would take advantage of his rail post and take the field on a merry chase. Driver Travis Henry had the same idea and he and Fern Hill Breeze set out for the front immediately and he paced unstressed on the lead until the 3/4 pole where he faced a stiff challenge by 4 to 5 favorite Jack of Clubs at the 3/4 pole. Obviously hearing my pleas from 187 KM west, Fern Hill Breeze left it all on the London track to stubbornly hold on to a 3/4-length win and perfection was mine! My second ice cold Pick 5 of the card returned a healthy $570 and I added a pile of Canadian loonies to my glory.
Announcer Sugar Doyle, obviously following my Twitter feed, provided the icing on the cake finishing off his race call with this beauty: "Fern Hill Breeze has Garnet Barnsdale going 10 for 10 in an Ontario Racing Tips From The Pros sweep!" (full story here; shoutout at the 3:08 mark)
With that, one more item was scratched off my bucket list. Now it's up to Josh Allen to go get me a Super Bowl win. Go Bills!