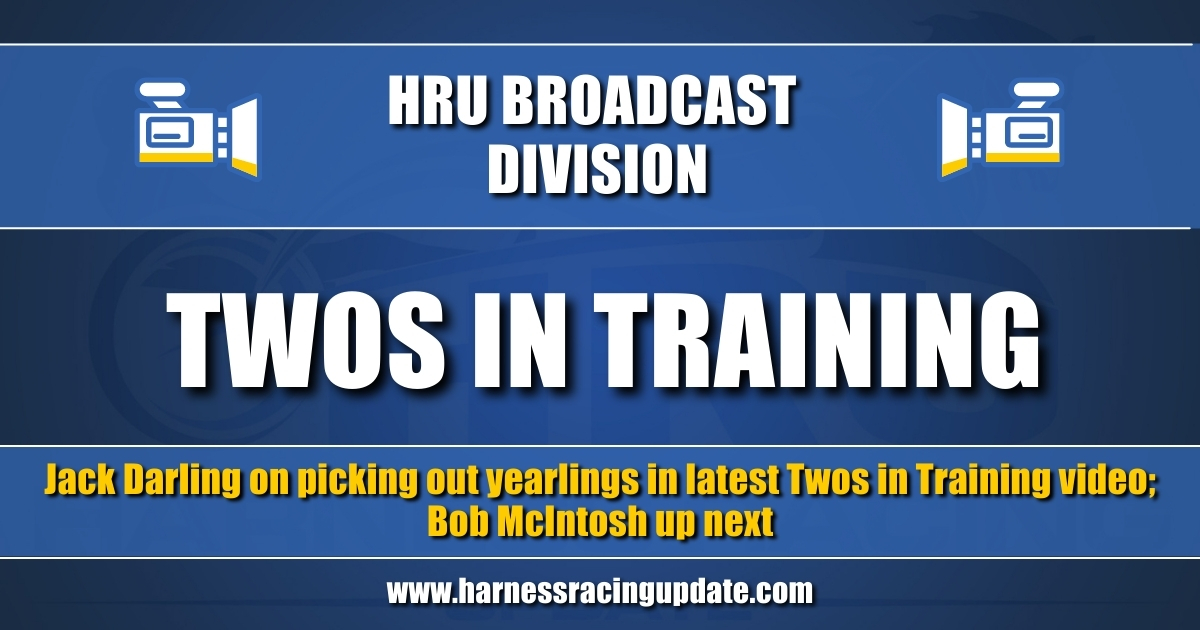 Jack Darling on picking out yearlings in latest Twos in Training video; Bob McIntosh up next
Trainer Jack Darling spoke to Jaimi MacDonald about his lifetime in the business, his promising 2-year-olds, returning Ontario Sires Stakes star Bulldog Hanover, what he looks for in a yearling and what harness racing needs to do to improve.
by Dave Briggs
The second in HRU's 2021 Virtual Twos in Training videos aired live on Wednesday (Feb. 24) with Ontario trainer Jack Darling speaking to Jaimi MacDonald.
The interview, sponsored by Jimmy Freight, the Ontario Sires Stakes and the Central Ontario Standardbred Association (COSA) covered Darling's history in the game, what he looks for in a yearling, how his five 2-year-olds are progressing and what the harness racing industry needs to do to improve.
The entire video is available for viewing on HRU's YouTube page here and Facebook page here.
The next Virtual Twos in Training interview will feature multiple Hall of Fame trainer Bob McIntosh being interviewed by Heather Vitale. McIntosh's interview will be pre-taped and first broadcast on our YouTube and Facebook pages on Wednesday, March 3 at 7 p.m. (Eastern). That segment will be sponsored, with our thanks, by COSA.
McIntosh will field a few questions from viewers, but they must be emailed to HRU prior to 10 a.m. on March 3. To submit a question, email them to: editor@harnessracingupdate.com. Please make the subject line: Questions for Bob McIntosh and please include your full name.
To make sure you don't miss a video, subscribe to HRU's YouTube page— for free – today.
Upcoming schedule:
All videos will initially be broadcast beginning at 7 p.m. (Eastern) on the date scheduled
Wed., March 3 — Bob McIntosh with Heather Vitale
Mon., March 8 — Julie Miller with Heather Vitale
Wed., March 10 — Nifty Norman with Heather Vitale
Mon., March 15 — Virgil Morgan, Jr. with Jaimi MacDonald
Wed., March 17 — Tony Alagna with Heather Vitale
Mon., March 22 — Dr. Ian Moore with Jaimi MacDonald
Wed., March 24 — Chris Ryder with Heather Vitale
Mon., March 29 — Carmen Auciello with Jaimi MacDonald