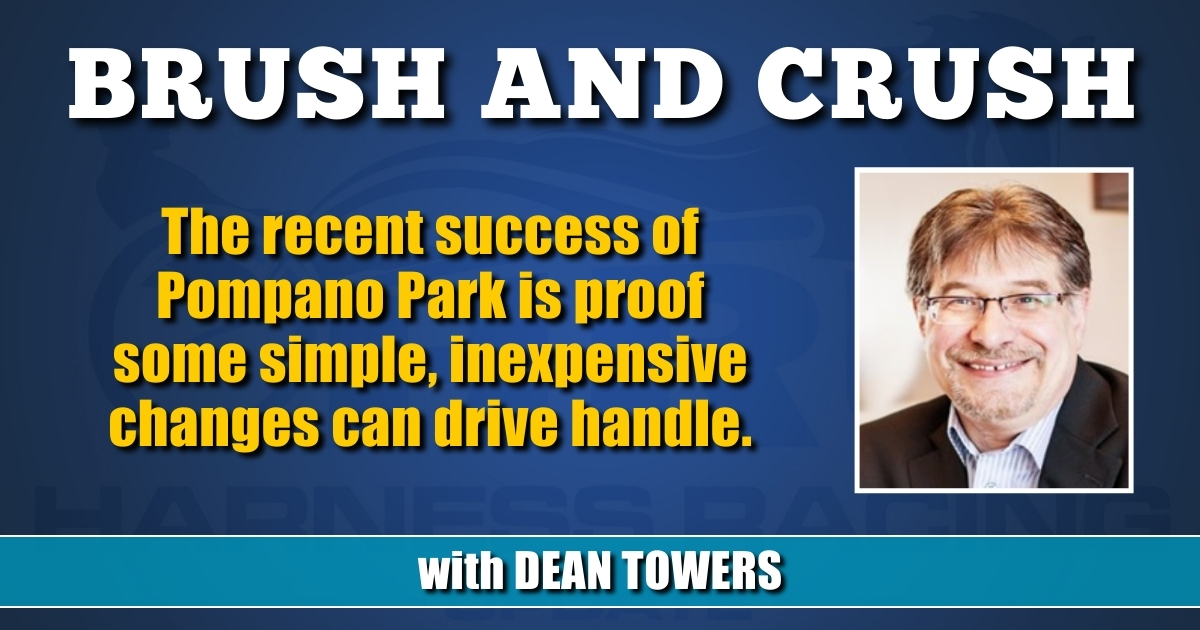 Need demand for your betting product? Manufacture it
The recent success of Pompano Park is proof some simple, inexpensive changes can drive handle.
by Dean Towers
A lot of people believe Henry Ford invented the motor car, but that would be incorrect. In 1908, Ford took the motor car – invented, designed and innovated by Maybach, Diamler, Benz and many others – and made it marketable.
By 1909, Ford was producing as many Model T's as he could make. He was loaning money to employees to purchase cars (the first ever employee purchase plans) and each day worked to produce a cheaper, better product. Ford really didn't invent anything at all, he just used what was given to him by others to manufacture demand, and to sell a product.
In harness racing, I believe, things are not much different. This sport races horses around in a circle that you and I watch and wager on. Sure, there have been innovations in bikes, equipment, and how the sport delivers itself to bettors and fans, but it is essentially the same sport it was a hundred years ago.
So, how does one increase demand for an old sport that everyone knows? In my view, you achieve it like Henry Ford did – you manufacture it.
It's no secret Pompano Park has had some serious success driving handle the last few seasons. And some of the numbers border on the unbelievable:
· It is handling around $100,000 per race, versus $175,000 per race card a handful of years ago.
· It drew a record $51,000 handle in a (non-carryover) Pick 5 last month.
· Its carryover wagers drive massive handle, some with over $200,000 of new money.
Some of this clearly has to do with the lack of competition, but this is immense success, especially since (flipping the narrative) the truth does matter. So, forgive me in advance.
Pompano has not driven this handle by what one might think.
The Pompano feed is from when Tears for Fears topped the charts. The audio of Gabe Prewitt and John Berry on the handicapping show reminds me of two tin cans with a string attached. I was handicapping a race the other day and one of the drivers had some excellent stats — on a fair circuit in 1974. I bet on a horse last week that I saw go through the sales ring when the younger Bush was president.
Pompano is not King of the Handle World by being flashy, having a HD signal, selling sizzle, or having the grandstand filled with millennials with fancy hats. It's been a whole other reason: Like Henry Ford, they've manufactured their demand.
· Pompano's betting menu is simple and user friendly and it's slim enough to drive enough handle to encourage play in the multis.
· Their 12 per cent juice Pick 4 (created long ago; kudos to Mr. Yinger) is something they've stuck with, resisting calls to raise
it.
· The addition (manufacture) of a Pick 6 at 50 cents, not 20 cents, encourages a carryover on almost a nightly basis, which they can sell.
· They offer free programs so if people have nothing to do, they can easily play along.
If you're a player and you want something to play, Pompano gives you an out.
This, in my view, emblemizes that there's an opportunity for every track in harness racing. What Pompano has done to create new demand is not the only mix that works. There are other things this sport can do; many which have never been tried. Tracks need to work tirelessly to manufacture demand, and not worry about failure. As Pompano proves, the glass is half full.
Note – Pompano has a Pick 5 carryover tonight (Feb. 14) beginning in race one, with a sequence that includes several amateur races. If interested, tune in and watch the Pick 5 betting pool size. It's not sizzle or TV commercials, it's purely manufactured demand.