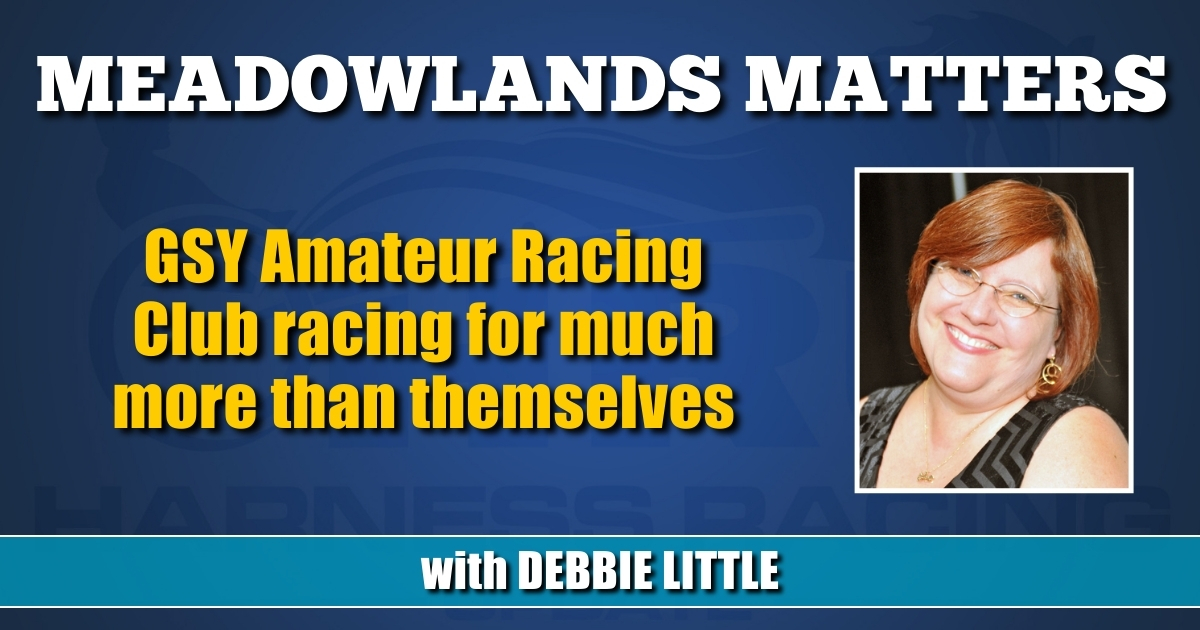 GSY Amateur Racing Club racing for much more than themselves
by Debbie Little
Dictionary.com defines the word amateur as "a person who engages in a study, sport, or other activity for pleasure rather than for financial benefit or professional reasons."
That definition fits the members of the GSY Amateur Racing Club, who work hard not to be categorized as the alternate definition:"a person inexperienced or unskilled in a particular activity."
GSY is named for founders Jeff Gural, Jason Settlemoir and Dave Yarock, and although it started in 2008 at Tioga Downs, they have quickly graduated to the big leagues with regular races at The Meadowlands.
The GSY is different from other amateur clubs since they currently only drive pacers, and, according to club rules, must keep both hands in the hand holds throughout the race regardless of what track they are competing at. They also divvy up purse money amongst all participants with the horses finishing sixth through 10th each getting 3 per cent.
But sometimes the word amateur can lead people to believe that the GSY members are not good enough to compete at The Big M or that the races aren't worth betting on.
In both cases, those assumptions are wrong.
"We're not as good as the pros because we don't do it six days a week, 10 times a night, but we put on a good show and I think it's appreciated," said Yarock, who points out that most of the drivers in the GSY have an 'A' license and therefore could compete against the top-flight pilots.
But no matter what their license says, just being a member of the GSY does not guarantee you a spot behind The Meadowlands' starting gate.
"Anybody who wants to drive at The Meadowlands has to be approved by The Meadowlands," said Yarock. "The first screening process is the judges. Once they are okayed by them, they're still under our scrutiny to make sure they're not driving like an orangutan.
"I understand the opportunity we have as a club to be able to race at The Meadowlands, to be able to race for these kinds of purses, and I take it very seriously. I tell them, 'Listen, we've got to look professional out there. We all want to win but safety is the number one priority, because if we don't drive safe, we ain't coming back here.'"
Meadowlands race secretary Scott Warren works with Yarock to be sure the drivers are competent and that the fields fit the conditions and are competitive.
"In the amateur division, the main thing we're looking for is for safety," said Warren. "Whether it's an amateur race or not, it's still The Meadowlands.
"[Former Big M race secretary] Pete Koch will tell you there were a lot of times in the lean years when there were no horses in the entry box and the GSY helped fill races. And there's some sort of following there because they do bet those races."
In 2020, the GSY had fewer races than usual because of the pandemic, but in their 18 starts, the favorite won only five times. In one race, even though three of the club's drivers with multiple Big M wins hit the board, the trifecta returned $19,303.20.
"One of the things that the bettors like is, it's a different meal per se," said Yarock. "So, if you've got 12 or 13 races on the night and they're all professionals and then you've got one amateur, it's a little bit different. Sometimes it draws more attention because it's different because of its unpredictability."
Club member Matt Zuccarello, who helps Yarock by keeping the stats and sending out press releases, grew up near Roosevelt Raceway and used to go there as a kid with his dad.
"I told [my dad], 'One day I want to own and race' and he said 'Yeah, yeah, yeah,'" said Zuccarello. "So I procrastinated for years and in my mid 30s I went to the driving school in Ohio. I just loved it and I told Joe [Faraldo] that I wanted to get involved with amateur racing and start racing and learning everything about horses so he put me in contact with [trainer] Dennis [Laterza] and it went from there.
"What other sport, maybe bowling or golf would be the two, could you pick up later on in life and if you're that good become a professional?"
One thing that's important to Yarock is that his members own horses.
"In my club, preference is given to an owner/driver," he said. "I want to encourage people to participate and buy a horse and put some skin in the game."
Of the approximately 25 people that participate in the GSY – who range in age from early 20s to early 70s – all own horses.
But the GSY isn't just about the competition on the track.
In 2008, Yarock set upThe Edward Weiner & Edward Yarock Equine Outreach Fund, a non-profit 501(c)3 corporation named for his father and stepfather.
All drivers participating in GSY races donate their 5 per cent in earnings to the fund. In addition, the fund also receives the club's annual participation fees.
Over the years, the fund has granted over $250,000 to more than 175 individuals, with some receiving multiple grants, but the difficulties of 2020 inspired Yarock to alter the focus of the club's philanthropy.
On their fund website, www.equineoutreachfund.org, Yarock explains:
"Our main priority since inception was to provide scholarships to individuals pursuing higher education related to the equine and harness racing industries. This year, we have changed the primary goal to provide emotional comfort to those suffering from PTSD, anxiety, and other life challenges. With the onslaught of COVID-19, we want to provide a place where people could interact with retired race horses to help alleviate their life's pressures. All this will take place at our 50-acre horse farm in the Catskills. Individuals would undertake caring for the horse, riding if they so desired, and enjoying the general ambiance of nature."
So, when the GSY field of 10 take to the track in tonight's third race, they're not just racing for themselves.