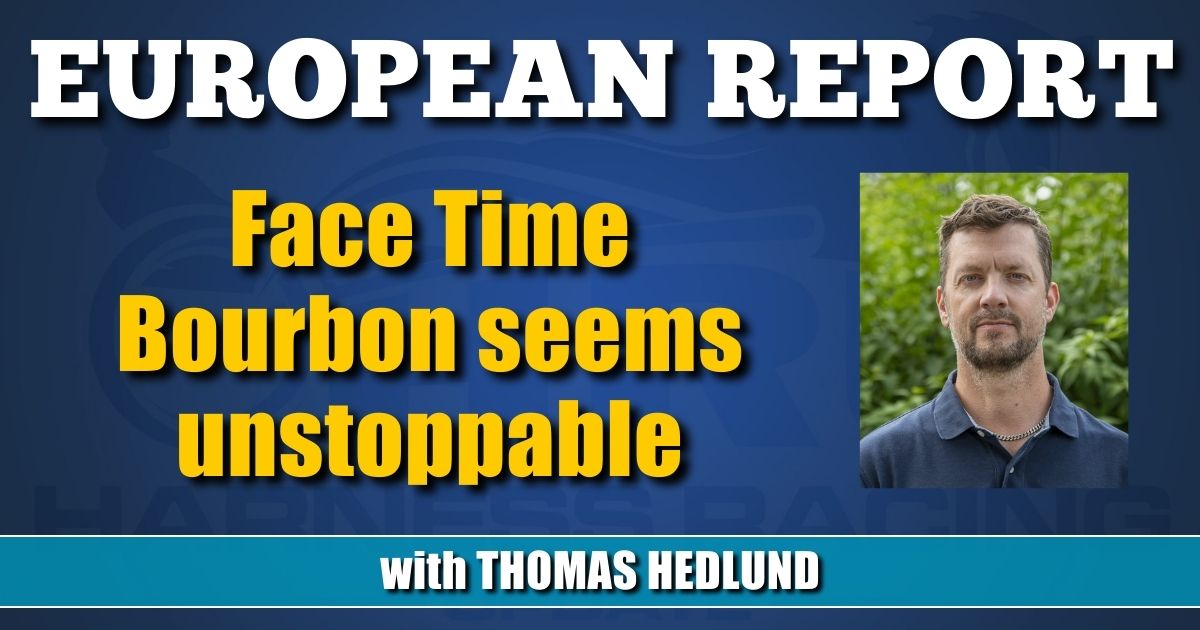 Face Time Bourbon seems unstoppable
by Thomas Hedlund
Six-year-old Ready Cash son Face Time Bourbon sits upon the throne in European harness racing and nothing seems to stop Sébastien Guarato's trotter in his path to a second Prix d'Amérique victory in Paris.
The $135,000 Prix du Bourgogne over 1.3 miles was held at Vincennes on Sunday (Jan. 3) and Face Time Bourbon had to overcome a difficult post position behind the car. Nine horses are allowed behind the gate in the first line and Face Time Bourbon drew number nine, which is far from ideal, but in the hands of Björn Goop, the Face Time Bourbon found position in the front of the field.
Jean-Michel Bazire-trained Davidson du Pont was second choice in the race and midway through the race, it looked like two horses were going to battle for victory in Paris. Davidson du Pont led the race and Face Time Bourbon had to fight his toughest opponent from the outside. Davidson du Pont gave his best trying to defend himself against the outside horse, but he didn't have enough power to finish in the top three this time and he needs to progress some more if he will be considered a big threat in the Prix d'Amérique.
Face Time Bourbon is hard to beat, obviously, but this time the Guarato trainee had to give his all since Vivid Wise As and Delia du Pommereux both finished quickly in the stretch. A big nose separated Face Time Bourbon from the runner up and the bronze medalist and three weeks ahead of the big race, the reigning Prix d'Amérique champion is still the clear favorite.
Raffin new champion driver in France
Eric Raffin won 253 races in France in 2020 and that made him the leading driver in the country. Jean-Michel Bazire has basically held the title "Sulky d'Or", The Golden Sulky, for many years in France, but 2020 meant that the king of harness racing in France at least had to descend from the throne when it comes to drivers. In fact, Bazire didn't even finish in the top three in France among the drivers. Matthieu Abrivard (179 victories) and Yoann Lebourgeois (156 victories) took the places behind Raffin in the league.
However, Bazire was superior among the trainers in France last season. His horses won the most races and earned the most money thanks to 207 wins (10 fewer than 2019) and $8,031,021 in earnings. Runner up Sébastien Guarato earned $5,636,035.
Laurent Claude Abrivard finished third on the list with $5,009,303 in earnings.