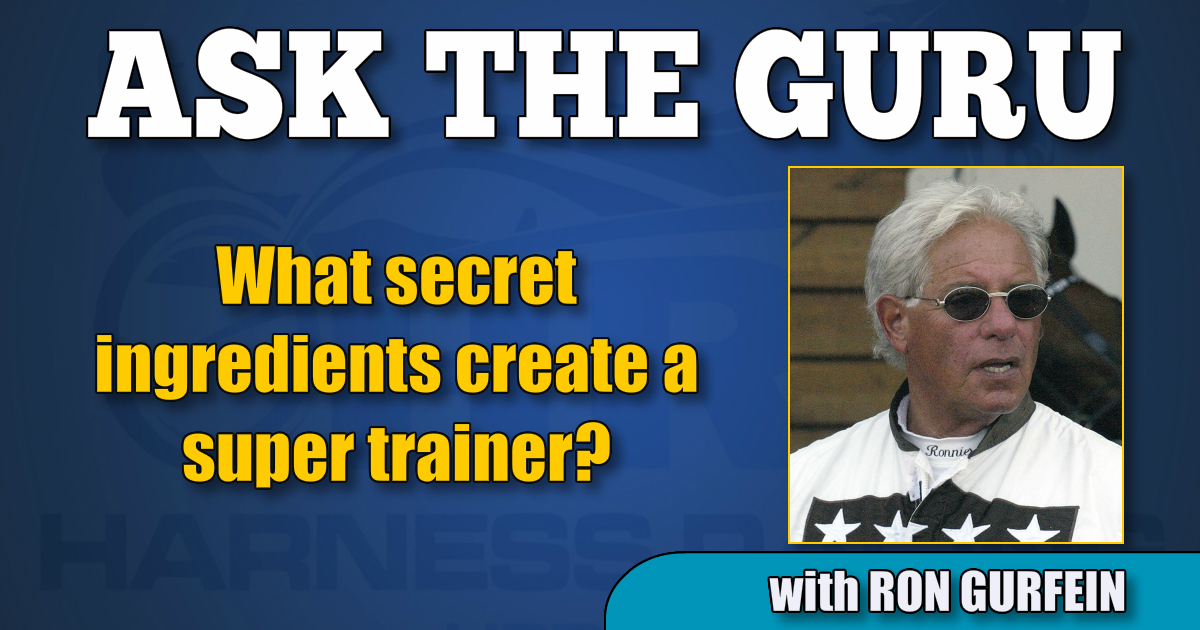 What secret ingredients create a super trainer?
That and much more in this week's edition of harness racing's most popular advice column.
by Ron Gurfein
Tidbits: Time to vent y'all. After brutalizing the United States Trotting Association (over obituaries), Pocono Downs judges (over the Josh Marks incident) and Yonkers Raceway (beards and cheaters) these problems pale to what is going on in Washington.
Senators receive $174,000 in salary and are allotted $3 million for staff; congressmen $174,000 and $900,000 for staff, plus lots of other goodies. It has taken them six months of bickering to, at the last minute, come up with a $600 COVID-19 relief package for people that are in desperate need. Shame on them. What will $600 buy in 2021? Remember who your representatives are on this occasion. A change would be in order when you cast your votes in the years to come.
Whether or not you were in favor of the Horseracing Integrity and Safety Act, it has passed both houses. However it has been piggy backed to the COVID-19 relief package that is in veto jeopardy. This is not a political rant. Both Democrats and Republicans are at fault here and in no way do I wish for the veto. That said, the White House press release said the veto was on the table because the feeling was that the package should have contained a $2,000 per person payment, not $600. I am in total agreement that it should be $2,000 per person.
Speaking about our ludicrous Congress. What's with all these healthy young men, Senators and Congressmen who in the past have poo-pooed wearing masks and even negated the dangers of COVID-19, now being among the first to receive the vaccine. How did they get to the front of the line? PATHETIC!
* * *
All is not lost. Through the darkness of 2020 comes the brightest shining light. Florence Taylor Gurfein, was born on Sunday morning, Dec. 27, 2020.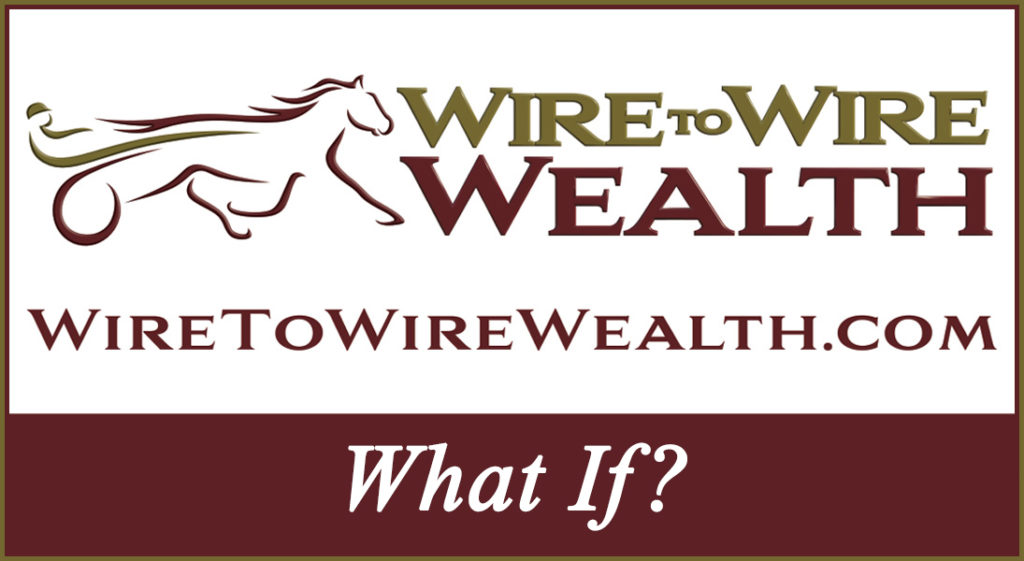 May she bring the same happiness to my son Blake and his wonderful wife Elizabeth as they have brought to me.
* * *
I don't care if you love the game of football or hate it. You must watch the last three minutes of the Miami Dolphin vs. Las Vegas Raiders on replay from Saturday night. You will see what, to this writer, is the most exciting three minutes in football history. I am certainly prejudiced but you may judge for yourself.
* * *
Please make the following New Year's resolution: I will not bother The Guru with questions about whom he defends on social media because I understand he does not defend individuals but does try and keep the rule of law intact. I will really appreciate that. Why I defend this one or that one on a daily basis truly wares me out.
* * *
Once again, I found myself dismayed by the political slant Russell Williams leaned on in reaction to the proposed passage of the Horseracing Integrity and Safety Act. What alternative universe does he live in, believing that the new congress will change the bill if in fact the president signs it? The fact that the bill was piggy-backed on the COVID-19 relief bill belies its real popularity.
Dean Richardson asks: Will you please list in your column your favorite restaurants for lunch and dinner in the Pompano, Deerfield, Boca area?
Truly my favorite subject. For lunch, the most diverse and over the top would be the Whales Rib. It achieved national notoriety on the TV show Diners, Drive- ins and Dives. Not a beautiful place, but fresh and awesome seafood. Two of my favorite dishes, both difficult to find, are Rock Shrimp, and Ipswich Clams. Drinks are priced less than those at Happy Hour in Boca.
Just around the corner is Oceans 234, a pretty spot right on the Ocean. You dine less than 100 feet from the water. Very nice seafood and sushi menu.
If you want more than seafood, Houston's on the water (the intercostal) in Pompano is a great spot. The French Dip, my favorite lunch offering in South Florida, is wonderful. Please make sure to order it without mayo on the roll.
For dinner, I will start in Pompano and go north. Gianni's may be as good a southern Italian restaurant you can find. If you are a Meadowlands guy, it is very comparable to Jerry's, the iconic spot about a half-mile west of the racetrack (no longer in business).
Giannis has been a horsemen's hangout for at least 50 years. Not much in the line of atmosphere, but great food.
In Deerfield, in a building that housed the wonderful Marcellos, and then Frank and Dinos, is now Luigis. Good southern Italian fare at reasonable prices.
When it comes to Boca, there are really too many to name. I will give you my favorites. New York Prime is the best steak house in Florida. It's not better than the original Peter Luger in Brooklyn, but, on occasion, can be pretty close. The virus has curtailed the excitement of the bar, but the food remains wonderful.
Trattoria Romano still is as good as it gets on anyone's list. By far the best veal chop I have ever eaten and the Romano salad is to die for. La Viletta is a small, elegant spot where the food is exceptional. Last week, I had fresh Pompano deboned table side simply delicious. The specialty of the house is Yellowtail Snapper baked in sea salt.
Last, but certainly not least, is Carlo Vaccarezza's Frank and Dinos. Excellent food, long happy hour and beautiful bartenders. Maybe the best seafood salad you can find. Carlo will be opening in Lexington any day now.
Please remember, we have a batshit crazy governor in Florida, Ron DeSantis. The state is 100 per cent open, no social distancing at all. My suggestion is to go to these high-profile places Sunday, Monday and Tuesday. There are no crowds and if you luck out there won't be enough people to social distance.
The governor has actually gone out of his way to warn local municipalities against any kind of restrictions. If you went to any good dining establishment on a weekend in Delray or Boca you would never know there was a virus going around. I was at New York Prime recently and they were four deep at the bar, chatting away, no masks at all.
However, I will say, that the average of today's patron is most likely around 45, whereas in years past is was more like 65. There aren't a lot of old men like me hitting the ground running at 7:30 p.m. these days.
Tom Santoro asks: When a race is declared official all bets are paid off. Then the horse comes up positive and the purse is redistributed. Does the guy who bet the second place finisher have a legal right to sue for the money he should have had if the race was not influenced by drugs?
If you asked me this question a year ago I would have said once the race is official and the public is paid it is fait accompli (over). However, things have changed since this summer.
Jeffrey Tretter a gambler from Illinois actually brought suit against Bob Bresnahan Jr. the trainer and J.L. Sadowsky the owner of a horse that won at the Meadowlands and subsequently came up with a positive test for EPO. Tretter's attorney accused the pair of fraud and racketeering. I will not get into the details, but it was shown that the plaintiff had made a wager that was worth over $30,000 had the drugged horse been disqualified immediately.
They settled the case for $20,000 with what to me were some nefarious circumstances.
Mr. Tretter's lawyers were financially supported by PETA, that most likely was overbearing on the defense.
To me, this sets a ridiculous precedent. Sadly, the defendants didn't take the decision to a higher court.
Bill Coleman asks: What is the secret ingredient that creates a super trainer?
There are a few however I doubt they are a secret. I think the key is COMMUNICATION. Without it, you are finished before you start.
I find that there are many great trainers that because of lack of patience have never developed the ability to talk to clients. It is of the essence that an owner is in a comfort zone with a trainer and in the long run it will cover over a myriad of errors that just naturally occur in our business. For the 2021 barn, INTELLIGENCE is more important than ever. There is something new or updated all the time and to be the best you must be aware of the day to day changes.
GREAT ASSISTANTS AND CARETAKERS are the backbone of any big operation and if your help is not on board delegating authority becomes irrelevant. In a large stable, it is impossible to do everything yourself. Therefore, the smartest help gets the job done. It is natural that things will fall through the cracks the object is to minimize that phenomenon and let the number of horses make up for them.
Last, but certainly not least, ATTENTION TO DETAIL, which in and of itself has become a major subject of late. Notice some barns have often received environmental contamination positives and others have not. To me that is of primary importance in today's trainer. The best never find the need to "push the envelope."
I scratch my head when I think about reading all the condition sheets and entering 50 horses to race in a day. To this writer it was a headache entering four. But in my day there were very few big barns like there are today.
I want to preface my next statement by pointing out that the two trainers I will use as examples are not necessarily the best but they truly fit my mold.
If you wish to see my theories in action two trainers that in my opinion exemplify big barn perfection are Tony Alagna and Jim Campbell.
Please don't send me letters naming your favorites. There are many very capable big barns out there, I merely selected two that to me have withstood the test of time.
Thank you so much for making this horrible year somewhat palatable. Without your wonderful input it would truly have been more of an uphill struggle. I wish all my friends and readers a healthy and Happy New Year. May we have the chance to socialize again in 2021.
Have a question for The Guru?
Email him at: GurfTrot@aol.com.