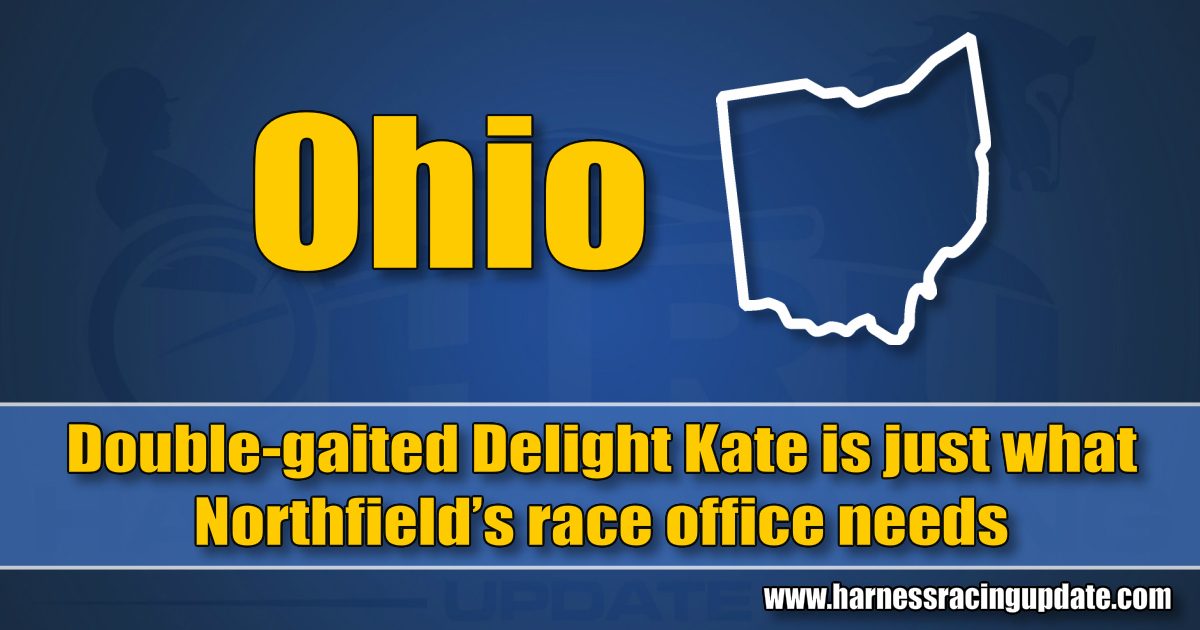 Double-gaited Delight Kate is just what Northfield's race office needs
In her last eight starts over 38 days, ultra-adaptable pacing-bred Delight Kate has raced five times on the pace and three times on the trot for Nick Clegg.
by Bob Roberts
Most owners and trainers aren't moved by racing department requests over the backstretch loud speaker system to help close the entries. Tradition dictates that track officials, when the box isn't full enough, turn to the microphone to hustle horses. Rarely is there an ensuing stampede of horsemen waving entry slips.
But at Northfield Park, horse owner Nick Clegg was recently listening when the racing office took to the airwaves in search of able-bodied pacers and trotters. His attentiveness has led to a racing rarity – a horse not only racing three times in eight days, but doing so twice pacing and once trotting.
"(The racing office) kept calling for a non-winners of one trot every single day," said Clegg. "I joked to myself that one of my pacers must be able to trot."
Clegg accepted the challenge, then took shedrow inventory. He selected Delight Kate, a 4-year-old old spayed mare that he recently purchased, to become North America's newest double-gaited threat.
It didn't matter to him that Delight Kate was strictly bred to be a pacer, being by McArdle, out of the Bettor's Delight mare, Delightfully Cam
"She jogs on the trot, anyway," said Clegg. "I put trotting boots and bell boots on her and went out and jogged her. The next morning, I entered her in a qualifier on the trot. It was the first time she's been in a competitive trotting race."
That was on Oct. 29 and Delight Kate, a winner of 16 of 60 starts and $90,825 as a pacer, recovered from a break at the start to finish third, beaten four lengths in 2:01.2.
Two nights later, she was in a Northfield pacing race. After being prominent early, she faded to finish seventh, beaten a dozen lengths.
Five days later, on Nov. 5, Clegg wheeled her back in another trot qualifier. She had a smooth trip, finishing second in 2:02 4/5.
"The only reason she ever makes a break is when the gate folds, she's going forward at 100 miles per hour," said Clegg. "She's done so her whole life as a pacer, but now as a trotter, without any hobbles, she still thinks she can go that fast. But on the trot, that first quarter is around 30 seconds. It's like two totally different animals."
Delight Kate returned to the pacing wars on Nov. 7, but the start was compromised by broken equipment. She finished seventh, beaten four lengths.
Clegg then answered the call for the "non-winners of one" and Delight Kate made her pari-mutuel trotting debut at Northfield on Nov. 10. She was heavily-favored at odds of 3-5 but came up short, finishing fifth, beaten two lengths.
A week later, Delight Kate again tackled trot non-winners at Northfield but she got ahead of herself at the start and broke stride. She ended up sixth, nearly 50 lengths behind the winner.
Clegg then backed off his experiment. Delight Kate returned to pacing for her next four starts, posting a second and a third. But consecutive dismal finishes on Dec. 5 and Dec. 12 had Clegg switching her to the maiden trotting ranks this past Tuesday (Dec. 15).
She responded by stalking the pacesetters, then sweeping by them in the stretch to win by a length in 2:00. Clegg took the triumph in stride.
"After the race, 20 people said to me, 'Wow what did you do with that horse?' I didn't do anything to make her a trotter, it just comes naturally to her."
Delight Kate has little time to rest on her trotting laurels. She's back in Saturday night (Dec. 19) at Northfield on the pace.
"With her racing schedule, she doesn't need much training between starts," said Clegg. "And, no, neither one of us is confused. I think we're both pretty smart. We know where we are in life."
Clegg purchased Delight Kate at Hoosier Park in late September on the recommendation of a close friend, driver Sam Widger.
"I asked him to let me know if there were horses for sale," said Clegg. "Sam drove her once and asked the owner (Pasco Vucinaj) if she was for sale. He said yes and I bought her."
Clegg doesn't want to say what he paid for Delight Kate, but in her scheduled start this Saturday, she's eligible to be claimed for $15,000.
"You could say that's in the neighborhood of what I paid for her," he said. "I wouldn't be upset of somebody gives me that much for my pacer-trotter."
TERROR OF THETRACK UPDATE
The 14-year-old pacer that was featured in last Sunday's Harness Racing Update (full story here) made his 499th career start Wednesday night (Dec. 16) at Northfield and scored as the race's longest shot at odds of 44-1. He will make his 500thand final career start at Northfield on Monday (Dec. 21). Trainer/driver Keith Kash says Terror Of Thetrack will most likely begin a second career as a member of the Summit County (Oh.) Mounted Sheriff Dept.