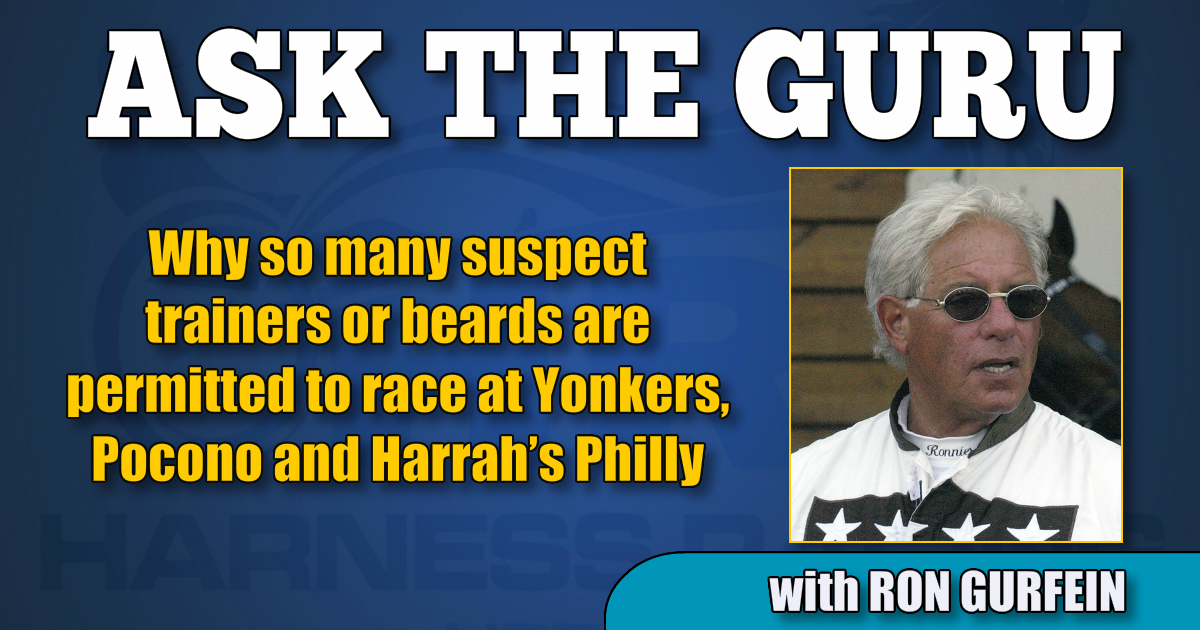 Why so many suspect trainers or beards are permitted to race at Yonkers, Pocono and Harrah's Philly
That and much more in this week's edition of harness racing's most popular advice column.
by Ron Gurfein
Tidbits: Due to my total brain freeze last week, I missed some facts that make the Lindy Farm story even better. I said the Antonacci family had won five Hambletonians and had five near misses. I was WRONG. They had nine near misses. In my column I left out Lindy Lane ( that was purely psychological a bad time for me and Frankie) , Chocolatier, Lucky Chucky and Crazed. My sincerest apologies.
* * *
I also received a lot of mail on why I picked Lady Chaos over Anoka Hanover for 2-year-old trotting filly. Most of the notes pointed out that in their only head to head meeting she was beaten by Anoka Hanover.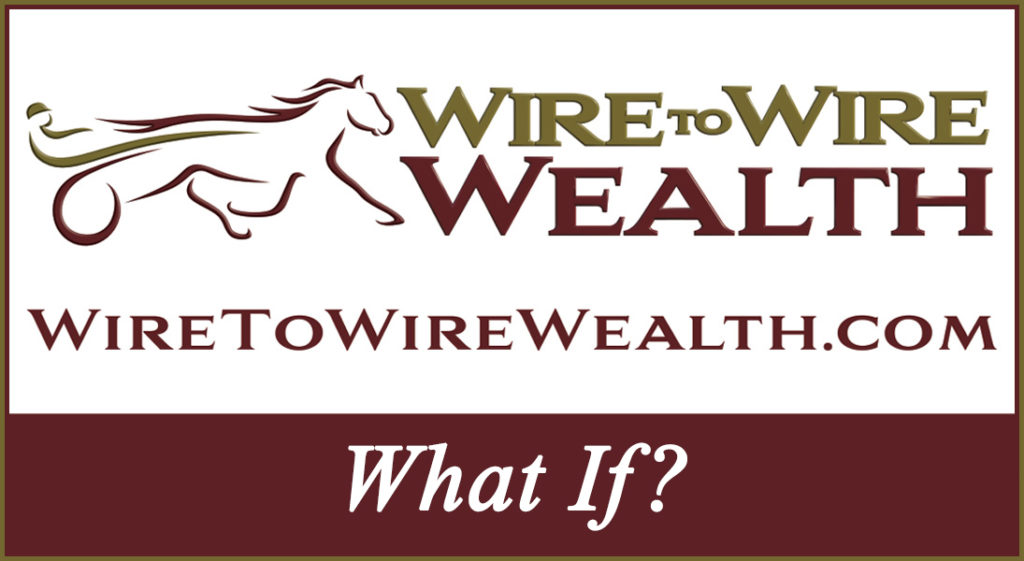 Any horse can have an off day especially when it's the end of a long year and she had the nine hole to boot. Lady Chaos won the KYSS Final and the Breeders Crown. Add to that I trained her sire Cantab Hall. Believe me, it was the only decision that took any thought. The others with the exception of my proposed tie were quite simple.
* * *
Our Meadowlands savior, Jeff Gural, has done it again. According to an article in theNew York Post, Jeff and a few affluent New York friends have saved the iconic Astor Place Barbershop in the Village from going under. A popular spot for more than 75 years, you could find Bruce Willis, Robert de Niro and even the mayor Bill de Blasio having their hair cut. In previous time, Andy Warhol was a frequent customer.
Gural was joined in the venture by Mike Bloomberg, Howard Wolfson and famed pollster Jeffrey Pollack.
* * *
The finale, of the television series The Undoing, to me was a 10. Till the very end the eye contact between all the characters and the camera was such that the director never gave up the killer till the final 10 minutes. They were all still suspects at the 49 minute mark. I am sorry it is over. That said, there was a definite scenario to continue the series if they chose to slightly change the ending.
* * *
All of you that have been readers of my column for any length of time know I am not big on statistics. However I am always fascinated by one in particular. Trainers average earnings per start. The giant barns that race overnights if they are good, fall in the $4,000 range. Under normal circumstances the top barn is in the $10,000 range. In 2020, I have seen the highest I can ever remember. Nancy Takter is approaching $20,000 per start for the year. Not only is this amazing but consider the amount of money that was off the table all together in the year of the virus. Huge races that she certainly would have entered such as the Beal, and the Yonkers Trot as well as the International, and I never even got to the pacers. The missed possibilities were endless.
* * *
Let's talk about real fake news. It's hard to believe but I actually just finished reading a 100 per cent legitimate article in a well-known horse publication that was so insane I thought it was fake news. This was the heading; "Turns Out Milkshaking May Not Do Much ForPerformance After All." And the tooth fairy will have a martini with you tomorrow night. I guess science isn't perfect.
The way they came to this decision is so vague and so poorly conceived it's not worth discussing. When I read the title I was in shock.
To me it would be wise for the publisher to consult a licensed veterinarian so he can understand why this sends a totally crazy message.
I have never written a letter to an editor however this was so off the wall I was forced to do so. I got an immediate response from the publisher and I am happy to report that he was admittedly skeptical of the report. Why he published it would be the rest of the story.
Tom Santoro asks two questions: I was reading xxxxxx online and someone brought up Marcus Johansson. What happened to him since the divorce with Nancy Takter? Why do racetracks have qualifying races with pacers and trotters in the same event? Are these bad horses?
Before I answer question number one, I would like to relate to both you and the dozens of other people that refer to that hideous publication, who I would not give any credence to by mentioning its name, that I despise it's mere existence and the people that write threads in it. It is without question the most vile offering of rumor, innuendo and horrible bigotry available on the Internet. I know I will get feedback, that I am saying this because I am constantly attacked, as are my friends in the rag. NOT TRUE, I always felt that way starting years ago. That's the last of that story.
To the matter at hand, Marcus (the last I heard) was working for Adam Bowden's Diamond Creek Farm running the racing division of the farm's vast holdings. He is a wonderful guy and I am sure he will be successful wherever he decides to go. Personally, I thought he had a chance to be a good catch driver. He does have a remarkable pair of hands for driving trotters.
Part two is quite simple. The only reason that tracks mix pacers and trotters together in qualifying races is because they don't have enough horses to split them. In no way does it have anything to do with the caliber of the animals.
Valerie Brown asks: Why are so many what I call suspect trainers and/or beards permitted to race at Yonkers, Pocono and Harrah's Philly, and not the Meadowlands?
Basically because Jeff Gural and Jason Settlemoir won't allow it. I will answer your good question with another one. Why does the Meadowlands have a substantial handle and the others you mentioned ridiculously small handles.? It's simple: Bettor confidence.
Why management lets horsemen of questionable character enter their races is no mystery. They just don't care and the don't want litigation of any kind. As long as the slot money pours in, the racing product is basically unimportant.
To this writer, some of the fields are so filled with bad apples I laugh and say they are beating one another. Unfortunately, they are killing the honest guys. Thank Heaven for the Meadowlands where an honest trainer can win a race. And to be perfectly honest, there are still some criminals there, too.
It is true that the virus has slowed the indictment proceedings. I am convinced they still have a lot more to unearth in their list of perpetrators . In the end, I feel we will have gotten much closer to a cleaner sport.
To me the see no evil, speak no evil, hear no evil attitude of management was most evident last year when Dexter verbally attacked and threatened Ray Schnittker in the winner's circle at Pocono Downs. What did they do? NOTHING. Why? Their answer was they had no jurisdiction over him because he wasn't licensed in Pennsylvania. The police are only a phone call away. I am certain that a state trooper couldn't care less if he had a harness license.
Bill Grinstedt asks: You always have an opinion on other people's suggested Hall of Fame nominees how about the people that you feel deserve the honor?
It's my pleasure to answer the question but it will take more than one column as there must be a dozen I would love to see enshrined tomorrow.
Unfortunately as per my conversation with Moira Fanning, there will be no new selections till the summer of 2021 as COVID-19 caused the demise of last year's banquet. Therefore Gural, Charters, Popfinger, Tetrick, Pikelny and Weingartner will have their own induction in July of 2021.
My first offerings are an eclectic group, from all phases of our sport.
First, Frank " The Elder" Antonacci and brother Gerald have done more for the sport than most already honored. Their achievements in breeding and racing under the heading Lindy Farms s represents multitudes of marvelous accomplishments. The time, energy and finance involved in keeping the iconic Red Mile in existence and thriving as it is today is another testament to their true dedication to our sport. Their partners in the endeavor George Segal and Joe Thompson have already been enshrined. Their time is now.
My next offering is a quiet gentleman that in some way or another has touched all our lives. Before the Internet, Eric Cherry's 900 number (the National race line) kept us all in the loop. We could get race calls, results, as well as immediate sales information. Now after many years have passed, Cherry's Ongait.com, has become an integral part of our sport and even more so with the present pandemic. His five decades of devotion to all phases of harness racing not the least of which was a major breeder are certainly noteworthy.
Another quiet gentleman and good friend that in my opinion has been overlooked for too many years is Per Eriksson. A more than dominant force in the trotting ranks toward the end of the last century, he won three Hambletonians and many other Grand Circuit races. He left our shores with wife Tina in order to raise their children in Sweden where both of them had their roots. There are no conspiracy theories involving his departure. His recognition is long overdue.
I promise to add to the list from time to time but will wait for my next offerings till the committee's announcements this summer.
Thanks to all my readers for the kind words. Please keep the questions coming in because racing has slowed to a walk doesn't mean you should put your Ask The Guru questions on the back burner.
Have a wonderful week…..
Have a question for The Guru?
Email him at GurfTrot@aol.com.