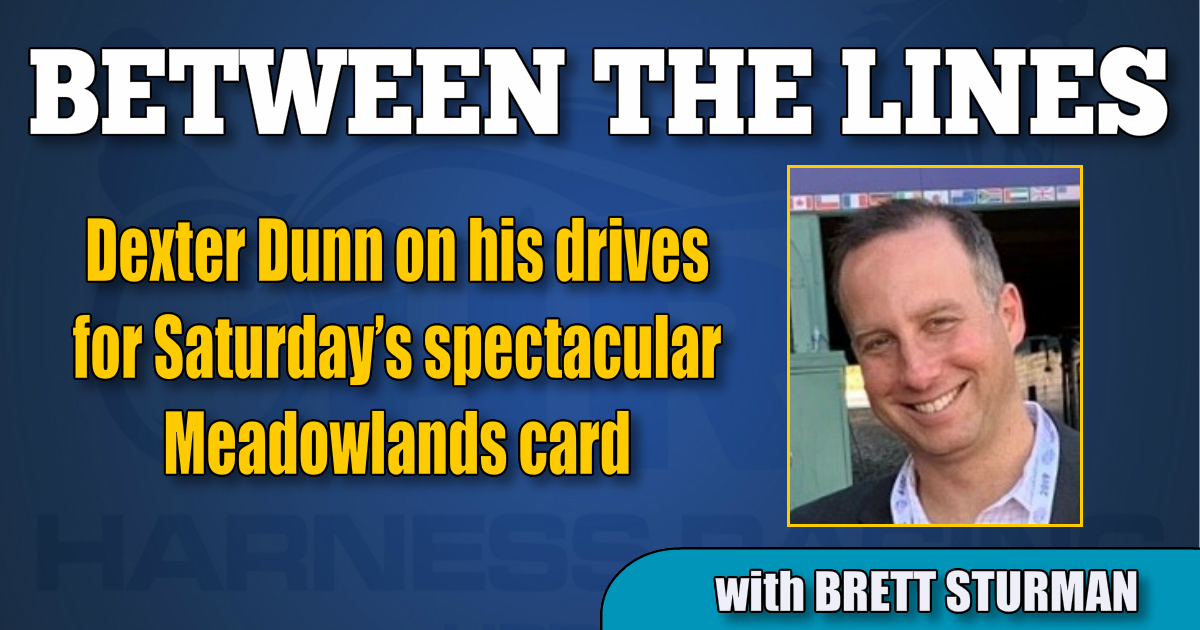 Dexter Dunn on his drives for Saturday's spectacular Meadowlands card
The front-runner to win the Driver of the Year award (again), breaks down some of his stakes drives for the TVG / Final Four card.
by Brett Sturman
It's hard to believe that after a harness racing stakes season that didn't truly get underway until June, that this Saturday's card at the Meadowlands features the last of the major stake's races in the calendar year. The stakes races have been fast and furious in that time, and they culminate at the Meadowlands with four TVG finals and four rich finals for the 2-year-olds.
In that same span, driver Dexter Dunn has put on a clinic in the shortened season. With only a little more than 1,500 starts, he's amassed more than $10 million in earnings. No other driver is yet to reach $9 million, and Dunn is all but a cinch to win his second consecutive Driver of the Year award. He's poised with a number of live contenders to pad to his seasonal totals, and he shares thoughts on some of his drives throughout the big card.
In race order, the TVG final for open trotters goes as the first major stakes event of the night. With this being the career send-off race for Manchego, it will be the last time that her and Atlanta square off in a rivalry for the ages that began to pick up steam during their 3-year-old campaigns. As usual, the result could go either way depending on the night. Atlanta comes off a third-place finish in the open Breeders Crown, while Manchego dominated in the Breeders Crown against open mares.
Dunn has driven Manchego since July of last year and been responsible for a lot of her success over the past two years. She enters the TVG in fine form.
"She's an amazing trotter. She's had some ups and downs throughout this season, but when she's run as many hard miles as she had, it's hard to be 100 per cent all year long," said Dunn. "But her last two starts at Hoosier were outstanding. Her first start there she finished off her mile great, and then she was excellent in the Breeders Crown final and really ran off with that race and was extremely comfortable doing so. So, she's going into this race on top of her game and with the way that Nancy (Takter) has gotten her to relax lately, it really gives us options with the speed she has. If she relaxes nice, the small field might even help me if I can get her to relax off a helmet and not be too far off them. These can be tricky races but I have full confidence."
Next up is the Goldsmith Maid for 2-year-old filly trotters, where in part because of the post advantage, Anoka Hanover will likely get the nod of favorite over Breeders Crown winner Lady Chaos. Dunn's drive is Takter's Insta Glam. In the Kindergarten final two back, Insta Glam rolled through a brisk pace on the front but tired in the waning stages. In that same race, Anoka Hanover was second over but behind cover that couldn't get within a couple lengths of the leader. Despite that, you got the impression that Anoka Hanover always had Insta Glam's measure despite needing to close the gap a few lengths in reeling in that rival. Also in the race starting from the second tier is Mazzarati. She was my pick in the Breeders Crown when she closed late to narrowly miss, and closed well again last out when following Anoka Hanover.
In regards to Insta Glam, Dunn said, "She can be a bit of a tricky filly to drive and sometimes hard to rate. I think Nancy's going to change a little bit of gear on her this week and maybe she can get her to relax just a touch more. She got tired late in that last mile there, but obviously off those fractions it was understandable. And to get run down by a great trotter like Anoka Hanover is no disgrace. If she can behave and relax she might not be far away at all."
For the 2-year-old filly pacers in the Three Diamonds, a Breeders Crown rematch is coming between Fire Start Hanover and JK Alwaysbalady. This division seemed like it belonged to Test of Faith not too long ago, but I noted here after the Breeders Crown that Fire Start Hanover wasn't that far off, and since that time she came back to win her Kindergarten final. I think she's now in control of the division, and Dunn agreed.
"I think she should be given 2-year-old pacing filly of the year regardless (of how she does in the Three Diamonds)," said Dunn. "She bounced back a week after the Breeders Crown win and won again very nicely. She's got a good draw to work with in this race, and she's got great gait speed if I want to use it to try and get into a position that we like. But it's a big field and there will be some challenges, but hopefully she can finish off the season on a high note, too."
It's almost fitting that in the TVG final for open pacing mares that Kissin In The Sand drew post 9. This will be the final race of her career, and she'll be often remembered for overcoming post 9 in the James Lynch at Pocono Downs two years ago when parked the entire mile. Dunn is new to driving Kissin In The Sand, but the duo are a perfect four-for-four together since October and the 5-year-old mare may have never been better than she is now.
"She's been extremely strong throughout the year, and in her latest miles she's been sort of running off with it and winning pretty comfortably. She's got a bad post so it might be tough for her this week, but she's been strong."
Kissin In The Sand has defeated Shartin N in three straight races now, but Shartin now lands the post edge and comes off a big qualifier. Also in the race is the lone 3-year-old Peaky Sneaky, who won the Breeders Crown two races back and pinned the lone career loss to Party Girl Hill in the process.
For Dunn, last but far from least comes Bettor's Wish in the TVG open pace. Bettor's Wish and Dunn teamed together to win last year's 3-year-old pacer of the year, and I'd say that the 4-year-old Bettor's Delight horse rates a fairly strong shot at once again taking an ultra-competitive division of older pacers. This division and this race could come down to him, and Century Farroh.
Looking to go out a winner before standing at Diamond Creek Farms, Dunn said Bettor's Wish is, "an amazing horse. I'll miss him but at the same time I've been lucky to be a part of him really.
"He's given me a lot of highs since I've been here. He's got so much character as a horse and he's talented and gutsy and gives you 110 per cent all the time. You can't help but love a horse like him and it's been a pleasure to race him the last two years. He certainly deserves to go out on a winning note with the miles he's put in last year and this year, but there's some good open pacers that he'll need to beat to try to make first. It'll be bittersweet to be the last time to race him, but at the same time I've been lucky to be involved with him."