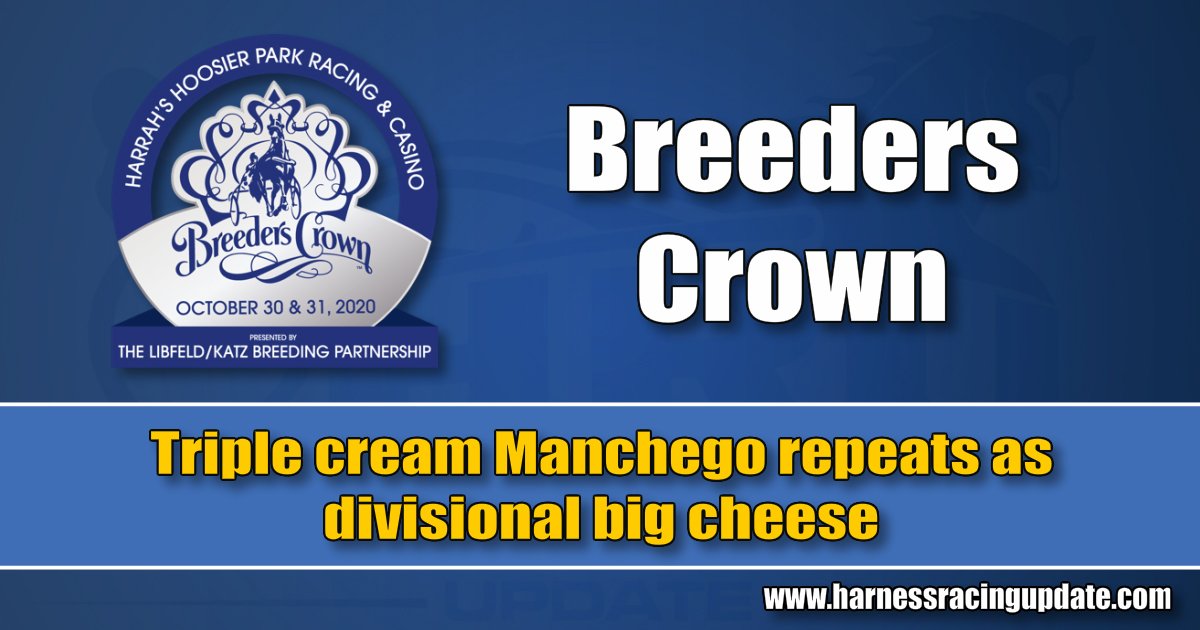 Triple cream Manchego repeats as divisional big cheese
quotes by James Platz / story by Melissa Keith
From 1996 until 2004, the Breeders Crown Open Trot was where the sport's top mares would chase divisional glory. Dan Patch 1996 Trotting Mare of the Year C R Kay Suzie and 1998 Horse of the Year Moni Maker defeated mixed-sex fields to capture their Crowns when this was the only option for older distaff trotters. Hannelore Hanover, 2016 Open Mare Trot Crown champion, was divisional Dan Patch winner that year, but it took the 2017 Open Trot title to push her over the top as overall Dan Patch/O'Brien Horse of the Year.
The 2019 Breeders Crown at Woodbine Mohawk Park saw Atlanta finish third to Bold Eagle in the Open, while Manchego set an all-time distaff final record of 1:51s flat for the Open Mare Trot. When last year's Dan Patch Award winners were announced, Trotting Mare of the Year was the closest decision among voters: Atlanta over Manchego, 74-72. It did not all come down to the Breeders Crown, but seemingly which Crown each exceptional mare pursued.
This year, the top mares were again entered in separate Breeders Crown divisions, neither of which called for eliminations. And while Atlanta prepped for the Open Trot final with her Oct.11 Allerage Farms Open Trot victory at Red Mile, holding off Crystal Fashion in 1:50 over a surface optimistically rated "good", Manchego finished second to Gimpanzee in a Harrah's Hoosier Park invitational Oct. 24, closing in a sizzling :25.1. Although her most recent victory was back on July 26 in Plainridge Park's $250,000 Spirit of Massachusetts free-for-all, #7 Manchego would enter the 2020 Open Mare Trot as 8-5 morning line favourite. The fastest-ever trotter in a race over a half-mile track, #5 Plunge Blue Chip, was her closest competition, at 9-5 odds. When Ake Svanstedt's world champion toured the Delaware County Fair oval in 1:51.3 Sept. 24, she won the $87,500 Miss Versatility final over a steppy-gaited Manchego (who was fifth) and earned a layoff until the Breeders Crown.
Halloween night, Manchego (Dexter Dunn) left the masquerade of vulnerability behind and returned to her familiar winning ways. Sent off at 4-5, the two-time Crown champion was briefly fourth outside of #1 Weslynn Quest (Scott Zeron), as #6 Felicity Shagwell S (Andy Miller) swiftly moved to the front, followed by stablemate Plunge Blue Chip (Ake Svanstedt). It was a perfect start for all except #4 When Dovescry (David Miller), who broke stride leaving. Felicity Shagwell S set the pace to the :27.3 opening quarter with a single-file procession of mares behind her, a length-and-a-half ahead of Plunge Blue Chip. Manchego had settled into fourth along the pylons. At the :56 flat half, the Swedish import was still in charge, but with the long shadow of Dunn's mare advancing first over out of fourth. When Dovescry had also caught the field and was back in the game from eighth. Felicity Shagwell S held on gamely through the 1:24.2 three-quarters, but her fate was sealed: Third-place Weslynn Quest jumped in the last turn, and Plunge Blue Chip was flushed out from the pocket by Manchego, setting up for a battle of the world champions.
It was a short-lived bout, with a knockout punch delivered by the 2017/2019 champ. Manchego turned on the late jets in the stretch, trotting home in 27 seconds with Dunn nearly horizontal in the sulky. She opened up by three-and-a-quarter lengths over Plunge Blue Chip at the wire in the 1:52 performance; When Dovescry closed for show, and #3 Pat Matters (Andrew McCarthy) got up for fourth. A short-lived inquiry on a possible breaking violation by When Dovescry was overturned by judges; she had stayed flat-gaited after the early miscue.
The first Breeders Crown event of the card was Dunn's third win of the night, and Manchego's fifth victory in 12 seasonal starts, adding her share of the $300,000 purse to her $289,451 in seasonal earnings. Asked whether he was satisfied with how his mare was positioned early in the race, the reigning Dan Patch Driver of the Year had nothing but admiration for Manchego's effort and 2020 campaign: "Yeah, I was. She's an amazing animal. She's an amazing horse. She went 'off' halfway through the season here, but [trainer Nancy Takter did] a great job to get her back relaxing. [Manchego] got home so good last week here, sitting back coming off cover, so I got in a handy position and the fractions were solid enough, too. She really did it easy. It was a good performance tonight." He added that Plunge Blue Chip's exit from the pocket had actually improved, rather than hindered, Manchego's chances: "Well, actually it worked out good because I got on his helmet for a while and he sort of led me into the stretch. So once she [Manchego] moved off Ake's helmet, she really exploded." Dunn had also reined the freshly-minted 2020 Breeders Crown champ to her 2019 title at Woodbine Mohawk Park.
Post-race, beaming owner Barry Guariglia of Black Horse Racing, Lebanon, NJ shared Dunn's appraisal of the 5-year-old star: "I said to [trainer] Nancy [Takter] in the winner's circle, 'It sure never gets old.' She's an awesome mare and it's been a great ride."
The Breeders Crown win was the final, devastating move in an endgame that had spanned a most unusual season. "After the last couple of weeks, the way she's been able to rate, she just kind of sat there patiently," said Guariglia, likening the predatory Manchego to "a tuna on a piece of bait" when it counted: "Once they turned for home, she just pounced."
While mares of her pedigree and resume have often already become valuable broodmares by age five, Manchego has instead produced a different kind of thrill for her owner and fans, perhaps a more necessary kind of thrill in the trying year of COVID-19. "I think it's just great," said Guariglia. "I own a few horses and I've owned them for a lot of years and to get something like this, it truly makes it worth the journey."
Muscle Hill daughter Manchego sold under original name "Whispering Hills" at the 2016 Lexington Selected Yearling Sale, bringing $120,000. Bred by Brittany Farms LLC of Versailles, KY, the 2017 Breeders Crown Two-Year-Old Filly Trot winner joins Emoticon Hanover, Buck I St Pat, Mystical Sunshine, and Grades Singing as the latest back-to-back Mare Trot champion. She is the third foal of Cantab Hall mare Secret Magic (3, 1:54.4f; $198,260), a Hanover Shoe Farms broodmare. Secret Magic has seven registered offspring to date, although her foals of 2017 and 2018 passed away before they could race. The mare's 2020 yearling Stilton Hanover, a full-brother to big cheese Manchego, is Hip #20 in the upcoming Timonium Black Book Sale.