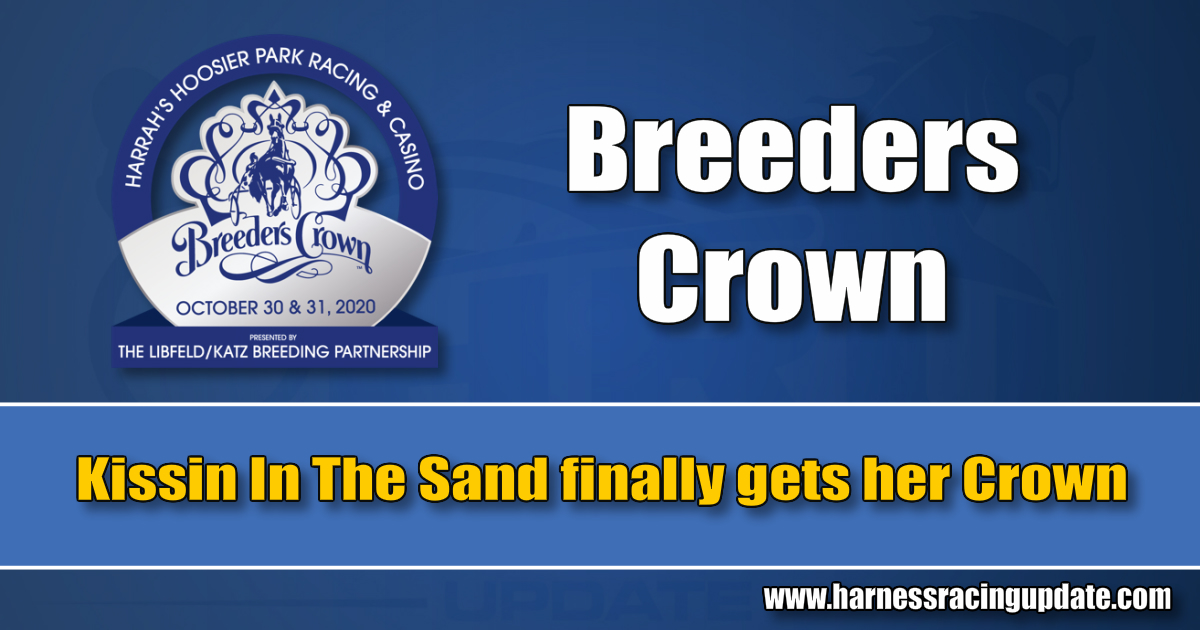 Kissin In The Sand finally gets her Crown
quotes by James Platz / story by Keith McCalmont
Marvin Katz and Hatfield Stables' Kissin In The Sand, trained by Nancy Takter, made her third finals appearance a winning one with a powerful performance in Saturday's (Oct. 31) $300,000 Breeders Crown open mare pace at Harrah's Hoosier Park. In victory, Kissin In The Sand was the rare favorite to live up to her backing on a wild night in Anderson, Indiana.
The 5-year-old Somebeachsomewhere— Kiss Me Kate mare was making her third straight attempt in a Breeders Crown final. In 2018, she finished second from post 9 as a result of taking a bye to the finals when longshot Percy Bluechip post the upset in the 3-year-old filly pacers division on a sloppy track at The Downs at Mohegan Sun Pocono. Last year, Kissin In The Sand settled for third after leaving from the outside post 7 at Woodbine Mohawk Park in a race won by Caviart Ally over Shartin N.
Takter left nothing to chance this year opting to race in last week's elimination in order to secure a better post for this evening. Ironically, Kissin In The Sand was forced to overcome post 9 in her elimination to top reigning Horse of the Year Shartin N.
Kissin In The Sand set out to secure her first Breeders Crown from the comfort of post 3 in rein to Dexter Dunn. A talented field of former Breeders Crown champs included 3-year-old filly winner Warrawee Ubeaut, last year's Mare Pace winner Caviart Ally; and 2018 Mare Pace winner Shartin N.
Warrawee Ubeaut fired off the gate with Rockin Nola attempting to maintain inside position before Tim Tetrick decided enough was enough and allowed Shartin N to take command from post 6 through an opening quarter-mile in :26.4.
The lead was short lived however as Dunn gave Kissin In The Sand her cue and she found the front in :54.2 with ease. Warrawee Ubeaut tipped out to make her bid into the final turn and ranged up outside the 2-5 mutuel favorite with Tetrick waiting patiently for room along the pylons as three-quarters passed in 1:22.1
Kissin In The Sand continued to find more, easily dispatching Warrawee Ubeaut and pacing comfortably clear of the inside rush from Shartin N. She stopped the clock in 1:48.4, equaling the stakes record set by Hana Hanover in 2009.
Dunn said that while the inside draw was important, in her current form the mare may have been unstoppable regardless while securing her seventh win of the season.
"The way she's been lately, I would've been confident whatever she drew, but obviously when she draws three it makes the job a little easier," said Dunn. "There was a little action early and we made our move. Like I said, she's just been vicious lately and she showed that again tonight with a strong run."
Dunn is now undefeated in four starts in rein to Kissin In The Sand.
"I only got on this mare in the last six weeks probably, but she's been extremely powerful for half the season," said Dunn.
The Dunn-Kissin In The Sand winners ledger includes a victory over Shartin N in the $175,000 Dayton Distaff Derby on Oct. 3 in 1:49, a Hollywood Dayton track record for older pacing mares; and followed one week later with a score in the Allerage Farms Fillies and Mare Open Pace in 1:48, good for a track record at the Red Mile for a mare pacer.
After the Allerage score, Takter declared, "She's probably my favorite, like ever, out of all the horses I've ever been associated with."
Bud Hatfield of Hatfield Stables was full of praise for the talented trainer, noting that her father Jimmy Takter's record of 34 finals wins could be in jeopardy. Thirty-nine-year-old Nancy entered this year's event with four Breeders Crown trophies to her credit.
"Nancy Takter has got a lot of wonderful horses, but I think this is one of her favorites," said Hatfield. "She's done a great job with this horse and we're so thankful for that. This horse has won six in a row.
"Her dad's in trouble, you know, she's coming for his records."
Hatfield echoed Dunn's sentiments that Takter's decision to enter Kissin In The Sand in the elimination to race for a better post position was a winning move.
"You know, Nancy did the right thing when she decided to not take the bye in the eliminations and race the horse," said Hatfield. "That way, we were afforded the three-hole and I think that made a big difference in the Final."
An emotional Hatfield savored his winning moment in the aftermath of the long-awaited Breeders Crown victory for the older mare.
"It's a very special feeling," said Hatfield. "We love this horse and she is such a wonderful animal. I can't be any happier than I am right now."
Bred by Christina Takter, John Fielding, R A W Equine and Concord Stud Farm, Kissin In The Sand paid $2.80 to win.