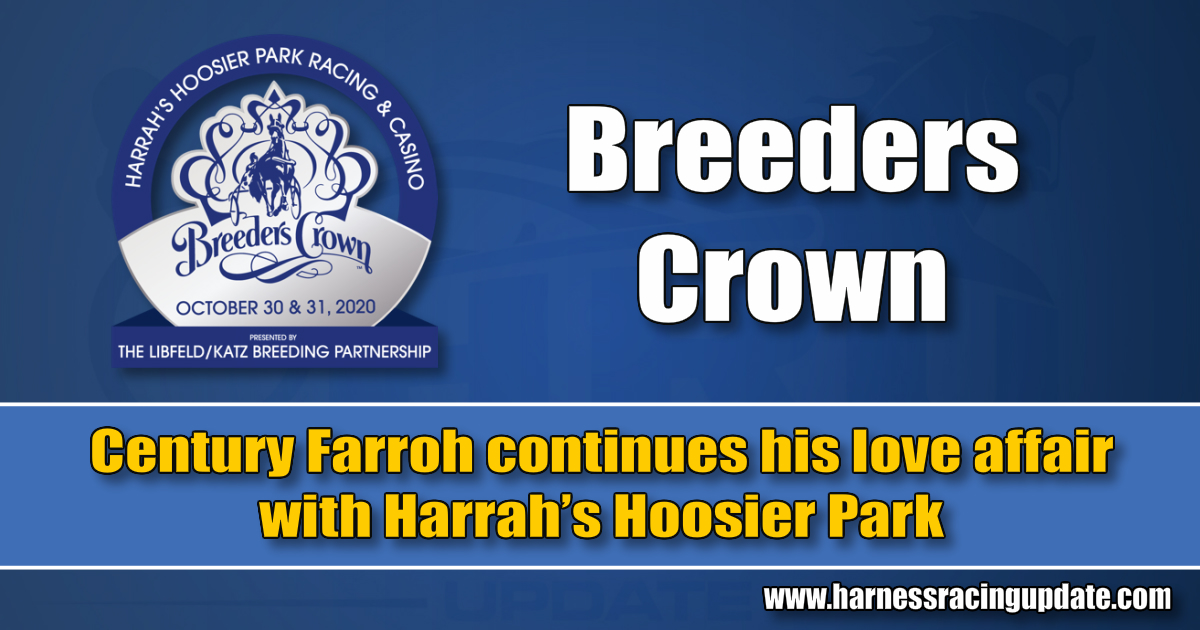 Century Farroh continues his love affair with Hoosier Park
quotes by James Platz / story by Alex Campbell
Century Farroh's affinity for Harrah's Hoosier Park was on display again on Saturday night (Oct. 31) in the 500,000 Breeders Crown Open Pace Final, as the 4-year-old son of Mach Tree—Beachy Girl upset favored Bettor's Wish for the second time this season.
Saturday's race played out remarkably similar to Century Farroh's win over Bettor's Wish back in August in the Dan Patch Stakes over this same Hoosier Park surface. Breaking from post seven, Century Farroh settled in second behind pacesetter Backstreet Shadow in the early going, while Bettor's Wish was fourth. Bettor's Wish made his move along the backstretch and took control of the race in the stretch, but Century Farroh gained ground in the passing lane along the inside, and got up in the final strides to spring the half-length upset in 1:49. Backstreet Shadow managed to hold on for third.
It was Century Farroh's fourth win of the year in his 15th start for trainer Dr. Ian Moore and owner Ratchford Stable of Nova Scotia. Hall of Fame driver David Miller noted that the addition of Lasix for Century Farroh's start last week in an invitational race appeared to turn his form in the right direction.
"I wasn't really happy with the draw," he said. "He had been racing just fair and they added Lasix to him and he was better his last start. So, I took a shot and left, hopefully to get away as close as I could and when I landed in the two-hole, I was pretty happy. He didn't feel like he was loaded with pace, but I got him in the passing lane and got his earplugs out and he actually took off and got there."
Miller captured his second Breeders Crown win of the weekend after guiding Lady Chaos to victory in the 2-year-old filly trot on Friday night. Century Farroh gave Moore his first career Breeders Crown victory.
Saturday's Breeders Crown win was also Century Farroh's third victory in his fifth lifetime start at Hoosier Park. Along with the Breeders Crown victory and the win in the Dan Patch earlier this year, Century Farroh had captured the $170,000 Jenna's Beach Boy at Hoosier Park as a 3-year-old in 2019.
"He likes them trips, you know?" Miller said. "He won the Hoosier Cup with a similar trip and he really likes going up the inside. They did a great job with him."
Century Farroh was last season's O'Brien Award winner as the top 3-year-old Pacing Colt in Canada, and a win in the Breeders Crown likely has him on track for further O'Brien Award honors this season. He now sports a career record of 20 wins from 41 starts, and he crossed $1 million in career earnings with his victory in the Breeders Crown. He was bred in Ontario by Century Spring Farms, and sold for $17,000 as a yearling at the London Selected Yearling Sale in 2017. To further the Ontario story, Ontario-sired horses finished first, second and third in the Open Pace when Backstreet Shadow finished third.
Bettor's Wish, meanwhile, suffered his second consecutive narrow Breeders Crown defeat after he was also upset in last season's Breeders Crown 3-year-old colts and geldings pacing final by Dancin Lou at Woodbine Mohawk Park in the midst of his remarkable campaign in which the former won 13 of his 19 starts and was second in his other six races.
Bettor's Wish's trainer, Chris Ryder, said he felt the outside draw factored into his pacer's defeat.
"It's a bit disappointing," he said. "I was disappointed with no eliminations, so I showed up for the overnight and then I still get the outside, something's not right. I don't want to sound like sour grapes, but I said that during the week. It's not my fault there's no elims. We all know the nine-hole is beat. How'd the nine-hole do tonight all night? The horse raced well, he never disgraces himself. He raced good, good people had the two-hole trip."