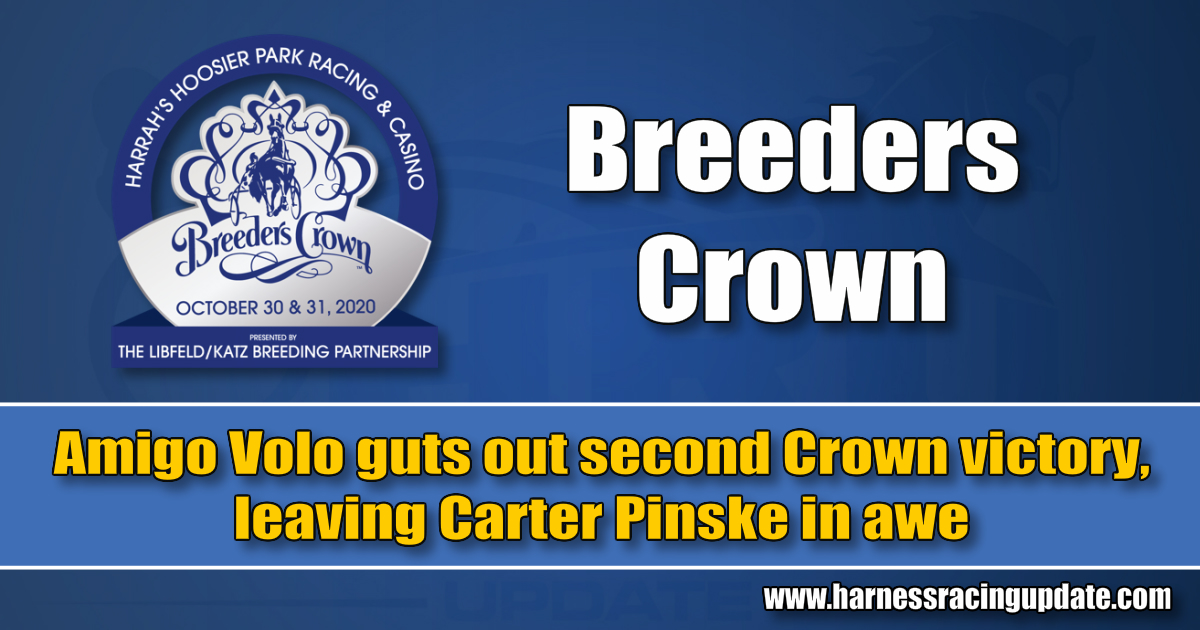 Amigo Volo guts out second Crown victory, leaving Carter Pinske in awe
quotes by James Platz / story by Chris Lomon
Like father, like son.
Saturday night proved to be twice as nice for Amigo Volo, who took all the spoils in the $500,000 Breeders Crown for 3-year-old male trotters, and with it, joined some impressive company in the record books.
Amigo Volo is now one of four male trotters this century to have won Crown trophies at ages 2 and 3: Gimpanzee, 2018-2019; his sire Father Patrick, 2013-2014; and Muscle Hill, 2008-2009.
Amigo Volo's most recent Crown coronation was yet another trotting tour de force for the talented sophomore star owned by Pinske Stables and David Miller, and trained by Richard "Nifty" Norman.
But it didn't come easily.
The bay, who fashions a few white hairs on his forehead, might have had some more sprout up after his Saturday night (Oct. 31) at Harrah's Hoosier Park.
Sent off as the 2-5 favorite, Amigo Volo, with Dexter Dunn at the controls, was placed in the driver's seat just before the half-mile mark.
As the field of 10 rounded the turn for home, Ready For Moni came calling to his outside, ratcheting up the pressure on the leader. When Ready For Moni began to fade mid-way down the lane, 27-1 Play Trix on Me found a seam along the inside and took dead aim at Amigo Volo.
At the wire, Amigo Volo held on for the victory over Play Trix One Me, eking out a nose triumph. Chestnut Hill, also trained by Norman, was third. The final time was 1:53.
"He's obviously been very good as a juvenile, then again this year," said Dunn. "He's so versatile, you can really get him out of the gate and put him in a hole and move or whatever you want to do. So, he just held on, but he did what he's been doing all year, just putting in great runs."
The gritty performance, on the heels of a head-turning elimination score in 1:51.2 – the fastest mile ever by a 3-year-old trotter at Hoosier Park and one-fifth of a second off the track's overall record – resulted in the 14thvictory in 26 starts for the gelding.
"It's awesome," said Dunn. "I picked him up later in the year as a 2-year-old last year. He was my first Breeders Crown winner (in North America), so he's been a special horse to me. He was on top of his game at 2 here and at 3 now, too. He's pretty easy on himself. He's a pretty relaxed horse."
A $42,000 purchase (Hip #194) at the 2018 Lexington Select Sale, Amigo Volo has been money in the bank for his connections, having now surpassed $1.5 million in career earnings.
He took the Kentucky Futurity on Oct. 11 at Red Mile and followed it up with his aforementioned Crown elimination win. Since mid-August, he has won six of seven races and finished second in the other.
The current streak is sweet redemption after Amigo Volo, who set world records for 2-year-old geldings on a five-eighths-mile track (1:52.4) and mile track (1:52.3), finished fourth in the Hambletonian on Aug. 8 at the Meadowlands.
This year, he's won eight of 14 races.
The latest trip to the winner's circle earned high praise from his team.
"At this point, it's just crazy," said 25-year-old co-owner Carter Pinkse, in reference to the back-to-back Breeders Crown victories. "I don't even know what emotion to feel. It's been an incredible year.
"It's extremely special. I still have goosebumps right now, just thinking about it. My grandfather and my uncle, they had a pretty big impact on the industry back in Illinois and to get to these big stage races – that's what you shoot for, it doesn't matter what jurisdiction that you come from, you shoot for the Breeders Crown and just to have a horse in it is incredible."
When asked for a word to best describe his top-notch trotter, Pinske came up with a most appropriate one, especially considering tonight's performance.
"Guts."
Pinske heaped on more praise soon after.
"He's a tough horse to get tired and he's a tough horse to run down. He just grinds. He just grinds as hard as he can go."
Norman also earned high marks from Pinske.
While the veteran conditioner might downplay his impact on Amigo Volo's success story, others are happy to speak of Norman's abilities.
"Nifty won't take the credit, but he's one of the biggest reasons that the Pinskes are still racing horses. When my grandpa wasn't able to do it, and even before that, he would take horses in his barn in places that we couldn't be and things like that. He's the reason that we kept a couple of yearlings every year because we could always bank on the fact that he'd take them and do well with them."
Amigo Volo, bred by Kentuckiana Farms LLC and Jorgen Jahre Jr., would be an ideal example of that.
And even though it wasn't a trot in the park on Saturday evening, the second-year standout showed it doesn't always need to be about glitz and glamor.
Sometimes, it takes old-school grit to graduate into the record books.
"The horse has just a tremendous heart. He loves what he does and he always finds a way to win."