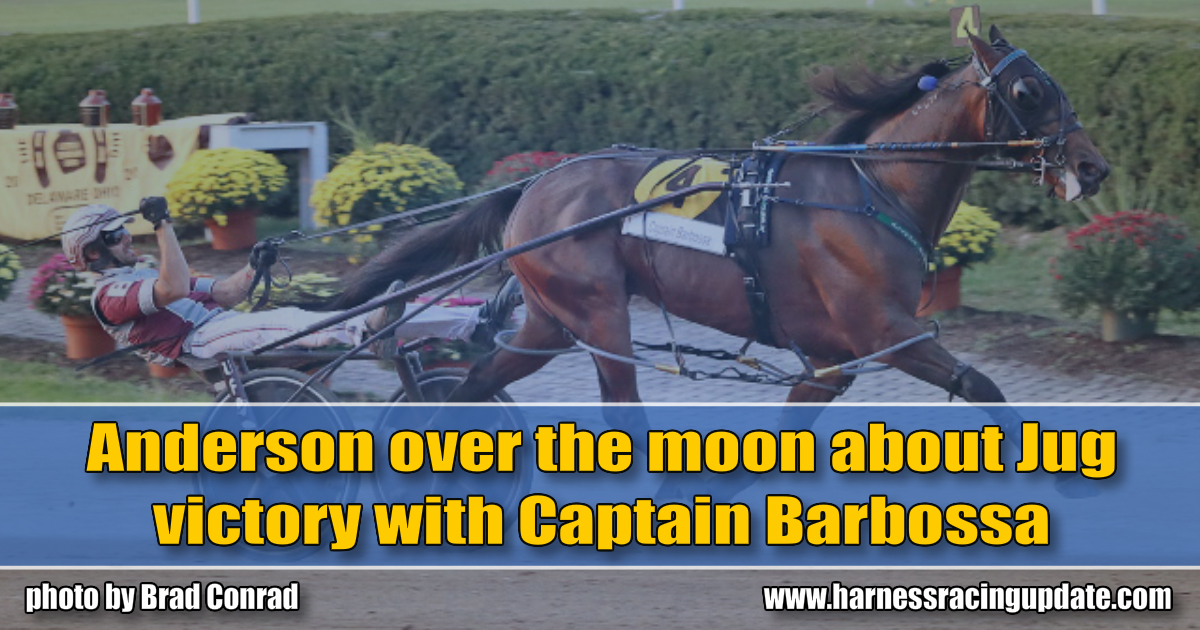 Anderson over the moon about Jug victory with Captain Barbossa
The stirring triumph caps an outstanding 10-day period for the standardbred owner and thoroughbred breeder who sold a yearling for $1.6 million at the Keeneland September Sale and then saw another one he bred qualify for the Breeders' Cup with a win in a Grade 1 race at Woodbine.
by Dave Briggs
Minutes after winning the 75th Little Brown Jug on Thursday evening at the Delaware County Fairgrounds in Ohio, Captain Barbossa's part-owner David Anderson was so pumped he skipped "hello" and went right to "Pinch me. Pinch me" when answering his phone. The excitement was palpable in his voice.
"I can unequivocally tell you that, in all of my years growing up in this business, standardbred or thoroughbred, I have never been more excited in a horse race in my life," Anderson said from his home near Toronto after Joe Bongiorno guided the gelded son of Captaintreacherous—Swinging Beauty to a 1:49.1 victory in the $335,400 Jug final.
His winning time was one-fifth of a second off the stakes and world record for a 3-year-old pacer on a half-mile track. The margin of victory was 1-1/2 lengths over Cattlewash.
"I was here with my family and we were yelling and screaming, even my dog was barking," Anderson said. "He didn't know what was going on, but he was excited. It was just absolutely surreal."
As has been the last 10 days for Anderson, a noted thoroughbred breeder whose farm is in St. Thomas, ON.
On Sept. 14, Anderson topped the opening session of the Keeneland September Sale when he sold a Medaglia D'oro yearling filly out of Orchard Beach for $1.6 million. Heading into today's final session, that yearling is the third highest sold at the sale.
"That's the personal topper for me," he said of the $1.6 million price tag, though a previous Orchard Beach yearling sold for $1.1 million at auction.
Four days ago, Gretzky the Great, a 2-year-old thoroughbred Anderson bred, won the Grade 1 Summer Stakes at Woodbine to qualify for the Breeders' Cup.
"I've got another filly running this Saturday at Santa Anita in a 'win-and-you're in' for the Breeders' Cup," Anderson said.
And on Saturday night he is partners with John Fielding and the other owners of promising trotting colt Spy Booth — including fellow Captain Barbossa partner Robert LeBlanc — in a slot in the inaugural $1 million (USD) Mohawk Million at Woodbine Mohawk Park. Unfortunately, Spy Booth made a break in the William Wellwood Memorial final and the decision was made to skip the Mohawk Million with him. Anderson, Fielding and Co. have made a deal with the connections of filly Insta Glam to use the slot.
None of which, on this day, tops winning the Little Brown Jug with Captain Barbossa.
"It's the whole history of the Little Brown Jug… even my thoroughbred friends, it's the first race that they always mention, 'Have you ever won the Little Brown Jug?' and I have said, 'No,'" Anderson said. "Everyone in the world knows the Little Brown Jug."
Captain Barbossa broke his 2020 maiden with the Jug victory, which came in his 13th start. All along, trainer Tony Alagna kept telling the other owners the gelding was due.
"Tony has done an amazing job with him and he kept us in the game," Anderson said. "He kept saying, 'We've got to keep going with this horse.' He's got that high-speed ability coming home and he must have massive heart and lungs on him, because he wants to go all day."
Anderson also gave praise to Bongiorno for crafting the winning trip.
"Joe Bongiorno won the race. You couldn't have scripted it any better," Anderson said. "He put him in an absolute perfect position. When Scotty (Zeron) went first up (with Sandbetweenmytoes), he filled the gap there and kind of tucked in and Scotty had to drive on. From that point, he knew he had the horse that was going to get first up and go and he did. It was awesome."
Captain Barbossa is Anderson's very first male pacer.
Bred by Lima, OH's Steiner Stock Farm, Captain Barbossa was purchased by Anderson, LeBlanc, Alagna, Martha Frank, John Fodera and Wienick for $70,000 at the 2018 Lexington Selected Yearling Sale.
"The credit, from the very beginning, goes out to Trevor Ritchie," Anderson said of the Canadian Hall of Fame driver. "Trevor picked (Captain Barbossa) out. He was his pick of the sale and he really deserves the credit. This trophy really should be dedicated to Trevor."
Anderson said he has only one wish now that Captain Barbossa has won the Jug: "I wish he still had two nuts," the owner said, laughing.
That Captain Barbossa was gelded is one of the few blips in an outstanding year for the multi-breed horseman.
As for LeBlanc, Fodera and Wienick, they're also having a hell of a year. In August, they won the Hambletonian with filly Ramona Hill, also trained by Alagna and co-owned by Brad Grant and her breeder, Crawford Farms.
"I'm screaming as much as Hambo Day," said Fodera, a three-time Jug winner who was watching this year's event from his Staten Island home. "I was as hyper as ever during the race."
Both the Jug and Hambletonian victories are firsts for Alagna. He is also the first trainer to win the Hambletonian and Little Brown Jug in the same year since Billy Haughton in 1974. Alagna entered three horses in this year's Little Brown Jug, an event he said he loves to support.
"I bring at least two or three horses every year," he said. "We love the hospitality, the way we're treated, the fans. We hate that the fans aren't here this year, but the backbone of racing is here, and we want to be here to represent it."
The trainer said he was thrilled Captain Barbossa finally broke through.
"He's been a really hard-luck horse this year," Alagna said. "He's drawn a lot of bad posts, like the nine-hole in the (North America Cup), and he finally gets his due."
Captain Barbossa headed to Delaware off back-to-back second-place finishes in stakes races at Woodbine Mohawk Park. He finished second in his Jug elimination, which was won by Sandbetweenmytoes in 1:49.3, and drew post four for the final.
Catch The Fire won the first $111,800 Jug elimination, overtaking pacesetter Seeyou At Thebeach on the last turn on his way to a 1:49.3 triumph.
Seeyou At Thebeach was second, followed by Later Dudes and Genius Man. Those four horses advanced to the $335,400 Little Brown Jug final.
Catch The Fire was the 4-5 favorite in the field of seven. He was driven by Mike Wilder for trainer John Ackley and owner CT Stables.
In the final, Bongiorno watched even-money favorite Catch The Fire and Sandbetweenmytoes battle for the lead in a :26 opening quarter. Sandbetweenmytoes held the top spot heading to the half, reached in :53.3, as Captain Barbossa began a first-over march from third.
Captain Barbossa continued to work his way toward the leader on the backstretch, getting to the front just prior to reaching three-quarters in 1:21.2. From there, he held off Cattlewash to win.
"I definitely did (think I had a shot in the final) because my horse had the most pace finishing in the second elimination," Bongiorno said. "Being able to sneak around (Seeyou At Thebeach in post three) when the gate sprung, I saw he was fumbly gaited, I think that was basically the winning move.
"I closed the hole coming out of the first turn, made (Sandbetweenmytoes) keep going, push the tempo. I knew being first over was going to be the spot to be at that point, with the fast half in 53 and a piece."
Bongiorno, who in August got his 2,000th career win, enjoyed a memorable visit to Delaware. On Wednesday, he picked up the drive with New Year in the Jugette final for 3-year-old filly pacers and finished second behind unbeaten Party Girl Hill.
"There's really no words to describe it," Bongiorno said about winning the Jug. "The last couple of days have been a dream come true.
"Today, I couldn't thank Tony and his owners enough for entrusting me with this horse."
Captain Barbossa has earned $286,800 this season and $414,288 in his career. He has won four of 27 races lifetime, with 10 second-place finishes and three thirds.
"We felt like he was this kind of horse," Alagna said. "The way he started out his 3-year-old year, he went some really good miles early against the best colts.
"I felt very good about him after the first heat, the way he finished up his mile and the way he cooled out. He got a great drive by Joey in the final and he got it done. I was watching it outside and when he came around the third turn heading up the backside Joey was just sitting there riding. I thought, this horse has still got go. When he cleared to the front, he just opened up on them.
"Standing there watching it, I couldn't believe how it was unfolding before my eyes."
One country away, Anderson couldn't believe what he was watching, either.
"I'm about to put (my phone) on silent. It's absolutely blowing up," he said.
— with files from Ken Weingartner / USTA media relations manager