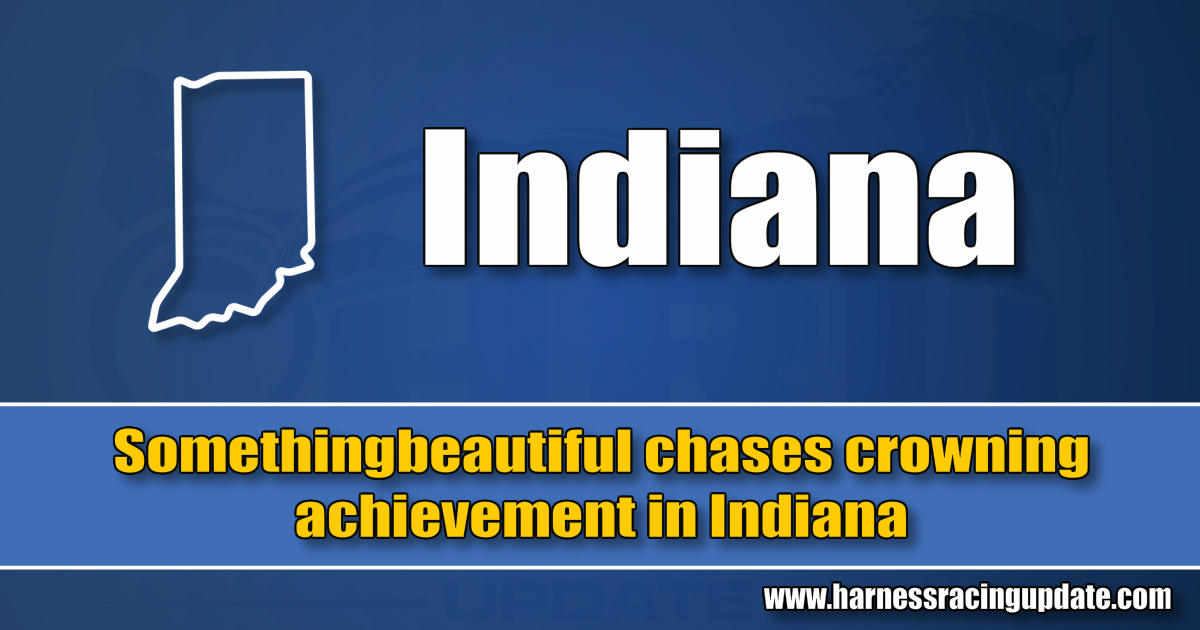 Somethingbeautiful chases crowning achievement in Indiana
The undefeated Indiana-sired 2-year-old pacing filly is hoping Friday's Kentuckiana Stallion Management Stakes will be a springboard to the Breeders Crown at Harrah's Hoosier Park.
by James Platz
Trainer Dylan Davis arrived at last year's Hoosier Classic sale with the goal of bringing home a handful of Indiana-sired babies. The mission included acquiring the Always A Virgin filly Somethingbeautiful, sister to his trainee and Breeders Crown final runner-up Shnitzledosomethin. While siblings to top racehorses do not always pan out, Somethingbeautiful has shown she has all the tools to become another top talent and her connections have their sights set on the Breeders Crown.
"I would have had a heck of a time explaining why I didn't buy her," Davis said. "That's why I was at the Hoosier Classic. My guys wanted her, the guys that own Shnitzle. If she had a leg on backwards or something, I'm sure I could have discouraged it. But she was put together well enough. She's heavy and she's strong."
Somethingbeautiful is owned by the partnership of Howard Taylor, Edwin Gold, Abraham Basen and Richard Lombardo, the same men behind Shnitzledosomethin, now a winner of nearly $800,000. Absent from the group is Dr. Thomas Lazzaro, one of the original partners on the son of Fred And Ginger, and the catalyst behind last fall's yearling purchases. Lazzaro passed away last December at the age of 75.
"Dr. Lazzaro wanted to try Indiana babies. He was the reason we went," said Davis. "We were buying Somethingbeautiful regardless. But, the other four that we bought, that was all Dr. Lazzaro. He wanted to buy babies and gave me free reign to pick out three of four that I wanted."
Through the first five legs of Indiana Sires Stakes competition, Somethingbeautiful is undefeated and leading the division in the Hoosier State. In her latest start Sept. 16, driver LeWayne Miller steered her to a sixth seasonal score, this time staying a length in front to trip the timer in 1:52.2, just a few ticks off her 1:51.4 mark. Hammered down for $30,000 last fall, the filly now sports earnings of $104,500. She did not start the winter as one of Davis's top pupils, but within a few months, she emerged as one of the babies with the most promise.
"We had a little trouble training down with her gait, but I think that was just a matter of her growing. I wouldn't call her very tall, but she's very big; very broad, very heavy," Davis said of his charge. "She went from not being top four, but my blacksmith finally hit the key with the shoes, and she became the best. By the end of March, I texted Howard and told him she's your best one."
Before stringing together six straight wins, Somethingbeautiful provided Davis with clues that she had what it takes to be a good racehorse. Training at his home base of Delaware, Davis started the pacer out on an Equi-Ciser before hooking her to a jog cart. When it came time for the filly to see the track for the first time, she handled it like a professional. Somethingbeautiful also displayed her competitive spirit once on the track and training alongside Indiana-sired freshman colt and Fox Stake champion Virgo.
"She went right to the gate like she had been up to it a hundred times. Good horses are just different," the conditioner said. "I always liked her. Training down she may not have been as fast as the colt we have, Virgo. She was never as fast as him, but if he was in front of her, she was beating him. If there was somebody in front of her, she was going to break her neck trying."
That determination served her well in her first start at Harrah's Hoosier Park. Debuting in a mini-series at the Anderson oval, Somethingbeautiful and Miller started from post eight and raced first over through the opening half before winning by two and one-half lengths in 1:53.4. After gate-to-wire triumphs in the first two legs of Indiana Sires Stakes competition, the filly sat fifth the next time out before rallying to win by open lengths. Davis says the pacer is best when coming from off the pace.
"She's actually better from the back," he said. "Her best game is from the back. She will do it on the lead, but she gets a little bored up there."
By virtue of her five Indiana Sires Stakes leg wins, Somethingbeautiful has locked in a spot in October's Super Final. However, Davis is focused on a bigger prize. From the time she made her first start, the trainer has managed the filly with the Breeders Crown, hosted this year at Hoosier Park, in mind. Friday night, the freshman will get her first taste of Crown-level competition in the Kentuckiana Stallion Management Stakes. By night's end, Davis will have a better idea just how Somethingbeautiful stacks up against the competition.
"Breeders Crown is the priority for us. I hope she doesn't prove me wrong, but I think she's that good," he stated. "She's a total professional. She's very smart. I can't say enough good things about her. She's been different from the day we started. She wasn't the fastest, she wasn't the best gaited, but she was the most determined of all of them."
Somethingbeautiful is one of 10 fillies entered in the $220,000 Kentuckiana Stallion Management Stakes Friday evening (Sept. 25) at Hoosier Park. She has drawn post three, and will square off against the likes of top New York Sires Stakes freshman Test Of Faith (post 7), Pennsylvania-bred Continualou (post 5) and four-time winner Darby Hanover, who will start from the second tier. The race is part of a major stakes card at Hoosier Park that also features the $150,000 Caesar's Trotting Classic, $221,000 Kentuckiana Stallion Management Stake for freshman filly trotters, $140,000 Hoosier Park Pacing Derby, $105,000 Moni Maker Stakes, $120,000 Elevation Stakes and $100,000 Jenna's Beach Boy Stakes.