Hawthorne's Night of Champions belongs to Fox Valley Gemini
For the fourth straight year the gelded pacer has been triumphant on Illinois' biggest harness racing night of the year.
by Neil Milbert
Fox Valley Gemini is the champion of Champions.
As he has done every year of his racing career, the 5-year-old gelding captured one of the championship races on the Night of Champions card at Hawthorne Race Course when he won the Robert S. Molaro Memorial, a $68,000 race for older male pacers, for the second straight year.
Earlier in his career on the Night of Champions he won the Incredible Finale for 2-year-old males in 2017 and in 2018 he won the Robert F. Carey Jr. Memorial for 3-year-old colts and geldings. Both years he was selected Illinois Horse of the Year.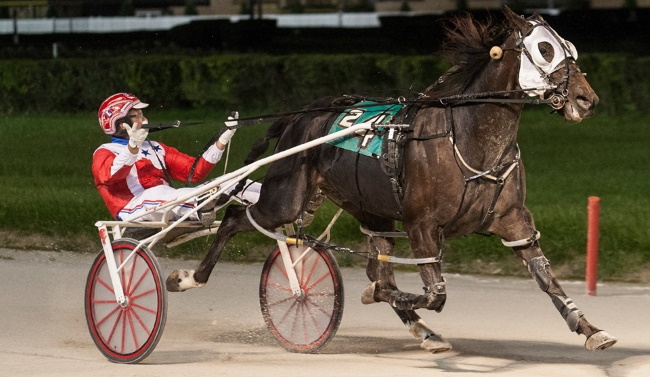 The Night of Champions for Illinois-breds is the main event on the Illinois harness racing calendar and it was held on Saturday night, second last night of the only pari-mutuel meeting in the state. There were 11 championship races.
Bred by Fox Valley Standardbreds, Fox Valley Gemini was purchased by Jim Ballinger for $2,700 in 2016. The son of Yankee Skyscraper and Epona is trained by Terry Leonard and Terry's son, Casey Leonard, has driven him throughout his 55-race career in which he has been victorious 39 times. His triumph in the Molaro Memorial was worth $34,000, increasing his career bankroll to $485,648.
In 13 starts this year he has 9 wins, 3 seconds and 1 third.
Seeking his fifth consecutive triumph, Fox Valley Gemini was sent off the 1-10 favorite in the field of 10 and he looked the part. He began the trip in fifth place and gradually moved up. In the stretch he went by pacesetting Al's Hammered and went on to a compelling 5 ¼-length conquest in 1:50.1, a fifth of a second shy of his lifetime best mark. Al's Hammered held was second and Bass Player third.
"This year early in February, the track conditions weren't ideal to get him trained down and in his first three starts he got beat," said Casey Leonard, critiquing Fox Valley Gemini's campaign. "But he came back great and since then he has been very consistent."
The Molaro was one of three Night of Champions races won by Casey Leonard, Hawthorne's driver champion for the fifth year in a row. In the $88,000 Fox Valley Flan for 2-year-old filly trotters he guided 1-9 favorite Loulita to her sixth straight victory and in the $109,000 Erwin Dygert Memorial for 3-year-old male trotters he was at the reins of 3-2 second choice Fox Valley Quest.
Loulita won in 1:59.2, breaking the 2-minute barrier for the first time as she prevailed by 4 lengths, and Fox Valley Quest, leading all the way, won by 2 lengths in a career-best clocking of 1:55.
Loulita is owned by her breeder, Flacco Family Farms, in partnership with Dr. Patrick Graham and is trained by Steve Searle, while Fox Valley Quest was bred by Fox Valley Standardbreds, is owned by Carl Lacy and Benita Simmons and trained by Tom Simmons.
In addition to Loulita, Searle had three other fillies in the Fox Valley Flan, fourth place Lous Voodoo Woman, eighth place Lou Lou Lamour and 10thplace Lous Livia.
Leonard was driving Lou Lou Lamaour at the outset of her career when Searle suggested he switch to Loulita.
"Loulita got started late," Leonard recalled. "Steve really liked her. She's got a good gait and a great attitude. She's excellent to drive. Steve has done an excellent job with her.
"I was so happy to win with Fox Valley Quest because of what happened last year (on the Night of Champions). Last year I thought he was the best horse but there was some confusion behind the gate and he made a break.
"Tom and Benita have done an outstanding job with him this year. He showed his potential, he was outstanding at the right time and it's a tribute to them."
After having to settle for second with 9-10 favorite Crooked Creek in the Erwin Dygert, trainer and co-owner Mike Brink won the $118,000 Kadabra for 2-year-old male trotters with Fistfullofdllars.
"He had an injury early — a freak accident in his stall — and we had to wait on him," said Brink after the gelding prevailed by 3 1/2 lengths over Mystical Mystery in 2:01 ¾ for his second victory in a five-race campaign during which he has been in the mutuel money every time.
"The horse has a lot of talent and he's smart. I told (driver) Kyle Wilfong last week (in the prior race in which Fistfullofdollars recorded his first triumph) to just tighten him up, get a better feel of him and make him trot a little faster. Kyle did and it worked out fine."
The other six-figure race on the card was the $108,000 Plum Peachy for 3-year-old fillies. Fox Valley Exploit overcame the No. 9 post position in the 10-horse race to win by 2 ¾ lengths in 1:53 2/2 for driver-trainer Kyle Husted, who with David Brigham co-owns the daughter of Sportsmaster—She Likes It All.
She is now eight-for-nine in '20; she was second by a head in her lone loss.
Joining Fox Valley Exploit, Fox Valley Quest and Fox Valley Gemini, Allbeastnobeauty became the fourth Night of Champions winner bred by Fox Valley Standardbreds when she took the $68,000 Tony Maurello Championship for aged female pacers by 2 lengths in 1:51 2/5.
In the $67,000 Plesac for older trotters of both sexes, Lousraptor was a winner for owner/breeder Flacco Family Farms. Trained by Searle and driven by Juan Franco, Lousraptor made a powerful stretch move to win by 2 lengths over stablemate Louscardamon who finished second at odds of 25-1.
Driver Marcus Miller made a successful trip back to Chicagoland where he began his career by winning the $98,000 Beulah Dygert Memorial for 3-year-old filly trotters with 3-1 second betting choice El Oh Govner and the $71,000 Incredible Finale for 2-year-old male pacers with 4-5 favorite Well Basically.
El Oh Govner moved up gradually before taking charge in the stretch and going on to win by 1 ¼ lengths over 51-1 shot Celone Hall for trainer Mike Rogers and owners Donald and Sharri Huddleston. Driven by the first time by Miller, she was clocked in a career best time of 1:57 4/5. The victory was her second in 14 starts this year.
"Mike told me that she was good to be really good if I could just work out a clean trip and have a lane in the stretch," Miller said. "He was spot on. As soon as she straightened, she stepped off on her own and did the rest."
In contrast, Well Basically led all the way in recording a 2 ¼-length victory over late-moving Frontier Charlie in a lifetime best clocking of 1:56 1/5.
Marcus' father, Erv Miller, trains Well Basically for owners Anthony Lombard and Engel Stable of Illinois. The gelded son of Sagebrush—Basic Brown was bred by Chicago Agricultural High School in partnership with William Hook.
Last year's Incredible Finale winner, He'zzz A Wise Sky, went off the heaviest favorite of the night at 1-10 in the $86,000 Robert F. Carey Jr. Memorial for 3-year-old males and, with Robert Smolin, at the reins he delivered a 3 ¼-length triumph in 1:51 3/5, matching his lifetime mark.
Bred by trainer Don Filomeno in partnership with Joann Filomeno, the son of Yankee Skyscraper—Gimmeazzmooch extended his winning streak to four races in winning for the seventh time in 12 outings this year for Triple Zzz Stable.
The biggest win payoff came when third betting choice Bootsy Bombay returned $12.40 by virtue of her victory in the $80,000 Incredible Tillie for 2-year-old filly pacers.
With Travis Seekman in the sulky for owner James Greer and trainer Nick Prather, Bootsy Bombay left from the outside post position in the field of 10. She took an early lead before dropping back to second. Then, she made a late move to win by 3/4ths of a length over 4-5 favorite Scorecard Dandy in 1:56 2/5, fastest time of her 10-race career. The triumph was her second.
Finish lines: Casey Leonard's 130 winners at the meeting were 11 more than the number recorded by Kyle Wilfong, the runnerup in the driver standings. Brink's 48 winners gave him the trainer title. Searle was an ultra-close second with 47 and 2018 and 2019 winner Terry Leonard was third with 45.
This month Hawthorne entered into a partnership with PointsBet to launch all-sports wagering. To celebrate the partnership, PointsBet contributed a $20,000 in purse money to each of the three Night of Champions races for older horses.
The Hawthorne meeting originally was scheduled to be for 92 nights but it shrunk to 59 nights because of a 2 ½-month interruption because of the COVID-19 pandemic. Live racing resumed on June 6 and there were no spectators for the duration of the meeting. Nevertheless, unofficial statistics show a 34 per cent increase in all-sources handle increase over the 70-night 2019 total of $8,339,429.